Ferdinand Porsche-
Genesis of Genius

Rainy Day Magazine - December 17, 2014
Rainy Day Gift Guide
eBooks may be the future, but there will always be a place for physical books on our shelves. The reason is not just that a physical book doesn't need batteries, software updates, or could break when dropped. It is that swiping to turn a page on a tablet will never replace the tactile satisfaction of turning an actual page in a book. Plus, you can't (or at least really shouldn't) read an eBook in the tub...
Books for Porschephiles: The recognized expert on all things Porsche is Karl Ludvigsen. His writings on things Porsche-related are well-researched, informative, and illuminating. We have three suggestions which will sure to delight any Porschephile on your list.
Porsche - Origin of the Species: An in-depth exploration by Ludvigsen into the specific influences and circumstances that brought forth the first Porsche-badged sports cars. Sure to appeal to all who are eager to know what events really ignited the spark from which all other Porsches evolved.
Ferdinand Porsche - Genesis of Genius: As early as 1900, when he was just 25, Ferdinand Porsche pioneered hybrid technology to power his automobile designs. Once gasoline gained dominance (over electricity) as the power-source of choice, Porsche became relentless in his goal to design the fastest and most durable automobiles in Europe. The dynamic young innovator who helped to chart the course of the automobile through the first decades of the twentieth century is brought to life by Ludvigsen in this in-depth look. A "must have" for every Porsche admirer.
Porsche: Excellence Was Expected: Remarkable both for its breadth of coverage and its technical depth, Porsche: Excellence Was Expected covers every Porsche road and racing car from the company's beginnings through the development of the 2009 Panamera. Adding dimension to the Porsche story is Ludvigsen's assessment of the company's designers, chief engineers and top managers over the years. This definitive work on Porsche history is the ultimate gift for the Porschephile.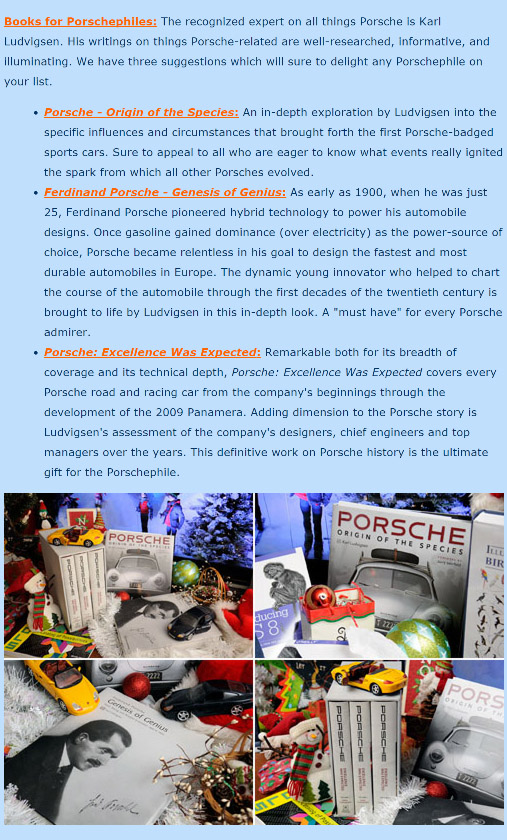 Review from and courtesy of Rainy Day Magazine - December 17, 2014
http://www.rainydaymagazine.com/RDM2014/Home/December/Week3/RDMHomeDec1714.htm#RainyDayGiftGuide_Books