History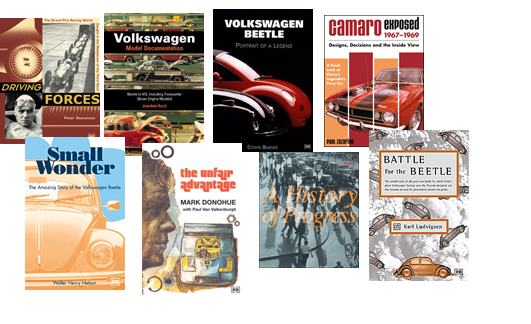 Covers for selected titles shown. Please scroll down for complete list.
Equations of Motion by William F. Milliken
Automotive History organized by brand
Audi History
BMW History
Camaro History
Corvette History
Jaguar History
Porsche History
Mercedes-Benz History
Racing History
Volkswagen History

Featured

The V12 Engine
The V12 Engine gives an unprecedented and in-depth overview of V12-powered cars and the magnificent engines that powered them, from the smallest, the 1.1-litre Itala of 1926, to the largest, the 112-litre "Quad Al" of 1965 powered by four Allison twelves.

The White Phantom / Das Weiße Phantom
Ernst Jakob Henne was 100 years old in 2004. BMW Mobile Tradition salutes the great racing driver with a review of his legendary racing career.
Racing History
Alex Zanardi -
My Sweetest Victory
Equations of Motion -
Adventure, Risk and Innovation
Limited Signed Copies
Camaro History
Corvette History
Zora Arkus-Duntov: The Legend Behind Corvette
Audi History
Porsche History
Porsche: Excellence Was Expected
Ferdinand Porsche-
Genesis des Genies
Ferdinand Porsche-
Genesis of Genius
Porsche - The Man and his Cars
Volkswagen History
Small Wonder: The Amazing Story of the Volkswagen Beetle
Volkswagen Beetle: Portrait of a Legend
Volkswagen Model Documentation
Place of Remembrance of Forced Labor in the Volkswagen Factory
BMW History
BMW Profiles 9: The Legendary BMW 507
The Development History of BMW Automobiles: 1918-1932: From Vision to Success
Mercedes-Benz History
Mercedes-Benz 300SL: Gullwings and Roadsters 1954-1964
Mercedes-Benz 300SL: Racing Cars 1952–1953
Jaguar History
Ferrari History