Porsche Technical and Owner Information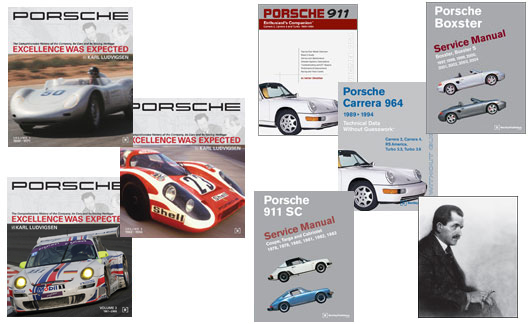 Covers for selected titles shown. Please scroll down for complete list.
Porsche Repair Manuals, Porsche Enthusiast books and Porsche History organized by Model
Porsche History
Porsche Boxster: 1997-2004
Porsche 911 Carrera (964): 1989-1994
Porsche 911 Carrera (901): 1984-1989
Porsche 911 SC (901): 1978-1983
Porsche 911 (901): 1964-1969
Porsche 930 Turbo Carrera (911): 1976-1979
Featured

Porsche Spyders: Type 550 1953-1956
The pedigree of Porsche as car designers was brilliantly affirmed by its creation of the 550 Spyder competition roadster. See the 550 Spyder in all its variations, from its origins in experimental Porsche models to the amazing and finely crafted one-off specials of Walter Glöckler. With its superb four-cam flat-four engine, designed by Ernst Fuhrmann, the 550 became known as a giant-killer for its racing successes on tracks all over the world. As tough as it was handsome, the 550 was winning races years after its official launch at the Paris Salon in 1953.
News

Porsche Boxster, Boxster S Service Manual: 1997-2004
Bentley Publishers is proud to announce the forthcoming publication of the Porsche Boxster, Boxster S Service Manual: 1997–2004. This repair manual covers the 1997 through 2004 model year Boxster and Boxster S. Bentley repair manuals provide the highest level of clarity and comprehensiveness for service and repair procedures. If you're looking for better understanding of your Boxster, look no further than Bentley.
Join in the discussion!
Bentley is now featuring online discussion forums where you can communicate directly with the folks who brought you your favorite manual. Ask us questions about our manuals or about your car. We'd like to hear from you. Check it out now at BentleyPublishers.com/tech.


Corrections
Porsche 911 Carrera Service Manual: 1984-1989
2003.jul.02
Porsche 911 SC Service Manual: 1978-1983
2002.nov.12

Videos
Bentley Publishers author Karl Ludvigsen attended the Goodwood revival this year in London for the European launch of his 3-volume masterpiece, Porsche: Excellence Was Expected.
Porsche Technical Discussion


Porsche History
Ferdinand Porsche-
Genesis of Genius
Porsche: Excellence Was Expected
Ferdinand Porsche-
Genesis des Genies
Porsche - The Man and his Cars
Porsche 911 SC (901): 1978-1983
Porsche 911 SC Service Manual:
1978, 1979, 1980, 1981, 1982, 1983 (paper)
Porsche 911 Carrera (901): 1984-1989
Porsche 911 Carrera
Service Manual:
1984, 1985, 1986,
1987, 1988, 1989 (paper)
Porsche 911 Carrera (964): 1989-1994
Porsche 911 Carrera (Type 964):
1989, 1990, 1991, 1992, 1993, 1994
Technical Data-Without Guesswork (paper)
Porsche 911 (964):
Enthusiast's Companion:
1989, 1990, 1991, 1992, 1993, 1994
Porsche 911 (901): 1964-1969
Porsche 911 Owners Workshop Manual: 1964-1969 (paper)
Porsche Boxster (986): 1997-2004
Porsche Boxster, Boxster S (986)
Service Manual:
1997, 1998, 1999, 2000,
2001, 2002, 2003, 2004 (paper)