Ferdinand Porsche-
Genesis of Genius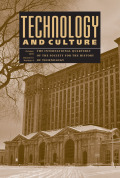 Technology and Culture - October 2010, Vol. 51
In the contemporary automobile scene, few names have as much resonance as Porsche. For connoisseurs, Porsche is synonymous with superbly engineered, fast, and agile two-seaters, even if some of the mystique has been dimmed by the recent addition of vehicles that depart from this formula. Many owners and aficionados probably assume that today's Porsches are the latest in a line of cars created by the brilliant engineer who also designed the Volkswagen Beetle. In fact Ferdinand Porsche had very little to do with their creation, which was the work of his son, Ferry. Ferdinand Porsche was, however, responsible for a vast number of vehicles and engines that bear witness to one of the most creative engineering minds of the first half of the twentieth century.
Born in 1875 in a German-speaking region of what is now the Czech Republic, Ferdinand Porsche's early career closely paralleled the rise of the automobile industry. Like many automotive pioneers, his skills were largely acquired while on the job (the title Doktor was later bestowed as an honorary degree). At age eighteen, he found employment at a firm that manufactured equipment for the nascent electrical industry. His experiences at that concern served him well when, at age twenty-five, he completed an electric car sponsored by Lohner, a well-established Austrian coach builder. The car was powered by two electric motors integral witl1 the front wheels. This arrangement was subsequently used for one of the first hybrid automobiles and was followed by a line of gasoline-electric cars, buses, and trucks.
The subsequent history of Porsche touches on many of the key automotive forces of the German-speaking world. At Austro-Daimler he designed luxurious sedans and successful racing cars. These faded into the background as the outbreak of World War I had Porsche designing artillery tugs, a train that could run with or without tracks, a two-wheeled tractor, and a notable series of aero engines that continued his earlier efforts in this field. A dispute with the banker who controlled Austro-Daimler resulted in Porsche's moving on to Mercedes, where he engineered aero engines along with some legendary road and racing cars. After a falling-out with the management of the firm that had resulted from the merger of Daimler (the manufacturer of Mercedes vehicles) and Benz, he joined Steyr, an Austrian rival of his previous employer. His tenure at Steyr was cut short by the financial crash of 1929, and a new phase of his career ensued. Porsche's relationships with his employers had not always been harmonious, and his departure from Steyr provided the impetus for the founding of an independent design bureau. While working in this capacity he designed two iconic cars that occupied the extreme ends of the automotive spectrum: the supercharged sixteen-cylinder Auto Union Grand Prix racer and the "people's car," the Volkswagen.
Here the book's narrative ends, with only a few pages devoted to the last two vehicles. This is an appropriate endpoint. Many books have covered the history of Porsche and his designs from the 1930s onward, but a comprehensive account in English of Porsche's earlier years has not been available. It was worth the wait. Karl Ludvigsen worked in close consultation with Porsche's eldest grandson, Ernst Piëch, whose collection of written materials, drawings, and photographs constitute a major part of the book. The inclusion of many technical drawings from this collection usually resolves the occasional difficulties in following the verbal descriptions of chassis, engines, and other components - a common problem in technical histories. One of the highlights is a set of eight beautifully rendered cutaway drawings of Porsche's designs by Wolfgang Franke. Not only are these drawings useful for comprehending technical details, they stand as works of art in their own right.
The close focus on Ferdinand Porsche and his accomplishments gives a hagiographical cast to the book and leaves it open to charges of paying insufficient attention to the contributions of Porsche's talented coworkers. More problematic is the glossing over of Porsche's political orientations. As noted above, ending the story in the early 1930s is manifestly reasonable, but it also conveniently avoids the need to delve into Porsche's substantial contributions to the German war effort (which entailed the extensive use of slave labor) in the years that followed. Finally, more contextual information about the German and Austrian automobile industries would have been useful. But Ferdinand Porsche had a long and highly productive career, and coverage of his life and work in text and pictures required nearly 500 pages. Automotive historians along with historians of twentieth-century mechanical technologies will find something of interest in virtually every one of these pages.
RUDI VOLTI
Dr. Volti is emeritus professor of sociology at Pitzer College in Claremont, California, and the author of Cars and Culture: The Life Story of a Technology (2004 ).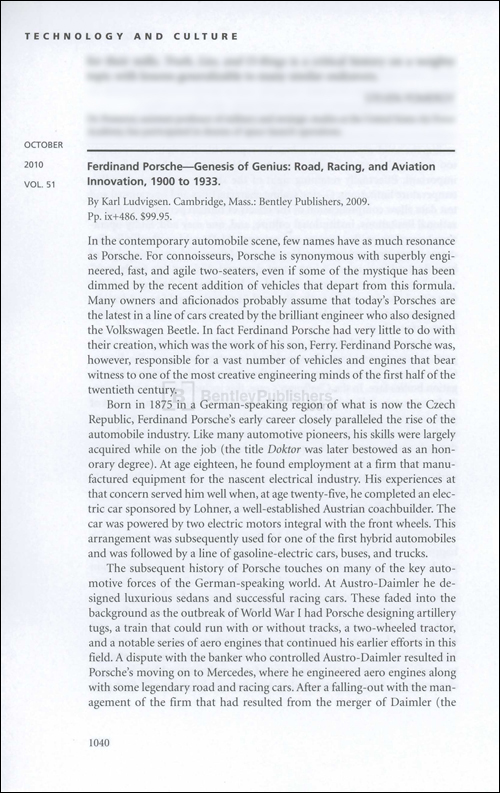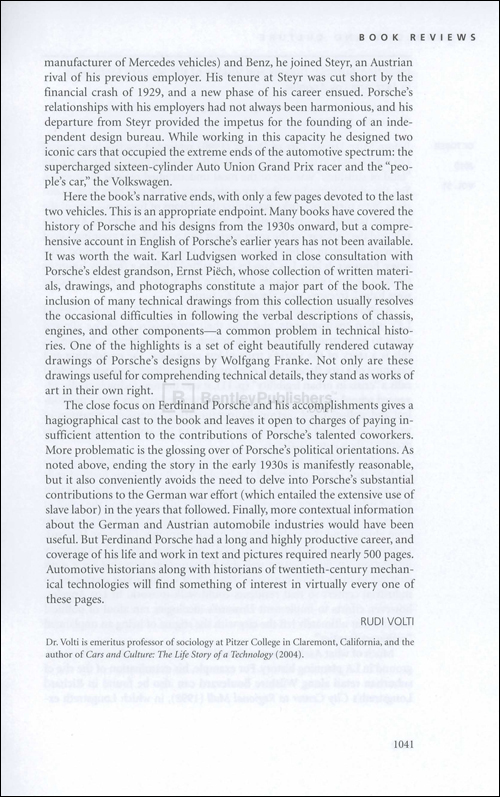 Review of Ferdinand Porsche - Genesis of Genius from Technology and Culture - October 2010, Vol. 51