Ferdinand Porsche-
Genesis of Genius
Vintage Sports Car Club Bulletin - No. 265 Autumn 2009
Karl Ludvigsen is certainly in the vanguard of motoring book authors; his Porsche one make history, reviewed in the last issue, is the standard work on the marque. This book, however, is not about Porsche as a make but about Porsche the man, and what he did before he started manufacturing cars under his own name. In fact, the title almost says it all; he designed both road and racing cars, aeroplane engines and military transport for a variety of companies. At the age of 25 he was working for Lohner designing electric vehicles but he soon came up with a hybrid with petrol engines to directly power electric motors built into the front wheels and also to charge the batteries. Porsche's early years as an engineer were inextricably tied up with Ludwig Lohner and then the charismatic Emil Jellinek, who cleverly took the energetic, young engineer away from Lohner by purchasing the electric vehicle part of his business. Effectively though, those years from 1900 to 1908 were spent in the pursuit of what proved to be a dead end, the design of electric and petrol-electric vehicles. Porsche was, of course, an electrical engineer but Emil Jellinek was quick to recognise that his abilities were such that he would succeed in any branch of engineering and made him Technical Director of Austro-Daimler and set him to work on the design of petrol driven cars.
Unfortunately the venture was not a success, slow sales and the warranty claims effectively bankrupted OAG, the sales company set up to sell Austro-Daimler's cars, and the entrepreneurial Jellinek disappeared in to near obscurity disillusioned and blaming Porsche for the failure. Perhaps, having recognised his genius, he had pushed him too far too quickly?
Porsche continued working for Austro-Daimler and quickly resolved the problems with his early design and he was a firm believer in the theory that competition is the best way to prove a new design, aside from which he enjoyed driving quickly. So the die was cast and Porsche decided to field a team of Austro-Daimlers in the 1909 Prince Heinrich Trials and, although success eluded them, he learned much and would return in 1910 with a team of much improved cars fitted with new, single overhead camshaft engines in the 1909 chassis. The three works cars were backed up by a number of privateers but the team cars were unbeatable and took the team prize by finishing first, second and third, a convincing victory which did no harm at all to Porsche's reputation. Another factor that furthered his career was the decision to build replica Prince Heinrich cars for sale to wealthy clients who wanted a very sporting road car. Porsche's status as a designer of high quality sporting cars was now assured but there was not much time for basking in the glory; the First World War was just around the corner and Austro-Daimler would turn all its efforts to the manufacture of military equipment. Porsche designed a series of vehicles for the army, including a ?road train' with a generator in the tug which powered not only its wheels but also motors powering alternate axles of its ten trailers. Aero-engines soon followed and the water-cooled, in-line Austro-Daimler became the model for its German rivals.
The author takes us through Porsche's career at Austro-Daimler in great detail until his move to Stuttgart, brought about by a disagreement with the board at Austro-Daimler, in 1923. A move to Steyr followed and the book finishes with ?our hero' at Auto Union although this is only briefly covered.
Over the last twelve months the motoring bibliophile has been treated to one book that immediately raised the bar for motoring historians to aim for, Steinhauser's work on the early career of Ettore Bugatti is quite simply his magnum opus and this book will stand comparison with that work. Originally issued in July 2008 as a collector's edition of 500 copies, which quickly sold out, this edition is very reasonably priced considering the quality and size. The original edition included a slipcase and all the photographs were sepia toned whereas now they are just black and white but that is a minor price to pay. Many of the illustrations have never been seen before including a number from the Porsche family albums and these are supplemented by seven full colour, fold out drawings of the more important cars and another drawing of the Prince Heinrich engine. There are a number of sectioned drawings of the aero-engines and chassis drawings of cars making this something of a treat for the engineers amongst readers.
To sum up, this is an exhaustive survey of the origins and work of one of the great automobile engineers of the 20th. century; as such it is an important work but it is also eminently readable, beautifully produced and illustrated with some stunning and original images. It can be highly recommended and should find its way into any serious collection of motoring books. The publication date is the 1st. of October, 2009 so reserve a copy with any good motoring bookseller.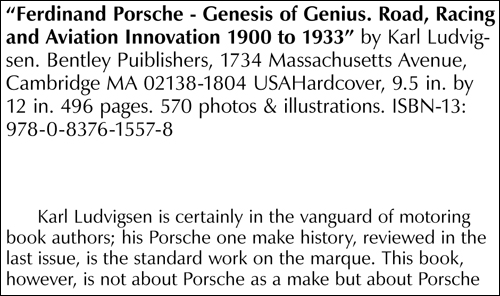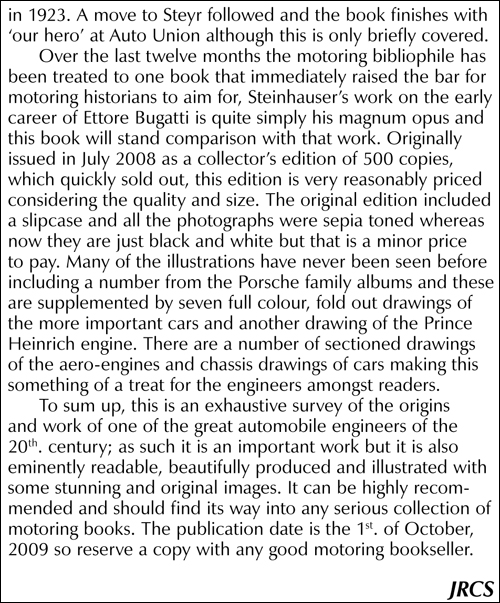 Review of Ferdinand Porsche - Genesis of Genius from Vintage Sports Car Club Bulletin - No. 265 Autumn 2009