Ferdinand Porsche-
Genesis of Genius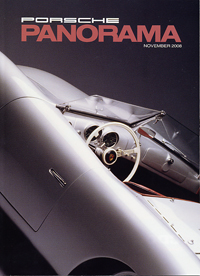 Porsche Panorama - November 2008
Winter Reading
Ferdinand Porsche, father of Ferry, died in January 1951, barely three years after the company returned from Gmünd to Stuttgart, transformed from a design bureau into an automobile manufacturing company. Though the elder Porsche had little to do with the day-to-day operation in Zuffenhausen in those last years of his life, the imprint of his genius was at its core. Karl Ludvigsen, whose three-volume Porsche: Excellence Was Expected is the authoritative history of the company, has now written a prequel. In Genesis of Genius, Ludvigsen explores the life and times of the senior Ferdinand Porsche. With the meticulous research that is his hallmark, Ludvigsen examines the early career of the first Porsche, subtitling his book "Road, Racing and Aviation Innovation 1900 to 1933." Weighing in at a hefty eight pounds, this is not a book for casual perusal at bedtime. But if you want to know how it all started, explore the story of the fascinating man at the beginning of the Porsche saga, it is here in every detail.
Interestingly, the project came to Ludvigsen at the behest of Ernst Piëch, the eldest grandchild of Ferdinand Porsche, who has collected and restored many examples of his grandfather"s work. There is a German edition of 300 books and Bentley Publishers has produced a limited edition of 500 English language copies.
For an excerpt from Genesis of Genius, see the July 2008 issue of PANORAMA. This one is for the serious student of Porsche history.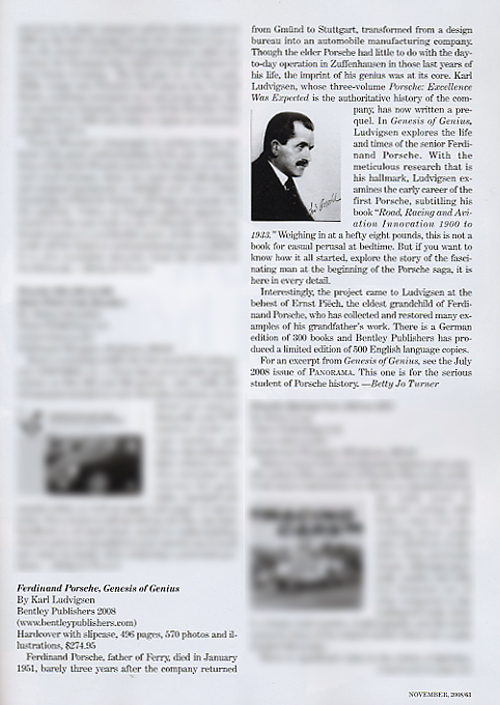 Review of Ferdinand Porsche - Genesis of Genius from Panorama - November 2008