Ferdinand Porsche-
Genesis of Genius
Review in Porsche Post - December 2008
No self-respecting publication concerning Porsche, be it about the cars or the company, is considered credible without a precis of the great man himself. Indeed, there may be some innocents who believe that the story of Dr. Ferdinand Porsche, that wonderfully inventive, radical mastermind, has been well enough chronicled that nothing more need be written. Dear reader, I must tell you that they are wrong. Until now those authors and historians who have broached the subject have barely scratched the surface, more often than not touching only on Dr. Porsche"s involvement with Auto Union, Volkswagen and his five years with Daimler-Benz, before his founding of the firm we all know and admire. Oftentimes, let it also be said, those same authors and historians have read and adapted that which was handed down, notwithstanding that by its nature the material itself is watered down, vague and often prone to contradiction.
Since the Goodwood Revival, where I staggered home weighted down with a personalised copy of Karl Ludvigsen"s Ferdinand Porsche - Genesis of Genius, (subtitled Road, Racing and Aviation Innovation 1900 to 1933), I"ve become a willing history buff, my nose stuck into this most amazing book comprising almost 500 pages of riveting material. It is, in simple terms, the immensely satisfying story of Dr. Ferdinand Porsche"s early life, together with close scrutiny of his engineering genius in what were pioneering times, and his considerable success behind the wheel as an intrepid race driver. Part of this book"s charm is that the story unfolds in such an exciting style that it reads like a good thriller. It"s a real page-turner. Indeed, writing of an age of which we know very little, it becomes clear that Ferdinand Porsche was a man streets ahead of is generation, thus his early creative achievements are eminently noteworthy and, in the context of such times, even more spectacular than one might ever dare imagine. We are talking of a man who in 1900, at age 24, designed and built the radical Löhner-Porsche electric car. Now the idea is touted as something new. We learn also of his success a decade later in developing the Austro-Daimler, and of his vital part in bringing home the silverware in the 1910 Prince Heinrich competition. Austro Daimler"s Type 22/86 was rightly considered the forerunner of what we now think of as a "sports car." While busy taking overall charge of Austro-Daimler, Porsche was at the same time building engines for dirigibles and aircraft. It was new-age stuff; his in-line six and V12 engines were so influential that to this day experts credit them with a deep and lasting effect. A powerful lesson taught by Ferdinand Porsche is that he believed wholeheartedly in subjecting any new design to the rigours of competition, indeed in one form or another he would put them all to the test in a race, rally, sprint or hillclimb. Small or large, if it could be tested against its rivals on road or track, Porsche would do so.
So, the man who had such influence on our abiding passion is brought vividly to life, thanks in no small part to the huge amount of new material that Karl Ludvigsen has so painstakingly unearthed through sheer hard slog and weighty research. It should be noted also that this volume carries the blessing of Ferdinand Porsche"s eldest grandchild, Ernst Piëch, whose great interest in the history of his family ancestry, the accumulation of archive material and acquisition of restored examples of his grandfather"s work, made this book, which is in-depth in the ture meaning of the words, possible.
Sometimes, history can be dry as dust, though in the hands of a master wordsmith, it can leap out of the written page and come to life. This book meets all the criteria of written greatness and is without parallel. Of course there are very many glorious, evocative photographs of this romantic age included, plus seven specially commissioned full colour, foldout drawings by Swiss automotive artist Wolfgang Franke. There are also many previously unpublished photos from the Porsche family archives, and, as one might expect, many more from the Ludvigsen Photo Library.
Book reviews by their very nature can at best provide only an appetiser. For the full five courses and champagne, I urge readers to splash out. Don"t just think of the cost, which equates roughly to the price of a full tank at today"s tax-burdened prices, but regard it as an investment in historic genius. There"s something also about the smell of a really fine book, which in this case might be compared to, say, the whiff of Castrol R burning sweetly in a vintage Moto Guzzi. It"s to do with the extra care taken in fine binding, the glue used, indeed I suspect even the printing ink is of a superior quality. Like a rare and precious wine, this limited edition of just 500 copies is a tome to savour and to care for in a proper manner, treasured as an heirloom. Thank you, Ferdinand Porsche, for all the good that you achieved, and thank you, karl Ludvigsen, for yet another production of epic proportion.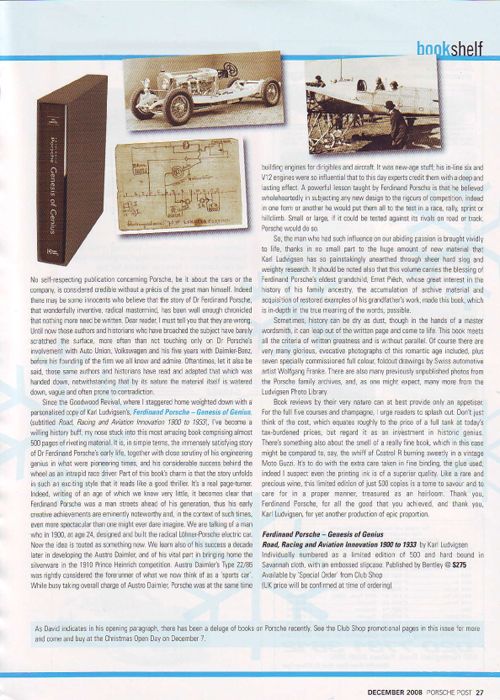 Review of Ferdinand Porsche - Genesis of Genius from Porsche Post - December 2008