Equations of Motion -
Adventure, Risk and Innovation
Limited Signed Copies

Hardcover, 7 7/8 in. x 10 1/2 in.
696 pages
700 B/W photos and diagrams
ISBN-13: 978-0-8376-1348-2
Price: $69.95

A limited number of signed copies are now available while supplies last.
Mister Supernatural: Award-winning biographical sketch of Bill Milliken by Karl Ludvigsen
Legendary American driver Dan Gurney wrote a very kind foreword to Equations of Motion. Download the PDF here (48 kb).
How many 95 year-olds drive faster than their age?
Watch Bill Milliken's interview for the EAA's Timeless Voices of Aviation (part 1 of 6).

Click here for a list of all 6 parts of this interview.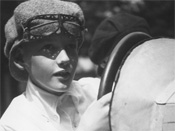 Bill Milliken, age 12, at the wheel of Duesenberg No. 4 pushcar; 1922, Old Town, Maine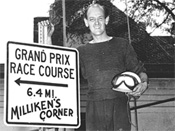 Bill Milliken earned eternal fame at Watkins Glen for his daring driving in Bugattis (Type 35,1948; Type 54, 1950), and a Miller four wheel drive (1949). Photo ca 1948.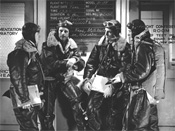 Bill Milliken (far right) and other Boeing Flight Test staff members brief for a B-17 high-altitude test, ca 1942.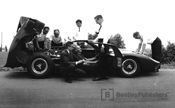 Bill Milliken used a Ford GT40 to demonstrate safe handling characteristics for NHTSA officials in 1966.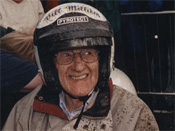 Bill Milliken, age 87, at the wheel of FWD Miller; 1997, Goodwood Hillclimb, England
William F. "Bill" Milliken, Jr. does, because he practically invented the science of automobile handling. His work has made cars safer, more efficient, and most importantly from his perspective, a lot more fun.
Milliken's automotive innovations have earned him the highest engineering honors, and his technical books are required reading for automotive engineers and students. But what really makes Milliken's life special is his lifelong adventure of making rollicking play of challenging work. After MIT, Milliken helped perfect some of World War II's most memorable combat aircraft. At the Cornell Aeronautical Laboratories research hotbed, he spearheaded a new methodology that fundamentally changed how aircraft are designed.
Millken's hobbies have been his inspiration: The solo, open-cockpit flights from Seattle to Maine, and the 100-plus postwar sports car races. The math: Two upside-down airplanes plus two upside-down race cars times always giving your all equals unparalleled understanding of how vehicles move, and how to make them do it better.
The sign for Milliken's Corner along the old Watkins Glen (NY) racing circuit alerts drivers to a hairy bend. Most people slow down, but Bill steps on it. The only thing he is certain will happen is that he'll learn something. As he tells it in Equations of Motion: 80 Years of Adventure, Risk and Innovation, it has all been a lot of hard work, and nothing but fun.
Equations of Motion is an engaging portrayal of doing one's best, following one's dreams and taking the adventurous route to solving real challenges.
Sections
Growing up Down East, 1911-1932
An Engineer's Education at MIT, 1932-1936
War Effort, 1936-1943
Transition to Research, 1944-1947
Automobile Racing, 1947-1960
Automotive Research, 1956-2002

Equations of Motion-Signed
BSIN
: GEMS
ISBN: 0-8376-1348-5 (ISBN-10)
ISBN: 978-0-8376-1348-2 (ISBN-13)
Permalink
: http://www.bentleypublishers.com/c/GEMS