Race Driving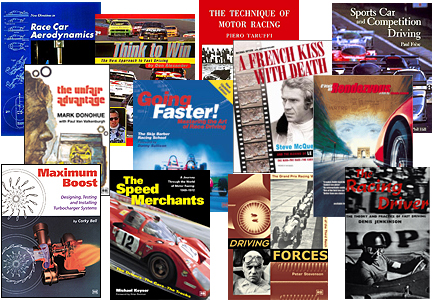 Covers for selected titles shown. Please scroll down for complete list.
Equations of Motion by William F. Milliken
Racing Drivers, Racing Actors and Racing Directors organized by Name
Don Alexander
Alberto Ascari
Briggs Cunningham
Mark Donohue
Juan Manuel Fangio
John Fitch
Emerson Fittipaldi
Paul Frère
Dan Gurney
Ernst Jakob Henne
Denis Jenkinson
Lee H. Katzin
Michael Keyser
Claude Lelouch
Carl Lopez
Bruce McLaren
William F. Milliken
Peter Stevenson
Jackie Stewart
Peter Swinger
Richard Symons
Chris Szwedo
Piero Taruffi
János Wimpffen
Alex Zanardi

Racing Series and Racing Models
CAN-AM
Ford GT
Indy Car
Mercedes-Benz
Featured

Cobra Ferrari Wars
In 1952, Carroll Shelby, was a bankrupt chicken farmer from Texas. In his early 30s with a young family, it was time to take stock. Re-join the rat race or follow his heart—motor-racing?

C'Était Un Rendezvous
Filmed in 1976, the revered short film by director Claude Lelouch -director of Academy Award winning "A Man and a Woman"/"Un Homme et Une Femme" - is regarded as the ultimate chase scene.


Stevenson, Peter
Keyser, Michael
Lopez, Carl
Jenkinson, Denis
Frère, Paul
Sports Car and Competition Driving
Taruffi, Piero
Alexander, Don
Donohue, Mark
Zanardi, Alex
Alex Zanardi -
My Sweetest Victory
Alberto Ascari
Emerson Fittipaldi
Bruce McLaren
Jackie Stewart
Milliken, William F.
Equations of Motion -
Adventure, Risk and Innovation
Limited Signed Copies
Mercedes-Benz 300SL: 1952-1964
Mercedes-Benz 300SL: Racing Cars 1952–1953
Mercedes-Benz 300SLR: 1955
CAN-AM
Briggs Cunningham
Dan Gurney
Indy Car
Juan Manuel Fangio
Ford GT40