| | |
| --- | --- |
| | |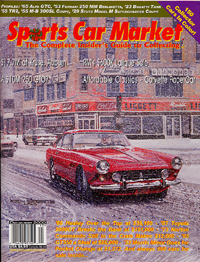 Sports Car Market – December 2000
It is common today to think of race drivers and their cars as high-speed billboards, advertising a product or service. In the '30s a mustachioed German politician with a bad haircut and a boyish regard for racing heroes saw the advertising value of fast machinery to carry the banner of the Reich.
Prior to the Nazis' rise to prominence, the Grand Prix world was pretty much in the hands of Italian teams and drivers. A few years later, the lovely Alfa Romeo and Maserati Grand Prix cars looked like quaint antiques compared to the smooth, aircraft-like silver cars from Germany.
Like a novel, Stevenson's book spins a web of intrigue around the two competing teams of Auto Union and Mercedes-Benz. The development lines followed by both teams and even a little spying on the competition keeps the narrative lively while major characters including Carraciola, Varzi, Nuvolari, Seaman, and Rosemeyer win races, play practical jokes and try to stay alive in the era just before the Second World War.
Fascinating and hard to put down, Driving Forces brings us up close to the action and puts us both in the minds of the participants and behind the wheel of the cars that were silver because bare alloy was lighter than a painted car. Even if you have little or no knowledge of Grand Prix racing before WWII, this book is a riveting and unforgettable account of those days.