| | |
| --- | --- |
| | Audi: A History of Progress |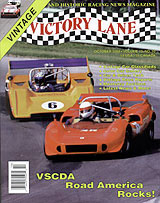 Victory Lane ? October 2000
Audi: A History of Progress?Chronicle of Audi AG review from Victory Lane ? October 2000
"In recent years the new Audi line of automobiles has been revitalized. The sporting heritage of the family tree has been crossed with new designs to offer an exciting range of cars with the Audi TT as flagship.
The competition history of the combine of Wanderer, DKW, Horch, Audi into Auto Union and the late '30s mid engine Grand Prix cars has given a legend to build the modern company upon the acquisition of NSU in the 60's, and the revitalization of the company into the AG is a great business story as well as a great automobile story.
This book has enough little known competition facts and racing stories to keep the racing enthusiast interested as well as the Audi buff it."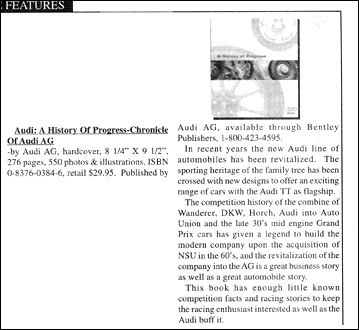 Note: This review is from the previous edition. This new edition includes all of the previous edition plus additional coverage from 1997-2000.