| | |
| --- | --- |
| | Zora Arkus-Duntov: The Legend Behind Corvette |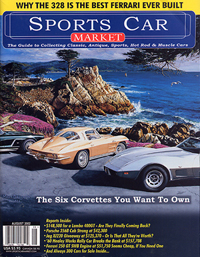 Sports Car Market - August 2002
Zora Arkus-Duntov: The Legend Behind Corvette
Was Zora Arkus-Duntov the "father of the Corvette" or a shameless self-promoter?
While you won"t find a clear yes or no answer to that question in Zora Arkus-Duntov: The Legend Behind Corvette, you will discover a surprisingly reasoned examination of the man"s career, without the surfeit of fluff and puff so prevalent in today"s automotive press.
Author Burton, who is the editorial director of Corvette Quarterly, illustrates the book with hundreds of unpublished photographs, many of which were supplied from Duntov"s personal collection. It is evident that he conducted exhaustive interviews with people who were close to Duntov, but it would have been beneficial if he had noted the source of some of his statements.
Several of the myths associated with Duntov are dispelled in Burton"s book. For example, Duntov is often given credit for the development of the Ardun head, famous in the hot-rod world, but it was not truly functional until he sold the firm to C&T Automotive. It is a stretch to call him the "Father of the Corvette" since he was still attempting to gain employment at GM when the first Corvette was introduced, although his later accomplishments cannot be ignored.
Duntov"s significant accomplishments with fuel injection and the Corvette SS are touted in this book, but it is also mentioned that Robert Cumberford, a former member of the Corvette design staff and now automotive design editor at Automobile magazine, suggested the Corvette contained "a touch more "Father of the Corvette" veneration of Arkus -Duntov than is strictly justified by the facts."
This well-written and researched book is a must for anyone interested in an in-depth look at one of the American car industry"s charismatic, larger than life figures, whose name will be forever linked with America"s most important, and some would say only, sports car.
- Carl Bomstead.