| | |
| --- | --- |
| | Zora Arkus-Duntov: The Legend Behind Corvette |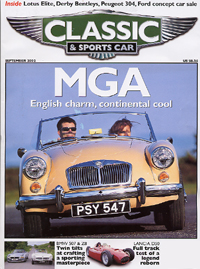 Classic and Sports Car - September 2002
Book of the Month
Zora Arkus-Duntov: The Legend Behind Corvette
This story has been waiting to be told but probably best not by the late subject, a wild card who seems to have had a tendency for embellishment. Luckily, it has been extensively researched by a man who was a friend of the engineer, and editorial director of Corvette Quarterly, who pulls no punches.
Duntov is widely credited as being the savior of the Corvette, but the earlier history of this Russian Jew emigre is less well known. Having fled Germany pre-WW2, talking his way into jobs must have seemed less of a problem(English was his fourth language) and he had a spell working for Sydney Allard in London. He was desperate to race ? driving for Allard at Le Mans and, later, winning the 1100cc class there twice for Porsche ? but his future lay with Chevrolet. He made his mark in the huge GM, but not without putting a few noses out of joint. There are a couple of mysteries ? Duntov made much of his friendship with Alfred Neubauer, and there is a picture of himself with a W165 after a Nurbergring test which plainly isn't.
The late Smokey Yunick has revealing things to say about Duntov's involvement with the small-block Chevy, and the ?Duntov cam'. He is also exposed as a philanderer, with several dalliances away from his delightful wife Elfi. It is true that Duntov took the Corvette under his wing when the rest of GM saw it as a dead duck, and made it into a sports car; but how much of that was down to his protégé Walt Zetye we shall perhaps never know. Duntov and his team certainly were wholly responsible for the traverse-leaf independent rear suspension. The latter half of the book concentrates on this, and other projects such as the Gran Sport and CERV experimental cars that Duntov wanted to take to LeMans, but was hamstrung by GM's ban on racing ? he was, understandably, frustrated by Chaparral's back-door deal. Later in the ?60s, he entertained chums, such as astronaut Alan Shepard, in his boat (yup: Shepard drove a ?Vette) was elbowed out then reinstated as Chief engineer. This 400-page hardback is a massive work of research of a fabulous career, with telling pictures, and there's a useful quick-reference section at the back. Lack of colour aside, it's hard to see how it could be bettered.