| | |
| --- | --- |
| | Zora Arkus-Duntov: The Legend Behind Corvette |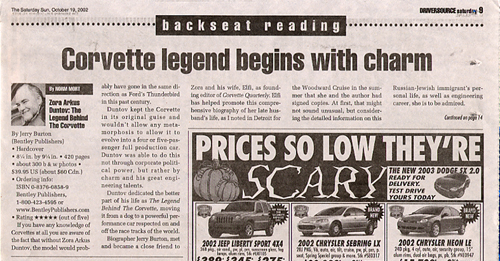 Toronto Sun October 19, 2002

Backseat Reading

Corvette legend begins with charm

Zora Arkus-Duntov: The Legend Behind Corvette

By Jerry Burton (Bentley Publishers)
·Hardcover
·81/4 in. by 91/4 in. ? 420 pages
·about 300 b & w photos ? $39.95 US (about $60 Cdn.)
·Ordering info:
ISBN 0-8376-0858-9
Bentley Publishers,
1-800-423-4595 or
www.BentleyPublishers.com

·Rating ***** (out of five)

If you have any knowledge of Corvettes at all you are aware of the fact that without Zora Arkus Duntov, the model would probably have gone in the same direction as Ford"s Thunderbird in this past century. Duntov kept the Corvette in its original guise and wouldn"t allow any metamorphosis to allow it to evolve into a four or five-passenger full production car. Duntov was able to do this not through corporate political power, but rather by charm and his great engineering talents,Duntov dedicated the better part of his life as The Legend Behind The Corvette, moving it from a dog to a powerful performance car respected on and off the race tracks of the world.

Biographer Jerry Burton, met and became a close friend to Zora and his wife, Elfi, as founding editor of Corvette Quarterly. Elfi has helped promote this comprehensive biography of her late husband"s life, as I noted in Detroit for the Woodward Cruise in the summer that she and the author had signed copies. At first, that might not sound unusual, but considering the detailed information on this Russian-Jewish immigrant"s personal life, as well as engineering career, she is to be admired.

In many ways this is as much a love story as a story about the talented men and women, and exciting cars Duntov was fortunate enough to be involved with throughout his life. As in any marriage, the two had problems, in part, because of Duntov"s charm and good looks he had a number of female admirers.

?... once in America, Zora"s career starts to rocket ahead ...?

What also becomes apparent though, is his deep love for Elfi. She was not only his dedicated wife, but also worked along with him over the decades.

All this personal perspective is woven in and out of the great engineer"s life story, skillfully told by Burton through his scores of personal interviews, and thousands of documents.

Although the Corvette played the major role in his engineering career, the story opens in St. Petersburg, Russia where Zora spent most of his youth and was heavily influenced by his mother. It then moves to Berlin, Germany, where his stepfather Josef Duntov was transferred.

Zora"s life as an engineer begins to evolve, he designs and builds the Arkus, and eventually all this takes him to England where he works for Sidney Allard after The Second World War and develops the Ardun head for extracting more power out of Allard"s Flathead Ford engines. Fascinating insight is provided for Allard fans in this section. (By the way, the Ardun head is still available today for Ford enthusiasts and hot rodders - in a more refined form, and as noted by Burton, proved to play a major design role in the initial quest for power in the first Corvette V8s.)

Once in America, Zora"s career starts to rocket ahead as he becomes more and more involved in GM projects and eventually becomes an integral part of the evolution of the Corvette.

Although there are hundreds of black and white photos, this is not a coffee table book. The photos are mostly snapshot size; this is a "reader." It is one of the best automotive stories I"ve read -not overly technical, yet specific and detailed enough to be appreciated by techies. It is a fascinating story of a great engineer"s life on all levels. Note: This title, along with Bentley"s new Corvette From The Inside are available in a two-book, slip-covered set in leather bound editions.