| | |
| --- | --- |
| | Porsche: Excellence Was Expected |
Volume 3
View Table of Contents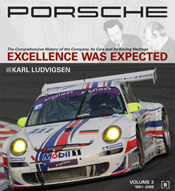 Although a successful and profitable sports-car and SUV manufacturer in 2003, the 1990s witnessed significant swings in Porsche's fortunes. In the mid-1980s, the company"s exploration of the FIAs Group B resulted in the fabulous all-wheel-drive 959 of 1988. It was fast, sophisticated and beautiful. It was also a money loser for the company. In this same period, Porsche won the Paris-Dakar Rally and conquered the highest levels of Formula 1 with the McLaren-TAG team. In contrast, Porsche lost its way with the CART program and experienced a disappointing return to Formula 1 in 1991 with the Footwork Arrows team.
Porsche continued to extract greater performance and sophistication from its 928 and the many variations of the 944. But this model proliferation and the rise of the dollar took its toll on Porsche.
Models in Volume 3:
Road
959
928GT
944 Turbo
944S
968
911 (964)
911 (993)
Boxster
911 (996)
Cayenne
Carrera GT
Competition
961
Footwork
Arrows
911 GT2 (993)
911S LM
Carrera RS 3.8
GT1/96
911 GT3 Cup
GT1/98
911 GT3R
911 GT3RS
911 GT2 (996)
With the departure of chief Peter Schutz, emphasis gradually retuned to the 911, with the introduction of the vastly revised 911 (964) in Carrera 2 and Carrera 4 versions. By the mid-1990s, the 911 - as the Type 993 - was Porsche's only product, although it was available in coupe, Targa, Cabriolet and Turbo forms, with both two- and four-wheel-drive configurations. Variations of the 911 also performed with distinction on the track, by way of the GT1, GT2 and GT3 racers available from the Porsche factory
With the return of manufacturing specialist Wendelin Wiedeking in 1992 came massive changes that led to new efficiencies within the company. In addition, the company made a stock offering and reached into reserves to provide development funds for a pair of new automobiles which brought about a gradual resurgence for the little firm. The resulting Boxster and Type 996 version of the 911 breathed new life into Porsche
Highlights in Volume 3:
· Porsche's 959 supercar
· Formula I engine supplier
· A new 911
· Boxster success
· 993 and 996
· Cayenne SUV
· Carrera GT

As Ludvigsen explains, in the early days of the Twenty-First Century Porsche"s Boxster and 911 lines remain strong and healthy. The advent of the Cayenne SUV and the Carrera GT supercar, as well as the overall victory of a 911 GT3RS at Sebring in 2003 should dispel any last doubts about Porsche's engineering capabilities or its ability to survive as a small and independent automaker.