| | |
| --- | --- |
| | Porsche: Excellence Was Expected |
Volume 1
View Table of Contents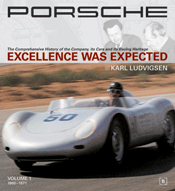 Although Porsche was long an important force in the design of German automobiles, its first efforts at building its own vehicles only matured in the early years after World War II in the unlikely location of a sawmill in Gmünd, Austria, and survived the internment of both Professor Ferdinand Porsche and Ferry Porsche. From those modest beginnings, author Ludvigsen takes the reader through Porsche's move back to Stuttgart and its first forays into racing with its road cars.
Models in Volume 1:
Road
356
American
Roadster
356A
356B
356C
Carrera 2
911
912
911S
Competition
550
550A
RSK
RS60
RS61
904
906
907
910
Soon, in the tradition of Prof. Porsche, the company defined itself as one that found its own unique engineering solutions to any challenge. For its own cars that meant exploiting the Volkswagen formula of a rear-mounted air-cooled engine driving the rear wheels. Those challenges also included competition, first at the local level and soon on the international stage. Class wins by 356 coupes and 550 Spyders at Le Mans soon yielded to overall victory in the 1956 Targa Florio.
Gradually the 356 evolved and matured. After a long and fruitful life it was superseded by the brilliant 911 in 1965. In the same way some of the old guard,such as Huschke von Hanstein who ran public relations and competitions, gave way to young Turks like Ferdinand Piëch. Meanwhile the company continued its march towards the highest levels of motorsports contests, scoring victories in endurance racing, Formula 1, rallying and on many different national venues across the globe.
Highlights in Volume 1:
· Designs for others
· Porsche becomes an
  automaker
· The 356 on the road
· Four-cam Porsches
· Porsche Formula I
· Birth of the 911
· Contesting the big races

This first period of Porsche history was the most pivotal. Under Ferry Porsche the young car company confirmed its impeccable engineering credentials, became known globally through competition and continued its cautious expansion while remaining privately held and proudly independent of bankers. Just as this era of the company created the foundation for all of its future accomplishments, this first volume of Karl Ludvigsen's masterwork provides the building blocks for the fascinating history and developments to follow.