The Case of the Singing Skirt

A Perry Mason Mystery

Hardcover, 8 1/2 in. x 5 3/4 in.
250 pages
ISBN-13: 978-0-8376-0399-5
Price: $18.00

Ellen Robb came into Perry Mason's office with a gun in her purse. She had been framed, she said, by her gambler employer because she had refused to help fleece a customer.
The customer had dropped nearly $10,000 in the gambling establishment and then had done his best to pick up Ellen. His wife, none too pleased with either shenanigan, ended up dead.
Della said Ellen couldn't be trusted; Perry thought he could find out by switching guns on her - thus starting a series of explosions that nearly blasted him out of court. The result is one of the fastest, most exciting - and most provocative - whodunits you could hope to find.
The Case of the Singing Skirt is a superb mystery - revolving around two startling points of law - which keeps Perry Mason hopping with the fastest legal foot-work of his spectacular career.
"Among his many other virtues, Erle Stanley Gardner is surely the finest constructor of hyper-intricate puzzles in evidence since the late Freeman Wills Crofts. The Case of the Singing Skirt is one of the most elaborate problems of Perry Mason's career...This is as chastely classic a detective story as you're apt to find in these degenerate days." -Anthony Boucher, The New York Times Book Review
Bentley Library-Bound Standard Fiction Reprints are printed on high-quality 55-lb. book paper. The bindings are sewn, not glued, and each book is covered with a sturdy water-resistant Pyroxylin library binding. This high-quality construction ensures that these books will last for many years.
Return to Linnaean Press home page.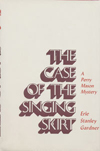 Gardner/Case of the Singing Skirt
Wholesale Case Quantity: 1
BSIN
: 3GAS
ISBN: 0-8376-0399-4 (ISBN-10)
ISBN: 978-0-8376-0399-5 (ISBN-13)
Permalink
: http://www.bentleypublishers.com/c/3GAS