The Case of the Mythical Monkeys

A Perry Mason Mystery

Hardcover, 8 1/2 in. x 5 3/4 in.
276 pages
ISBN-13: 978-0-8376-0398-8
Price: $18.00

It all began when pretty Gladys Doyle lost her way and was forced to spend the night in a remote cabin. The next morning she discovered her handsome host gone and a stranger in his place - dead as the proverbial herring.
There follows a courtroom scene in the best Perry Mason tradition, with a most reticent group of witnesses: a lady author whose realistic novel is a bit too true to life; Edgar Carlisle, equally talented at telling stories; Richard Gilman, an old hand at the disappearing act; and a smart, sharp operator never at a loss for clever plots.
Action and suspense are at their height and the adroit Mason at his legal best in this superb mystery.
"An apparently incontestable charge of suppressing evidence results in one of Perry Mason's prettiest legalisms." -Anthony Boucher, The New York TImes Book Review
"Ageless counsellor's fifty-seventh case is right down the alley." -Sergeant Cuff, Saturday Review
Bentley Library-Bound Standard Fiction Reprints are printed on high-quality 55-lb. book paper. The bindings are sewn, not glued, and each book is covered with a sturdy water-resistant Pyroxylin library binding. This high-quality construction ensures that these books will last for many years.
Return to Linnaean Press home page.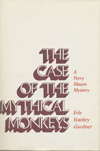 Gardner/Case of the Mythical Monk
Wholesale Case Quantity: 1
BSIN
: 3GAM
ISBN: 0-8376-0398-6 (ISBN-10)
ISBN: 978-0-8376-0398-8 (ISBN-13)
Permalink
: http://www.bentleypublishers.com/c/3GAM