| | |
| --- | --- |
| | Memoirs of a Hack Mechanic |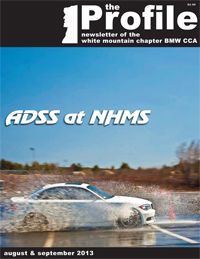 Advice for Rebuilding a 2002 and Your Marriage
A Review of Rob Siegel's "Memoirs of a Hack Mechanic"
The Profile Newsletter of the White Mountain Chapter of the BMW CCA - August/September 2013
Since you are reading the Profile, you must read the Roundel. If you read the Roundel, you should know the Hack Mechanic articles penned by Rob Siegel. Currently the local boy has a book simply titled, Memoirs of a Hack Mechanic.
The idea of this book has been brewing for a long time with Rob. Think of his 25 years of Roundel articles as Mount Saint Helens before the great volcanic eruption. They were the little plumes of activity coming to the surface in predictable and constant waves for years and years. Now the 410 page book arrives like the eruption that sent an ash plume 12 miles into the sky.
The official kick off for the book was held in June by Bentley Publishers in Cambridge, MA. Bentley is a well known publisher to many BMW gearheads. Mr. Bentley and his team pride themselves for creating what must be the top technical manuals on earth for the DIY car guy. I consider them indispensable for working on the best offerings of German cars.
Having been familiar with Bentley Publishers tech manuals, I was a little surprised when the announcement for MHM arrived. I seldom look on the Bentley site for additions to my Summer book selections. Regardless, this book went to the top of my wish list even though my advance notice in April meant I would have to wait two months for the release.
Finally on launch day I scored my signed copy of MHM and was thrilled to meet the author. Turns out Rob is more animated in person and in 3D than he is in print. Had you arrived early you could have mistaken him for the hired help. I found him setting up his own sound system and DJing the music for the first hour of the event. He was willing to chat while he multi-tasked and mingled with the crowd which included his mother and wife, the two great inspirations in his life. The BMW CCA was also in attendance with representatives from MA, ME and NH. All enjoyed Rob's readings from select chapters.
The readings highlighted the fact that MHM is about life, passion, and pursuit of cars. Rob comes across as part Rube Goldberg and part Dr. Phil. You can use this book to help rebuild a 2002 or your marriage. Just keep in mind this book is PG-13 with words like shit, reefer, and sex. All used appropriately and in context (the swearing usually involves old BMWs acting like old BMWs). And of course, there are morals to the stories such as, torque wrenches are good and wheels leaving your car are bad.
So if you are looking for a book that gets your inner Hack Mechanic excited, this is for you. You can find MHM at Amazon or directly from Bentley Publishing at www.bentleypublishers.com.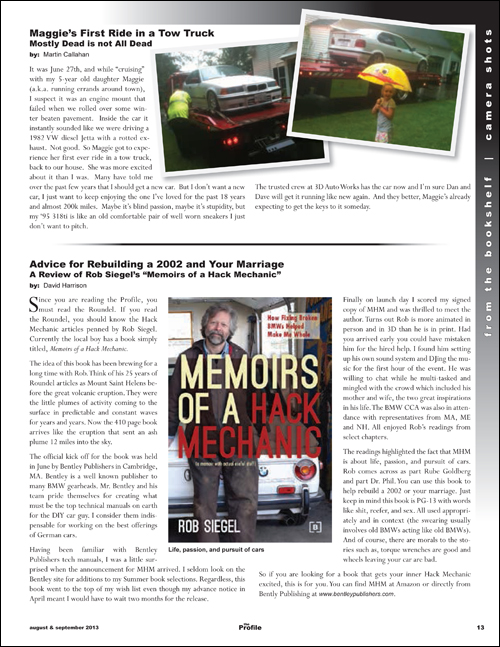 Article from and courtesy of The Profile, the Newsletter of the White Mountain Chapter of the BMW CCA - http://www.wmc-bmwcca.org/