| | |
| --- | --- |
| | Zora Arkus-Duntov: The Legend Behind Corvette |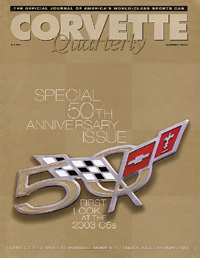 Corvette Quarterly - Summer 2002
A Fateful Encounter
By Jerry Burton
It was a brisk January day in 1953 when a white-haired man with a thick Russian accent passed through a turnstile in Manhattan's Waldorf-Astoria hotel. He was there to attend a traveling extravaganza of expressive show cars and production automobiles sponsored by General Motors. Known as "Motorama," the event was designed to test the public's reaction to new concepts and technologies. With its combinations of cars, lavish surroundings and on-stage entertainment, Motorama was the predecessor of the modern auto show.
Wandering through a maze of people and dazzling vehicles, the man came across a display that stopped him in his tracks. A buzzing throng surrounded the exhibit, yet he stood in silence, mesmerized by a white, windswept form on the turntable.
Long a connoisseur of beautiful women, the man had just fallen for the most gorgeous automobile he had ever seen.
Unlike the other chrome-laden dreamboats on the floor, this was a low-slung, two-seat roadster with a revolutionary fiberglass body and a lipstick-red interior. Scripted in chrome on its flanks was the word "Corvette," inspired by a small but very maneuverable class of British warships. With its six-cylinder engine and a two-speed automatic transmission, the Corvette was obviously more eye candy than a serious sports car. But staring more deeply at the Corvette, the white haired-man could already see great possibilities.
He, of course, was Zora Arkus-Duntov. The offspring of Russian revolutionaries, Duntov was a talented engineer who really aspired to drive racecars. But he was having difficulty finding a position in the American auto industry and was in the process of joining Fairchild Aviation on Long Island to work on an atomic compressor. Duntov was so taken by the Corvette that he pulled out all the stops to obtain a job at General Motors.
He succeeded, and on May 1, 1953, he started at GM as an assistant staff engineer. The position provided him with little authority. Yet, over time, he would put his personal stamp on the Corvette, giving it a performance pedigree as one of the most recognized sports cars on the planet and the best-selling sports car in the world. One can only speculate what the future of Corvette might have been if Zora Arkus-Duntov had not made it that day to the Waldorf.
See the review