Waterfront

Hardcover, 8 1/2 in. x 5 3/4 in.
320 pages
ISBN-13: 978-0-8376-0434-3
Price: $20.00

Budd Schulberg has drawn for us the whole turbulent, seething harbor of New York - a world in itself.
Here are the traffic turmoil, the sea-smells and sounds, the seething activity and the riverfront slum dwellers of simple faith - long accustomed to violence, betrayal and sudden death. In numerous novels and short stories, Schulberg has proved himself a knowing interpreter of the world of violence - its language, its physical rhythm, and its underlying motivations. But in the intertwined stories of Terry Malloy, the "fringe hoodlum" who struggles against a faint pricking of an unfamiliar conscience, and a slum-reared Catholic priest who struggles with the problem of applying first-century Christianity to twentieth-century corruption, the author has succeeded in writing a novel of indignation in terms of unforgettable characters. Their response to the violent challenge of the waterfront charges the book with universal meanings far beyond the day-to-day anxiety of the port itself.
Waterfront brings to life the humanity and inhumanity, the idealism and corruption, the heroism and depravity of a dark corner of our socity.
"White-hot fiction with all the menace, suspense, narrative flow, fresh characterization and social message that anybody could reasonaly expect in a novel. It's the best of Schulberg, a full-fledged performance by a gifted American writer." -New York Times Book Review
"A grim, indignant, sympathetic story...A dramatic presentation of social conditions as they are today. It is told with pace and vigor and no unnecessary emphasis on vice and depravity. This is a tough book...its basic motifs are pity and indignation." -New York Times
"Though the basic facts are those of his hit movie, 'On the Waterfront,' the ending has been changed and the story has been given substance impossible in a movie. It is his tough, sometimes horrifying story of young Father Barry's quixotic fight against the criminal rulers of New York harbor, a warfare that brought death to two men." -Retail Bookseller
"It is reporting lifted to the level of literature." -The New York Post
"The more leisurely framework of the novel form permits the author to document to the full the abuses in longshoremen's unions, without sacrificing the explosive force of the film." -American Library Association's Booklist
Bentley Library-Bound Standard Fiction Reprints are printed on high-quality 55-lb. book paper. The bindings are sewn, not glued, and each book is covered with a sturdy water-resistant Pyroxylin library binding. This high-quality construction ensures that these books will last for many years.
Return to Linnaean Press home page.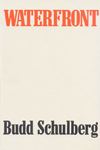 Schulberg/Waterfront
Wholesale Case Quantity: 1
BSIN
: 3SCW
ISBN: 0-8376-0434-6 (ISBN-10)
ISBN: 978-0-8376-0434-3 (ISBN-13)
Permalink
: http://www.bentleypublishers.com/c/3SCW