The Treasure of the Sierra Madre

by B. Traven


Hardcover, 8 1/2 in. x 5 3/4 in.
308 pages
ISBN-13: 978-0-8376-0436-7
Price: $20.00

The Treasure of the Sierra Madre is the best-known novel by the mysterious writer B. Traven. The story of three down-and-out Americans searching for gold in the rugged Sierra Madre of Mexico, it is a classic examination of the psychology of greed. In the character of Fred C. Dobbs, later played by Humphrey Bogart in the memorable film version, Traven created one of the first anti-heroes of modern American fiction.
Traven himself had led the life of a down-and-outer in the wilds of Mexico. His familiarity with the terrain, the sights, the smells, and the textures of life in the primitive mountains adds convincing detail to the story. And his acquaintance with that peculiarly American type of low-lifer, vaguely criminal and seeking an easy fortune in Mexico, makes his Fred C. Dobbs one of the most fascinating characters in fiction.
This new reprint marks the first time in years that this novel has been available in a hardcovered edition.
"The author writes a good yarn; his talk and descriptions of behavior are not only convincing but illuminating." -New York Times Book Review
"He tells his story better than the best of the storytellers; delves deeper into characters than most of the so-called psychological writers. All the virility, terseness and tension that Hemingway worked so hard for...seem to be Traven's by birthright." -John Anthony West, Books and Bookmen
Bentley Library-Bound Standard Fiction Reprints are printed on high-quality 55-lb. book paper. The bindings are sewn, not glued, and each book is covered with a sturdy water-resistant Pyroxylin library binding. This high-quality construction ensures that these books will last for many years.
Return to Linnaean Press home page.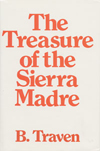 Traven/Treasure of Sierra Madre
Wholesale Case Quantity: 1
BSIN
: 3TRT
ISBN: 0-8376-0436-2 (ISBN-10)
ISBN: 978-0-8376-0436-7 (ISBN-13)
Permalink
: http://www.bentleypublishers.com/c/3TRT