The School for Wives; Robert; Genevieve, or The Unfinished Confidence

by André Gide


Hardcover, 8 1/2 in. x 5 3/4 in.
241 pages
ISBN-13: 978-0-8376-0454-1
Price: $18.00

These three stories, each of which examines a troubled marriage from a different point of view, were published separately in France in 1929, 1930, and 1936 respectively. This book presents the three stories together.
"A probing dissection of an unhappy marriage - of the conflict between love, emotion, passion on the one side and custom, tradition, morality on the other - told from a different point of view...The School for Wives shows the wife's side...Robert, the husband's...and Genevieve throws new light on the situation from the daughter's point of view." -Huntting
"A literary tour de force, as a character study of truly Gallic subtlety, and as an exposition of an obscure problem having no overt act. As a triumph of literary skill, the presentation of a complicated story by the medium of a diary kept by a guiless woman is striking." -Outlook
Bentley Library-Bound Standard Fiction Reprints are printed on high-quality 55-lb. book paper. The bindings are sewn, not glued, and each book is covered with a sturdy water-resistant Pyroxylin library binding. This high-quality construction ensures that these books will last for many years.
Return to Linnaean Press home page.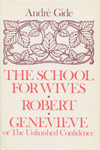 Gide/School for Wives
Wholesale Case Quantity: 1
BSIN
: 3GIS
ISBN: 0-8376-0454-0 (ISBN-10)
ISBN: 978-0-8376-0454-1 (ISBN-13)
Permalink
: http://www.bentleypublishers.com/c/3GIS