Lafcadio's Adventures

by André Gide


Hardcover, 8 1/2 in. x 5 3/4 in.
278 pages
ISBN-13: 978-0-8376-0452-7
Price: $23.95

The action of Lafcadio's Adventures takes place not only in Rome and Paris but moves through numerous capitals of Europe, and involves saints, adventurers, pickpockets, and most of all, Lafcadio Wluiki.
André Gide's preoccupation with the idea of unmotivated crime achieves its most extended treatment, and Lafcadio - one of the most original creations in all modern fiction - is the instrument of the crime.
This book has been published previously under the titles, The Vatican Swindle and The Caves of the Vatican.
"The book caricatures various types in society by means of three brothers-in-law and their many relations who comprise its major charactters. The plot concerns the confusion resulting from a swidler's scheme to extort money by falsely reporting that the Pope has been kidnapped and organizing a conspiracy to liberate him. The interest of the book, however, focuses on the apparently unmotivated murder of one of the brothers of Lafcadio, a bastard relative." -Reader's Encyclopedia
"In a time of intellectual inflation, when lesser writers sell out or go soft or succumb to slogans or indulge in conversions, his survival can help us to distinguish between the genuine and the counterfeit. The literary market is flooded with imitations, but there is nothing like the real thing." -Harry Levin, The New Republic
Bentley Library-Bound Standard Fiction Reprints are printed on high-quality 55-lb. book paper. The bindings are sewn, not glued, and each book is covered with a sturdy water-resistant Pyroxylin library binding. This high-quality construction ensures that these books will last for many years.
Return to Linnaean Press home page.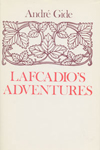 Gide/Lafcadios Adventures
Wholesale Case Quantity: 1
BSIN
: 3GIL
ISBN: 0-8376-0452-4 (ISBN-10)
ISBN: 978-0-8376-0452-7 (ISBN-13)
Permalink
: http://www.bentleypublishers.com/c/3GIL