War Party

by Max Brand


Hardcover, 8 1/2 in. x 5 3/4 in.
216 pages
ISBN-13: 978-0-8376-0460-2
Price: $16.00

Unable to face the tortures of a warrior's initiation, Rusty Sabin, the white Indian, was branded a coward by his adopted Cheyenne tribe. An outcast, Rusty set out on a dangerous trail that he swore would end either in his death or in his vindication.
Here is a dramatic portrayal of his ordeal among the hostile whites of a frontier town; of his long hunt in the wilderness for a famous wild stallion; of his feud with those terrible enemies of the Cheyenne - Wind Walker and the Pawnees; and of the daring deeds that would give him the right to ride with a Cheyenne war party.
Once again, Max Brand has written a breathtaking tale about desperate men in an untamed land.
Bentley Library-Bound Standard Fiction Reprints are printed on high-quality 55-lb. book paper. The bindings are sewn, not glued, and each book is covered with a sturdy water-resistant Pyroxylin library binding. This high-quality construction ensures that these books will last for many years.
Return to Linnaean Press home page.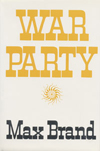 Brand/War Party
Wholesale Case Quantity: 1
BSIN
: 3BSW
ISBN: 0-8376-0460-5 (ISBN-10)
ISBN: 978-0-8376-0460-2 (ISBN-13)
Permalink
: http://www.bentleypublishers.com/c/3BSW