Antique and Classic Cars -
Their Maintenance and Operation

Book Two of Antique & Classic Cars

by Richard C. Wheatley
with Brian Morgan


Hardcover, 5 1/2 in. x 8 1/2 in.
176 pages
40 illustrations and photographs
ISBN-13: 978-0-8376-0203-5
Price: $39.95

The classic book on the maintenance and driving of vintage cars
Antique & Classic Cars: Their Maintenance and Operation is a companion volume to Wheatley and Morgan's standard work The Restoration of Antique and Classic Cars, in which they took the reader right through a complete overhaul up to the point where his car was ready to start its life all over again. In this book they not only carry the story on from where it was left previously, taking the reader out onto the road with his car, and instructing him how best to maintain it in the impeccable condition it deserves, but they also retrace their steps in places and cover more fully some technical points which could merely be outlined before.

Antique & Classic Cars: Their Maintenance and Operation is equally useful to those who have no wish to restore an antique or classic car but who either possess, or feel that they might like to own, such a car which is already in reasonable condition. For the unintiated driver there is advice on the use of his car in races, rallies and concours. The selection of 42 illustrations from photographs and diagrams has been specially prepared for the book to clarify and supplement the authors' instructions and advice.

Originally published in the United Kingdom in 1964 under the title The Maintenance and Driving of Vintage Cars, this book has since become a standard in the field of antique and vintage automotive restoration.

There is immense pleasure to be obtained from driving a car with a long stroke engine and a high axle ratio, and in mastering the difficulties of a crash gear box. This handbook points the way to the enjoyments of these delights.

Page 87

Everyday Vintage Car: the 1926 D.I.S Delage used by Richard Wheatley as normal transport from 1931 to 1937.

Page 90

Prepared for a Concours: 1937 Phantom III Rolls Royce restored to its original condition in 1961.

Page 117

Racing a Vintage Car: Nigel Arnold-Foster racing his 1922 5,136 c.c. Delage during a Vintage Sports-Club race meeting at Oulton Park.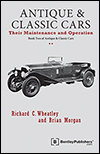 Antique and Classic Cars
BSIN
: X003
ISBN: 0-8376-0203-3 (ISBN-10)
ISBN: 978-0-8376-0203-5 (ISBN-13)
Permalink
: http://www.bentleypublishers.com/c/X003