Volkswagen Jetta Wagon Owner's Manual: 2004

4-ring binder, 9 1/4 x 6 3/4 in.
VW Part No. WSA241557JEW23
ISBN-13: 978-0-8376-1054-2
Price: $69.95

This is the original owner's manual that came in the glove box of the new vehicle. It contains operating instructions and a summary of technical data and maintenance procedures.
For repair manual information or technical training, please see products listed below.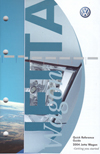 VW Jetta Wagon 2004 OM Binder
Wholesale Case Quantity: 1
BSIN
: RJW4
ISBN: 0-8376-1054-0 (ISBN-10)
ISBN: 978-0-8376-1054-2 (ISBN-13)
Permalink
: http://www.bentleypublishers.com/c/RJW4