Volkswagen Technical and Owner Information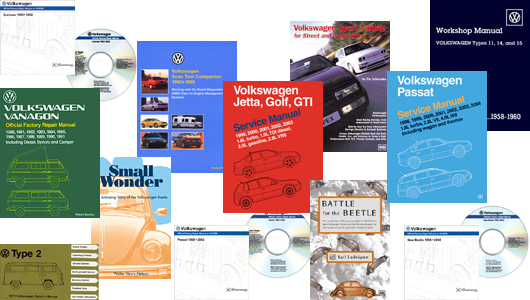 Covers for selected titles shown. Please scroll down for complete list.
Volkswagen Repair Manuals, Volkswagen Owners Manuals, Volkswagen History and Volkswagen Technical Literature organized by model and subject
Professional
eBahn Pro: Audi and Volkswagen
General
Volkswagen Service Training
Volkswagen Video Training: Tech Talk Broadcasts on DVD
Volkswagen Repair Manual Web Subscription
Volkswagen History
Volkswagen Performance
Volkswagen Technical and Diagnostic

Small Car Family ("A" Platform): 1975-2008
Jetta: 2005-2008 (A5)
Jetta: 1999-2005 (A4)
Jetta: 1993-1999 (A3)
Jetta: 1985-1992 (A2)
Jetta: 1975-1984 (A1)
Rabbit: 2006-2008 (A5G)
Golf: 1999-2006 (A4)
Golf: 1993-1999 (A3)
Golf: 1985-1992 (A2)
GTI: 2006-2008 (A5G)
GTI: 1999-2005 (A4)
GTI: 1993-1999 (A3)
GTI: 1985-1992 (A2)
GTI: 1975-1984 (A1)
R32: 2004
New Beetle: 1998-2008
New Beetle Convertible: 2003-2008
Rabbit: 1975-1984 (A1)
Corrado: 1990-1995
Cabrio: 1993-2002 (A3)
Cabriolet: 1985-1993 (A1)
Convertible: 1975-1984 (A1)
Scirocco: 1975-1989
Medium Car Family ("B" Platform): 1973-2008
Passat: 2006-2008 (B6)
Passat: 1998-2005 (B5)
Passat: 1995-1997 (B4)
Passat: 1990-1994 (B3)
Quantum: 1982-1988 (B2)
Dasher: 1973-1981 (B1)
Fox: 1987-1993

Large Car Family ("D" Platform): 2004-2006
Phaeton: 2004-2006 (D1)

Sport Utility Vehicle 2004-2009
Tiguan: 2009 (5N)
Touareg2: 2008 (7L)
Touareg: 2004-2007 (7L)

Transporter/Bus/Van Family ("T" Platform): 1949-2003
EuroVan, Multivan, Panel Van, Pickup, Camper: 1992-2003 (T4)
Vanagon, Westfalia Camper, Pickup: 1980-1991 (T3)
Station Wagon, Kombi, Campmobile, Panel Van, Pickup: 1968-1979 (T2)
Kombi, Microbus, Pickup, Delivery Van, Ambulance, Camper: 1949-1967 (T1)

Air-cooled: 1949-1980
Super Beetle: 1971-1980
Beetle: 1949-1979
Karmann Ghia: 1955-1974
Type 181 "Thing": 1969-1979
Station Wagon, Fastback, Notchback sedan: 1961-1973
Station Wagon, Fastback 411 & 412, 4-door Fastback: 1968-1974


Featured
Volkswagen Service Training information is now available from Bentley Publishers. These Volkswagen Technical Training Self-Study Programs (SSP) contain valuable technical information on Volkswagen technology, ranging from The Phaeton to EVAP Systems, Operation and Diagnosis. They are filled with colorful photos, diagrams, charts and drawings.

Volkswagen 2.0L FSI Turbocharged Engine Technical Service Training Self-Study Program


Volkswagen 6-Speed Automatic Transmission 09G/09M
Design and Function Technical Service Training Self-Study Program
News
Join in the discussion!
Bentley is now featuring
online discussion forums
where you can communicate directly with the folks who brought you your favorite manual. Ask us questions about our manuals or about your car. We'd like to hear from you. Check it out now at
bentleypublishers.com/tech
.
Corrections
Volkswagen Passat Service Manual: 1998-2002
2003-07-30
Volkswagen Station Wagon/Bus Official Service Manual Type 2: 1968-1979
2004-09-14
Volkswagen New Beetle Service Manual: 1998-2002
2002-11-07
Volkswagen GTI, Golf, and Jetta Service Manual: 1985-1992
2003-01-07
Volkswagen Technical Discussion


General Technical and Diagnostic
Volkswagen Scan Tool Companion
1990, 1991, 1992, 1993, 1994, 1995
Volkswagen Inspection/Maintenance (I/M) Emission Test Handbook 1980-1997
Performance
Volkswagen Sport Tuning for Street and Competition
Eos 2007-2008 (1F)
Volkswagen Eos New Model Introduction Technical Service Training Self-Study Program
Volkswagen Eos Electrical System Design and Function Technical Service Training Self-Study Program
GTI, Rabbit 2006-2007 (A5G)
Volkswagen Rabbit, GTI (A5)
Service Manual:
2006, 2007, 2008, 2009 (paper)
The 2006 new GTI Introduction Self-Study Program
Jetta: 2005-2008 (A5)
Volkswagen Jetta Service Manual: 2005-2008 (paper)
Volkswagen Jetta (A5)
Service Manual:
2005, 2006, 2007,
2008, 2009, 2010 (paper)
Volkswagen new Jetta Electro-mechanical Power Steering - Design and Function Service Training Self-Study Program
Volkswagen New Jetta Sedan Owner's Manual: 2005
Volkswagen 6-Speed Automatic Transmission 09G/09M Design and Function Technical Service Training Self-Study Program
Volkswagen new Jetta Steering and Suspension Technical Service Training Self-Study Program
Volkswagen new Jetta Electrical System Design and Function Technical Service Training Self-Study Program
Volkswagen new Jetta Introduction Technical Service Training Self-Study Program
Volkswagen Jetta Owner's Manual: 2006
R32: 2004
Volkswagen R32
Technical Service Training
Self-Study Program
Jetta, Golf, GTI: 1999-2006 (A4)
Volkswagen Jetta, Golf, GTI (A4)
Service Manual: 1999, 2000, 2001,
2002, 2003, 2004, 2005 (paper)
Volkswagen Golf (A4) Owner's Manual: 1999
Volkswagen Golf Owner's Manual: 2000
Volkswagen Golf Owner's Manual: 2001
Volkswagen Jetta (A4) Owner's Manual: 1999
Volkswagen Jetta Owner's Manual: 2000
Volkswagen Jetta Wagon Owner's Manual Set: 2001
Volkswagen Jetta Wagon (Gasoline) Owner's Manual Set: 2002
Volkswagen Golf Owner's Manual: 2002
Volkswagen Jetta Wagon (Diesel) Owner's Manual Set: 2002
Volkswagen Jetta Owner's Manual: 2001
Volkswagen Jetta Owner's Manual: 2002
Volkswagen Jetta Owner's Manual: 2003
Volkswagen Jetta Wagon Owner's Manual: 2003
Volkswagen Golf Owner's Manual: 2003
Volkswagen Golf Owner's Manual: 2005
Volkswagen Jetta Wagon Owner's Manual: 2004
Volkswagen Jetta (A4) Owner's Manual: 2005
Volkswagen Jetta (A4) Wagon Owner's Manual: 2005
Volkswagen Golf Owner's Manual: 2006
New Beetle Convertible: 2003-2008
Volkswagen New Beetle Convertible
Top and Window Repair
Technical Service Training
Self-Study Program
Volkswagen New Beetle Convertible Owner's Manual: 2004
Volkswagen New Beetle Convertible Owner's Manual: 2005
Volkswagen New Beetle Convertible Owner's Manual: 2003
Volkswagen 02E Direct Shift Gearbox
Design and Function
Technical Service Training
Self-Study Program
Volkswagen New Beetle Convertible Owner's Manual: 2006
New Beetle: 1998-2008
Volkswagen 02E Direct Shift Gearbox
Design and Function
Technical Service Training
Self-Study Program
Volkswagen New Beetle Owner's Manual: 1999
Volkswagen New Beetle Owner's Manual: 2000
Volkswagen New Beetle Owner's Manual: 2001
Volkswagen New Beetle Owner's Manual: 2002
Volkswagen New Beetle Owner's Manual: 2003
Volkswagen New Beetle Owner's Manual: 2004
Volkswagen New Beetle Owner's Manual: 2005
Volkswagen New Beetle Owner's Manual: 2006
Jetta, Golf, GTI: 1993-1999 (A3)
Volkswagen Jetta, Golf, GTI: 1993,
1994, 1995, 1996, 1997, 1998, 1999
Cabrio: 1995, 1996, 1997, 1998,
1999, 2000, 2001, 2002
(A3 Platform) Service Manual (paper)
Volkswagen
Jetta Owner's Manual: 1993
Volkswagen Golf Owner's Manual: 1993
Volkswagen Jetta Owner's Manual: 1994
Volkswagen Golf Owner's Manual: 1994
Volkswagen Golf Owner's Manual: 1995
Volkswagen GTI-VR6 (Canada) Owner's Manual: 1995
Volkswagen Golf/GTI Owner's Manual: 1996
Volkswagen Jetta Owner's Manual: 1997
Volkswagen Jetta Owner's Manual / Manual du Propriétaire (bi-lingual): 1997
Volkswagen Golf/GTI Owner's Manual (bi-lingual): 1997
Volkswagen Jetta (A3) Owner's Manual: 1999
Volkswagen Golf/GTI (A3) Owner's Manual: 1999
Jetta, Golf, GTI: 1985-1992 (A2)
Volkswagen GTI, Golf, Jetta
Service Manual:
1985, 1986, 1987, 1988,
1989, 1990, 1991, 1992 (paper)
Volkswagen Jetta Owner's Manual: 1985
Volkswagen GTI Owner's Manual: 1985
Volkswagen Golf Owner's Manual: 1986
Volkswagen GTI Owner's Manual: 1986
Volkswagen Jetta Owner's Manual: 1987
Volkswagen Golf Owner's Manual: 1987
Volkswagen GTI Owner's Manual: 1987
Volkswagen Golf/GTI Owner's Manual: 1988
Volkswagen GTI 16V Owner's Manual: 1988
Volkswagen Jetta (German production) Owner's Manual: 1989
Volkswagen Jetta (Mexican production) Owner's Manual: 1989
Volkswagen Golf Owner's Manual: 1989
Volkswagen GTI 16V Owner's Manual: 1989
Volkswagen Jetta Owner's Manual: 1990
Volkswagen Golf/GTI Owner's Manual: 1990
Volkswagen Golf/GTI Owner's Manual: 1992
Jetta, Rabbit, GTI, Convertible, Pickup: 1975-1984 (A1)
Volkswagen Rabbit, Jetta (A1)
Diesel Service Manual:
1977, 1978, 1979, 1980,
1981, 1982, 1984, 1984 (paper)
Volkswagen Rabbit, Scirocco, Jetta (A1) Gasoline Service Manual:
1980, 1981, 1982, 1983, 1984 (paper)
Volkswagen Rabbit Owner's Manual: 1976
Volkswagen Rabbit Owner's Manual: 1977
Volkswagen Rabbit Owner's Manual: 1978
Volkswagen Rabbit (Gasoline) Owner's Manual: 1979
Volkswagen Rabbit (Diesel) Owner's Manual: 1979
Volkswagen Jetta Owner's Manual: 1980
Volkswagen Rabbit Owner's Manual: 1980
Volkswagen Jetta Owner's Manual: 1981
Volkswagen Rabbit Owner's Manual: 1981
Volkswagen Rabbit Convertible Owner's Manual: 1981
Volkswagen Jetta Owner's Manual: 1982
Volkswagen Rabbit Owner's Manual: 1982
Volkswagen Rabbit Convertible Owner's Manual: 1982
Volkswagen Jetta Owner's Manual: 1983
Volkswagen Rabbit Owner's Manual: 1983
Volkswagen Rabbit Convertible Owner's Manual: 1983
Volkswagen Jetta/Jetta 16V Owner's Manual: 1984
Volkswagen Rabbit Owner's Manual: 1984
Volkswagen Rabbit Convertible Owner's Manual: 1984
Phaeton: 2004-2006 (D1)
Volkswagen
Phaeton Owner's Manual: 2005
Volkswagen Phaeton
Technical Service Training
Self-Study Program
Volkswagen Phaeton W12
Engine Management System
Design and Function
Technical Service Training
Self-Study Program
Volkswagen Phaeton Chassis
Design and Function
Technical Service Training
Self-Study Program
Volkswagen Phaeton Heating and Air Conditioning System
Design and Function
Technical Service Training
Self-Study Program
Volkswagen Phaeton On-Board Power Supply
Design and Function
Technical Service Training
Self-Study Program
Volkswagen Phaeton Convenience and Safety Electronics
Design and Function
Technical Service Training
Self-Study Program
Volkswagen Phaeton Infotainment System
Design and Function
Technical Service Training
Self-Study Program
Volkswagen Phaeton Adaptive Cruise Control
Design and Function
Technical Service Training
Self-Study Program
Volkswagen Phaeton Air Suspension
Design and Function
Technical Service Training
Self-Study Program
Volkswagen
Phaeton Owner's Manual: 2004
Touareg, Touareg 2: 2004-2008 (7L)
Volkswagen Touareg Owner's Manual: 2004
Volkswagen Touareg Owner's Manual: 2005
Volkswagen Touareg Owner's Manual: 2006
Volkswagen Six-Speed Automatic Transmission 09D
Technical Service Training
Self-Study Program
Volkswagen Touareg Electronic Diesel Control
EDC 16
Design and Function
Technical Service Training
Self-Study Program
Volkswagen V10-TDI Engine
Technical Service Training
Self-Study Program
Volkswagen Touareg Heating, Ventilation, and Air Conditioning Systems
Design and Function
Technical Service Training
Self-Study Program
Volkswagen Touareg Suspension and 4XMOTION Systems
Technical Service Training
Self-Study Program
Volkswagen Touareg Electrical System
Design and Function
Technical Service Training
Self-Study Program
Volkswagen History
Volkswagen Model Documentation
Volkswagen Beetle: Portrait of a Legend
Small Wonder: The Amazing Story of the Volkswagen Beetle
Place of Remembrance of Forced Labor in the Volkswagen Factory
Volkswagen Passat: 2006-2008 (B6)
2005 Volkswagen New Technologies Technical Service Training Self-Study Program
The 2007 Passat Wagon Self-Study Program
Volkswagen 2006 Passat Electrical System Self-Study Program
Volkswagen 2006 Passat Introduction Self-Study Program
Volkswagen 6-Speed Automatic Transmission 09G/09M Design and Function Technical Service Training Self-Study Program
Volkswagen Passat Owner's Manual: 2006
Corrado: 1990-1995 (A2m)
Volkswagen Corrado (A2)
Repair Manual:
1990, 1991, 1992, 1993, 1994 (paper)
Volkswagen Corrado Owner's Manual: 1992
Volkswagen Corrado Owner's Manual: 1994
Scirocco: 1975-1989 (A1m)
Volkswagen Rabbit, Scirocco, Jetta (A1) Gasoline Service Manual:
1980, 1981, 1982, 1983, 1984 (paper)
Volkswagen Cabriolet,
Scirocco Service Manual:
1985, 1986, 1987, 1988,
1989, 1990, 1991, 1992, 1993 (paper)
Volkswagen Scirocco Owner's Manual: 1975
Volkswagen Scirocco Owner's Manual: 1976
Volkswagen Scirocco Owner's Manual: 1977
Volkswagen Scirocco Owner's Manual: 1978
Volkswagen Scirocco Owner's Manual: 1979
Volkswagen Scirocco Owner's Manual: 1980
Volkswagen Scirocco Owner's Manual: 1981
Volkswagen Scirocco Owner's Manual: 1982
Volkswagen Scirocco Owner's Manual: 1983
Volkswagen Scirocco Owner's Manual: 1984
Volkswagen Scirocco Owner's Manual: 1985
Volkswagen Scirocco/Scirocco 16V Owner's Manual: 1986
Volkswagen Scirocco Owner's Manual: 1987
Volkswagen Scirocco Owner's Manual: 1989
Cabrio: 1993-2002 (A3)
Volkswagen Jetta, Golf, GTI: 1993,
1994, 1995, 1996, 1997, 1998, 1999
Cabrio: 1995, 1996, 1997, 1998,
1999, 2000, 2001, 2002
(A3 Platform) Service Manual (paper)
Volkswagen Cabrio Owner's Manual: 1999
Volkswagen Cabrio Owner's Manual: 2000
Volkswagen Cabrio Owner's Manual Set: 2002
Cabriolet: 1985-1993 (A1)
Volkswagen Cabriolet,
Scirocco Service Manual:
1985, 1986, 1987, 1988,
1989, 1990, 1991, 1992, 1993 (paper)
Volkswagen Cabriolet Owner's Manual: 1989
Volkswagen Cabriolet Owner's Manual: 1991
Passat: 1998-2005 (B5)
Volkswagen Passat (B5)
Service Manual:
1998, 1999, 2000, 2001,
2002, 2003, 2004, 2005 (paper)
Volkswagen Passat Owner's Manual: 1998
Volkswagen Passat Owner's Manual: 1999
Volkswagen Passat Owner's Manual: 2000
Volkswagen Passat W8
Technical Service Training
Self-Study Program
Volkswagen Passat, Model Year 2001
Technical Service Training
Self-Study Program
Volkswagen 01V Automatic Transmission
Design and Function
Technical Service Training
Self-Study Program
Volkswagen Passat W8 Sedan Owner's Manual: 2004
Volkswagen Passat, Insert to Owner's Manual: 2000
Volkswagen Passat Sedan Owner's Manual: 2001
Volkswagen Passat Wagon Owner's Manual: 2001
Volkswagen Passat Wagon Owner's Manual: 2002
Volkswagen Passat W8 Sedan Owner's Manual Set: 2002
Volkswagen Passat Sedan Owner's Manual: 2002
Volkswagen Passat W8 Wagon Owner's Manual Set: 2002
Volkswagen Passat Sedan Owner's Manual: 2003
Volkswagen Passat Wagon Owner's Manual: 2003
Volkswagen Passat W8 Sedan Owner's Manual: 2003
Volkswagen Passat W8 Wagon Owner's Manual: 2003
Volkswagen Passat W8 Wagon Owner's Manual: 2004
Volkswagen Passat Sedan Owner's Manual: 2004
Volkswagen Passat Wagon Owner's Manual: 2004
Volkswagen Passat Sedan Owner's Manual: 2005
Volkswagen Passat Wagon Owner's Manual: 2005
Volkswagen Passat W8 Wagon Owner's Manual: 2005
Passat: 1995-1997 (B4)
Volkswagen Passat (B4)
Repair Manual:
1995, 1996, 1997 (paper)
Volkswagen Insert to Passat Owner's Manual: 1995
Volkswagen Passat, Insert to Owner's Manual: 1995
Passat: 1990-1994 (B3)
Volkswagen Passat (B3)
Service Manual:
1990, 1991, 1992, 1993 (paper)
Volkswagen Passat Owner's Manual: 1990, 1991
Volkswagen Passat Owner's Manual: 1993
Volkswagen Passat Owner's Manual: 1994
Quantum: 1982-1988 (B2)
Volkswagen Quantum Repair Manual: 1982-1988 (paper)
Volkswagen Quantum Owner's Manual: 1982
Volkswagen Quantum Owner's Manual: 1983
Volkswagen Quantum Owner's Manual: 1984
Dasher: 1973-1981 (B1)
Volkswagen Dasher Owner's Manual: 1981
Fox: 1987-1993 (B1m)
Volkswagen Fox Service Manual:
1987, 1988, 1989, 1990,
1991, 1992, 1993 (paper)
Volkswagen Fox Owner's Manual: 1987
Volkswagen Fox Owner's Manual: 1988
Volkswagen Fox Owner's Manual: 1989
Volkswagen Fox Owner's Manual: 1992
Volkswagen Fox Owner's Manual: 1993
EuroVan, Multivan, Panel Van, Pickup, Camper: 1992-2003 (T4)
Volkswagen EuroVan
Repair Manual:
1992, 1993, 1994, 1995,
1996, 1997, 1998, 1999 (paper)
Volkswagen 2001 EuroVan
With the 2.8-Liter 24-Valve VR6 Engine
Technical Service Training
Self-Study Program
Volkswagen EuroVan Owner's Manual: 1994
Volkswagen MV Supplement to EuroVan Owner's Manual: 1994
Vanagon, Westfalia Camper, Pickup: 1980-1991 (T3)
Volkswagen Vanagon (T3)
Repair Manual:
1980, 1981, 1983, 1983, 1984, 1985,
1986, 1987, 1988, 1989, 1990, 1991 (paper)
Volkswagen Model Documentation
Volkswagen Bus, Camper, Van Performance Portfolio: 1979-1991
Volkswagen Vanagon Owner's Manual: 1980
Volkswagen Vanagon Owner's Manual: 1981
Volkswagen Vanagon Owner's Manual: 1982
Volkswagen Pickup Owner's Manual: 1983
Volkswagen Vanagon/Transporter Owner's Manual: 1985
Volkswagen Camper Supplement to Vanagon Owner's Manual: 1986
Volkswagen Camper, Supplement to Vanagon Owner's Manual: 1986
Volkswagen Vanagon/Transporter Owner's Manual: 1987
Volkswagen Weekender, Supplement to Vanagon Owner's Manual: 1987
Volkswagen Vanagon/Transporter Owner's Manual: 1988
Volkswagen Vanagon/Transporter Owner's Manual: 1989
Volkswagen Camper Supplement to Vanagon Owner's Manual: 1989
Type 2 - Station Wagon, Kombi, Campmobile, Panel Van, Pickup: 1968-1979 (T2)
Volkswagen Station Wagon / Bus Service Manual:
1968, 1969, 1970, 1971,
1972, 1973, 1974, 1975,
1976, 1977, 1978, 1979 (paper)
Volkswagen Model Documentation
Volkswagen Bus, Camper, Van Performance Portfolio: 1968-1979
Volkswagen Type 2 (Bus) Owner's Manual: 1979
Type 2 - Kombi, Micro Bus, Pickup, Delivery Van, Ambulance, Camper: 1949-1967 (T1)
Volkswagen Transporter (Type 2) Workshop Manual:
1963, 1964, 1965, 1966, 1967 (paper)
Volkswagen Transporter (Type 2)
Workshop Manual:
1950, 1951, 1952, 1953,
1954, 1955, 1956, 1957,
1958, 1959, 1960, 1961, 1962 (paper)
Volkswagen Model Documentation
Volkswagen Bus, Camper, Van Performance Portfolio: 1954-1967
Type 1 - Super Beetle: 1971-1980
Volkswagen Super Beetle, Beetle & Karmann Ghia (Type 1)
Service Manual:
1970, 1971, 1972, 1973, 1974,
1975, 1976, 1977, 1978, 1979 (paper)
Volkswagen Model Documentation
Volkswagen Beetle Gold Portfolio: 1968-1991
Type 1 - Beetle: 1949-1979
Volkswagen Workshop Manual
Types 11, 14, and 15:
1952, 1953, 1954, 1955, 1956, 1957 (paper)
Volkswagen Workshop Manual Types 11, 14, and 15: 1958-1960 (paper)
Volkswagen 1200 (Type 11, 14, 15) Workshop Manual:
1961, 1962, 1963, 1964, 1965 (paper)
Volkswagen Beetle and
Karmann Ghia (Type 1)
Service Manual:
1966, 1967, 1968, 1969 (paper)
Volkswagen Super Beetle, Beetle & Karmann Ghia (Type 1)
Service Manual:
1970, 1971, 1972, 1973, 1974,
1975, 1976, 1977, 1978, 1979 (paper)
Volkswagen Model Documentation
Volkswagen Beetle Gold Portfolio: 1935-1967
Type 1 - Karmann Ghia: 1955-1974
Volkswagen Workshop Manual
Types 11, 14, and 15:
1952, 1953, 1954, 1955, 1956, 1957 (paper)
Volkswagen 1200 (Type 11, 14, 15) Workshop Manual:
1961, 1962, 1963, 1964, 1965 (paper)
Volkswagen Workshop Manual Types 11, 14, and 15: 1958-1960 (paper)
Volkswagen Beetle and
Karmann Ghia (Type 1)
Service Manual:
1966, 1967, 1968, 1969 (paper)
Volkswagen Super Beetle, Beetle & Karmann Ghia (Type 1)
Service Manual:
1970, 1971, 1972, 1973, 1974,
1975, 1976, 1977, 1978, 1979 (paper)
Volkswagen Karmann Ghia Gold Portfolio: 1955-1974
Volkswagen Model Documentation
Type 181 "Thing": 1969-1979
Volkswagen Model Documentation
Type 3 - Karmann Ghia, Station Wagon, Fastback, Notchback sedan: 1961-1973
Volkswagen Type 3
Workshop Manual:
1961, 1962, 1963, 1964,
1965, 1966, 1967 (paper)
Volkswagen Fastback and Squareback (Type 3)
Service Manual:
1968, 1969, 1970, 1971, 1972, 1973 (paper)
Volkswagen Type 3 (Squareback/Fastback) Owner's Manual: 1972
Volkswagen Type 3 (Squareback/Fastback) Owner's Manual: 1973
Volkswagen Model Documentation
Type 4 - Station Wagon, Fastback 411 & 412, 4-door Fastback: 1968-1974
Volkswagen Model Documentation
Volkswagen Type 4 Owner's Manual: 1972
Volkswagen Type 4 Owner's Manual: 1973