Volkswagen Cabrio Owner's Manual Set: 2002

4-ring binder, 9 1/2 in. by 6 1/2 in.
VW Part No. WSA222557CAB23
ISBN-13: 978-0-8376-0165-6
Price: $89.95

Bentley Publishers now offers original factory produced Owner's Manuals for Volkswagen. These are the factory glovebox manuals containing everything from technical data to how to check your engine oil level. Available for most recent U.S. and Canadian models.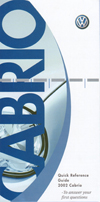 VW Cabrio 2002 OM Binder
Wholesale Case Quantity: 1
BSIN
: RC02
ISBN: 0-8376-0165-7 (ISBN-10)
ISBN: 978-0-8376-0165-6 (ISBN-13)
Permalink
: http://www.bentleypublishers.com/c/RC02