Ford Technical and Owner Information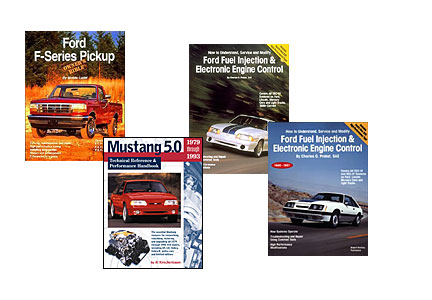 Covers for selected titles shown. Please scroll down for complete list.
Ford Repair Manuals and Ford Enthusiast Books organized by Model
Ford F-Series: 1990-1994
Ford Fuel Injection
Ford Electronic Engine Control
Ford GT40
Ford Mustang 5.0: 1986-1989

Featured

The Inside Story Of The Fastest Fords:
The Design and Development of the Ford GT Racing Cars
The first Ford ever to race at Le Mans was built in Britain. It was a rakish machine, a roadster, an abbreviated version of the 10 h.p. Ford De Luxe. In 1937, the year of Bugatti's first victory, this cycle-fendered Ford with its windshield folded flat was driven to a 14th-place finish by M. K. H. Bilney and Miss J. Richmond. That, until 1966, was to remain the only achievement by a Ford car at Le Mans, the world's best-known endurance race for sports cars.
Ford Mustang 5.0: 1979-1993
Ford F-Series: 1948-1995
Ford F-Series Pickup Owner's Bible
Ford Fuel Injection
Ford Electronic Engine Control
Ford Fuel Injection & Electronic Engine Control, 1988-1993
Ford Fuel Injection & Electronic Engine Control, 1980-1987
Ford GT40