Mini Technical and Owner Information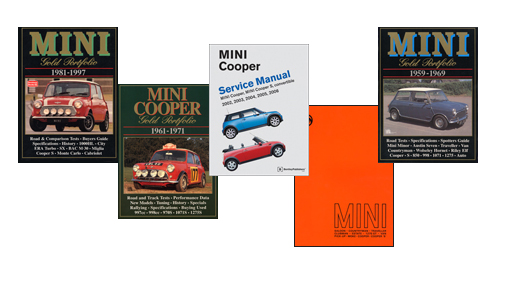 Covers for selected titles shown. Please scroll down for complete list.
MINI Repair Manuals organized by Model
MINI: 2002-2006
Mini: 1959-1976

News
Join in the discussion!
Bentley is now featuring
online discussion forums
where you can communicate directly with the folks who are in the process of bringing you the MINI Cooper Service Manual: 2002-2006. Ask us questions about our manuals or about your car. We'd like to hear from you. Check it out now at
BentleyPublishers.com/tech
.
Mini Technical Discussion


Mini: 1959-1976
Mini Workshop Manual: 1959-1976 (paper)
Mini Cooper Gold Portfolio: 1961-1971
Mini Gold Portfolio: 1959-1969
Mini Gold Portfolio: 1969-1980
Mini Gold Portfolio: 1981-1997
MINI: 2002-2006