New Softcover Format

Porsche 911 Carrera (Type 964):
1989, 1990, 1991, 1992, 1993, 1994
Technical Data-Without Guesswork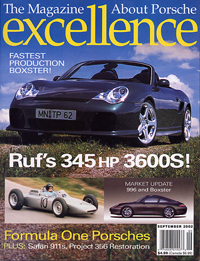 Excellence - September, 2002
Porsche Carrera 964 1989-1994: Technical Data – Without Guesswork
By Bentley Publishers, 370 pages, over 275 illustrations and diagrams. Bentley Publishers, Cambridge MA. Available from Bentley Publishers (800) 423-4594 or www.bentleypublishers.com $69.95
Experienced mechanics, both professional and amateur, are often forced to wade through large, in-depth service manuals when looking for simple information such as torque rating. Bentley Publishers' Porsche Data packages this kind of technical data and other useful tidbits in a barebones, toolbox-sized handbook.
The 964 models covered are the Carrera 2, Carrera 4, RS America, and Turbo 3.3/3.6. It's broken up into seven sections: General/Maintenance, Engine, Engine Management (DME and CIS fuel injections, turbochargers, exhaust, alternator, battery, starter, and ignition system), Drivetrain (clutch, manual and Tiptronic transmissions, and front and rear final drives), Chassis (suspension, drive, axles, steering, brakes, and wheel alignment), Heating and A/C, and Electrical. In addition to tightening torque specifications, topics covered range from jacking points and fluids capacities to electrical troubleshooting and synchronizer gaps to service notes gleaned from Porsche bulletins. Also included are vehicle weights, VIN information, engine and transmission codes and applications, and maintenance schedules.
Where appropriate, the handbook delivers very helpful 911 – specific repair instructions and notes. Even if you're an old hand at replacing drive belts on other cars, when replacing the alternator and cooling fan belts on a 911 you have to "adjust V-belt tension by moving adjustment shims to inside or outside of pulley halves." When replacing the clutch, you'll need to know that the "cross-shaft needle bearings are not identical [so check] proper location before installing." Not sure where the antenna amplifier is mounted? According to a chart in the Electrical section, it's in the luggage compartment near the right hood hinge. Useful illustrations appear on most pages, and the instructions are clear though terse.
Porsche Carrera 964 189-1994: Technical Data is a great quick-reference guide for mechanics who don't need step-by-step instructions. At $69.95, this is an expensive reference book. It may pay for itself in time and aggravation saved by not flipping through larger manuals, but it's no replacement for a comprehensive service manual.
– Aaron Jenkins