| | |
| --- | --- |
| | Mercedes-Benz Technical Companion |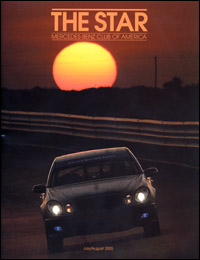 The Star - July/August 2005
Mercedes-Benz Technical Companion? review from The Star, July/August 2005
"One problem with saving back issues of magazines is where to keep them. If you're like me, you have stacks of car magazines, including The Star, all over the house. If only someone would go through the issues and pick out all the best stuff. Well, that ?if only? has come true with the Mercedes-Benz Technical Companion. The editors at Bentley Publishers have sifted through 45 years of The Star to come up with a 412-page book that every Mercedes-Benz enthusiast will want to have on their bookshelf. The book is designed to provide a comprehensive technical overview and hands-on procedural guide to help Mercedes-Benz owners keep their vehicles in top condition.
But this is much more than a dry technical repair manual. Editors and contributors such as Stu Ritter, George Murphy, Frank Barrett, and the late Frank King guide the reader through the joys, trials, and even the occasional hardships that are a part of Mercedes-Benz ownership. The book is organized into nine chapters covering topics such as the engine and transmission, fuel and exhaust, electrical system, heating and air-conditioning, care and preservation ... well, you get the idea. A comprehensive index makes it easy to find articles on your specific interest. Each chapter has a useful question and answer section created from the thousands of queries that have been submitted over the years by MBCA members.
As with many books that cover a variety of different topics, it is fun to open randomly to a page and begin reading. Here is a section on replacing your original-equipment Mercedes-Benz wheels with aftermarket wheels. There is a section on optional xenon headlights. If you ever wanted to know the difference between horsepower and torque or how an oxygen sensor in the emissions system works, it's in here. Descriptions of things such as the lambda ratio (the air/fuel mixture) are clear and easy to understand, while at the same time not alienating and boring those who already are experts in automotive technology. This is not a trivial point, and because the book is successful in this goal, it ends up being appropriate for Mercedes-Benz fans of every level. Even if you never open the hood of your car, there are things here that you will want to know when you take your car in for service.
Perhaps the best part of the Mercedes-Benz Technical Companion is that it was written by people who love these charismatic German cars and who have spent large parts of their adult lives helping other Mercedes-Benz enthusiasts. Their passion for the marque is readily apparent. Had this book been written in any other way, it might have come across as stilted and overly technical. Instead, it is a collection of infinitely greater value. A variety of diverse writers have contributed to The Star over the years, but in the Mercedes-Benz Technical Companion, their voices blend together into near-perfect harmony that resonates strongly with anyone who cares about the three-pointed star."
?Kevin Clemens, Contributing Editor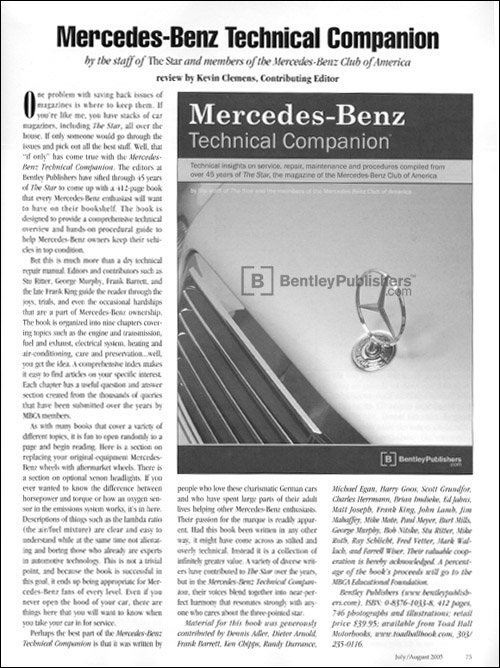 Review of Mercedes-Benz Technical Companion from The Star - July/August 2005, p.73