Return to Karl Ludvigsen main page
---
Motor Sport's Mister Inside
Behind the gregarious character of Bernard Cahier was a generosity that found him productively involved in the careers of teams and drivers. Bernard also put his Leica and Pentax to the best possible use.
When I was handling public relations for GM Styling Staff in the early 1960s Bernard Cahier posed certain problems. Bernard's friendship with design chief Bill Mitchell was such that when he visited Detroit the genial Frenchman would stay with Bill, who would bring a swathe of his latest prototypes to his home in Bloomfield Hills for Cahier to drive and photograph. This was a PR man's nightmare-a journalist completely out of his control!
This however was an example of the kind of intimacy that Bernard Cahier enjoyed with the luminaries of the world motor industry. He was on similarly chummy terms with BMC's Alec Issigonis, Dante Giacosa at Fiat, Porsche's Huschke von Hanstein and Rudolf Uhlenhaut at Mercedes-Benz. Like not a few motoring journalists Bernard wasn't shy about accepting their favors in the form of room, board and entertainment. He wasn't conspicuously generous in return. When I managed to grab the check after a lunch at Le Chanteclair he was visibly miffed. "I don't often offer to do that," Bernard admitted.
You could only relax and enjoy the friendship of Bernard Cahier and his vivacious blonde wife Joan, an American whom he met and married while they were both studying at UCLA. As I found in 1958, it was an agreeable ritual for drivers and team owners to go down the coast to their home near Nice for an enjoyable reception in the run-up to the Monaco Grand Prix. Never at a loss for a joke or amusing aside, Bernard was the ultimate in amiability as host.
How did this Frenchman with the wide-set eyes and broad grin become such a star of the motoring world? His entrťe was his role as a photojournalist for L'Action Automobile in France and Road & Track in America. He began working for the French magazine in 1952, his first photo shoot the Italian Grand Prix.
Cahier created his American connections in the late 1940s after UCLA. He took a job as a salesman at Hollywood's International Motors, run by Roger Barlow. A fellow salesman was Phil Hill while Richie Ginther was in the service department. John and Elaine Bond of Road & Track couldn't fail to be impressed by Bernard's enthusiasm for the burgeoning world of sports cars.
In June of 1952 Bernard and Joan settled in France, where Cahier had impeccable forebears. His father was in the French military, rising to the rank of general, while his sister was the wife of the brother of Francois Miterrand, destined to be France's president. Initially from a base in Paris Bernard began fashioning his motor-sports credentials.
Soon photos and reports from Cahier began to appear in Road & Track. By 1954 he was listed as a contributor and in mid-1955 he was officially anointed the magazine's European Representative. At the end of that year R&T editor John R. Bond made his first trip to Europe. Arriving in Paris, Bond related, "we were met by our European representative and correspondent Bernard Cahier. A wild ride from Orly field to the heart of Paris in Bernard's trusty 2CV and a taxi left us all a but shaken, but still in one piece." Joan and Bernard made sure Bond and his party enjoyed the best of Paris's fabled night life.
Cahier's contributions were upbeat and uncritical, which helped his currying of favor among the world's motoring elite. They could be sure he would keep their confidences. Nor was he terribly technical. But he had unparalleled access that gave him first crack at new models and even new companies. In 1961 he took these talents to Petersen Publishing, which was rolling out Sports Car Graphic as a new monthly to compete with R&T and with Car and Driver, which I was editing at the time.
Waspish chronicler of the Grand Prix scene Louis Stanley called Cahier "an irrepressible scribe," saying that "for years he has darted about with a foot in every pit. He represents journalism by the odd expedient of not taking it too seriously. His style is sharp and colloquial-at times he reminds me of the brilliant talker who impresses the hell out of you at a cocktail party but who, when he turns to go home, seems vaguely lost. In Bernard's case it hardly applies for there is always his Joan, a patient wife, who takes over. They make a delightful team."
Though his road tests could be anodyne, Bernard Cahier was no slouch behind the wheel. In 1956 he joined a squad of Renault Dauphines entered in the Mille Miglia alongside such aces as Grand Prix racers Louis Rosier, Paul FrŤre and Maurice Trintignant. Bernard and feminine co-driver NadŤge Ferrier were tenth in class and 154th overall in this classic race throughout northern Italy.
Another outing for Cahier late in 1956 was as a member of a crew of journalists recruited to drive a Bertone-bodied Abarth-Fiat at Monza to tackle records in the 750 cc class. Joining such well-known writer-drivers as Paul FrŤre, Gordon Wilkins and Johnny Lurani, Bernard more than held up his legs of the assignment, including demanding night-time stints during the successful run.
By far Bernard Cahier's finest motor-sports achievement was his drive in the 1967 Targa Florio, 447 miles through the jagged hills and chasms of northern Sicily. Driving a works-prepared 911S Porsche he placed seventh overall and won the class for 2.0-liter GT cars. Sensationally his co-driver was fellow Frenchman Jean-Claude Killy, triple-gold-medal winner in the Winter Olympics. Together they gave the then-new 911S its first important success.
Cahier was also a wheeler-dealer in motor sports behind the scenes. When Californian Dan Gurney first visited Europe in 1958 Bernard arranged the loan of a Renault Dauphine in which Dan and 1958 Indy winner Troy Ruttman drove from race to race and practiced on the NŁrburgring. There Gurney competed in a 1.5-liter Osca, a ride which Cahier negotiated from Guglielmo "Mimo" Dei's Scuderia Centro Sud in Modena. The loan of a fatigued 250 F Maserati by Dei to Ruttman was less of a success.
Right up Bernard Cahier's alley was the plan of director John Frankenheimer to film a movie about Formula 1 racing. Making himself indispensable to Frankenheimer, Cahier became a consultant to production of Grand Prix. He even had a bit part in character as a journalist. Louis Stanley recalled a filming in which Bernard was to enter a room with Juan Fangio and film star Yves Montand: "The first shot halted when the trio jammed in the doorway; the next shot ended with a mini-struggle to get through, and finally Fangio and Montand emerged with Cahier bringing up the rear."
This was heady stuff for Cahier, who was born in Marseilles in 1927. He saw his first Grand Prix at nearby Miramas at the tender age of five. As a teenager he aided the wartime resistance in Brittany and toward the end of the war joined an engineering arm of General Leclerc's Second Armored Division, attached to George Patton's Third Army. After war's end he helped with vital mine clearing.
The post-war era brought a year in the French colony of Cameroon and then Bernard's California phase and his fateful meeting with Joan Updike at UCLA. The couple often wintered with her family at Long Beach in future years. Their son Paul-Henri carried on his father's tradition, specializing in motor-racing photography and building up their formidable archive accessible at www.f1-photo.com.
With other aspects of top-line racing getting more professional, Cahier saw the need to provide clear recognition for people who were seriously covering motor sports. In 1968 he was one of the founders of the International Racing Press Association. Its members were granted press facilities by the FIA and Bernie Ecclestone's growing FOCA. In the IRPA's early days Bernard was its president.
The tire wars of the 1970s brought a new role for Cahier as a roving public-relations ambassador for Goodyear, an assignment tailor-made for his gregarious nature and love of a good cigar. He continued in this role to 1983. Thereafter, however, no race or motor show was complete without an appearance by Bernard, usually in tweeds with a new confidence or two to impart.
When I wrote my book about the career of Jackie Stewart (Haynes 1998), Bernard was very helpful with photos. I dedicated the book to Cahier, calling him "Friend, colleague and fine photographer whose many and valued contributions to motor sports over 50 years will only be appreciated when he writes a book of his own." He subsequently did just that, titling it F-Stops, Pit Stops, Laughter & Tears.
I'm very glad that Bernard got around to that, because he left us on July 10 of this year at the age of 81. You often hear people bemoaning the lack of big personalities among today's racing drivers. Well, the same applies to journalists. They've stopped making the likes of Bernard Cahier.
- Karl Ludvigsen
---
Challengers' Chances
Exploiting the auto industry's new paradigm that demands low fuel consumption and CO2 reduction, ambitious would-be entrants are crowding in to challenge the established companies. Experience tells us they'll face some daunting obstacles.
Looking back, I was surprised to be reminded that I'd played a minuscule role in the advancement of the hybrid car. I was friendly with a GM engineer, Donald Friedman, who'd left the General to set up Minicars, Inc. in 1968. As the name suggested Don's aim was to fill a gap in the transport infrastructure with small cars that would be chiefly urban, offering high serviceability and utility with low emissions.
In addition to an LPG-powered version, Friedman and his colleagues experimented with a hybrid drive train. When Don gave a speech about his activities in 1969 my PR company, Mobility Systems, issued a news release describing his experimental "gasoline-electric hybrid engine" and showing his breadboard set-up for testing. Minicars envisioned a test launch of 100 cars in Philadelphia in 1970 as a springboard to production of 2,500 cars a year.
I thought of Minicars and some similar past efforts in the context of what I see today as a remarkable number of new initiatives to break into the auto industry. California has some of the highest-profile efforts in Tesla's electric roadster and Fisker Automotive's Karma hybrid sports sedan. Hot on their heels is a joint venture with Norway's Think! that aims to produce up to 50,000 electric cars a year in Menlo Park, while Carlsbad's Aptera Motors is making its radically streamlined Typ-1 in both electric and hybrid versions.
Tata's low-cost Nano isn't the only new challenger from India. Reva's G-Wiz electric city car is all the rage in London. New Italian entrants are the Maranello4, Elettrica and Micro-Vett Ydea urban electric cars, while French companies looking for electric-car-buying customers are Aixam-Mega and the producer of the Microcar MC2, converted in Toronto to the electric ZENN for sale in America.
In Britain Stevens Vehicles is gearing up to produce its Zecar autos and vans, both electric, while the Lightning Car Company's Lightning GTS plans to upstage the Tesla with much more performance at a much higher price. Another British newcomer, Connaught, sees a hybrid drive as an important adjunct of its stylish V-10-powered sports car. Another hybrid sports car is being developed in Belgium by Imperia, reviving a respected marque.
This is a pretty impressive roster of newcomers to the motor industry. From time to time we see people and companies with ideas about becoming serious car makers, but this is more a tsunami than a tidal wave. And it's obvious that they all have something in common: the use of new technology, either electric or hybrid or both.
This is significant. When car technologies are static, changing little from year to year, it's difficult for an attacker to find a vulnerable niche. In this environment the established makers refine their designs and reduce their costs, making them even tougher competitors. But when there's a paradigm shift, either generated internally from new technologies or imposed externally by new market requirements, the qualified challenger perceives a chance to break into the auto industry.
We have just such a paradigm shift today. The high and rising cost of fuel and the imperative of reducing fuel consumption to cut down on CO2 emissions have combined to force significant changes in auto engineering. To be sure the established auto makers are struggling to adapt to the new realities, but they're perceived as the Bad Guys, the Neanderthals who try to resist change. This opens a terrific opportunity for newcomers who can wear the White Hats of earnest virtue.
We've had these opportunities before. My friend Friedman's Minicars was ahead of a curve that shot steeply skyward in the 1970s with the two Energy Crises. This brought many electric-car makers out of the woodwork. One of the first to hum to prominence was Sebring Vanguard, whose CitiCar enjoyed a wave of popularity as did its successor, the Comuta-Car. For the U.S. Postal Service a fleet of 350 Jeep-like electric delivery vehicles was produced by AM General, later famed as the Hummer's maker.
Of all the potential new entrants to the industry in those days, the big producers of electrical equipment seemed the most likely. They had to money to invest, the needed technologies at their fingertips and manufacturing operations that could be adapted to produce automobiles. Here was an unprecedented opportunity to penetrate a lucrative industry, to win back the electric's advantage at the turn of the century. In 1900 American car production numbered 1,575 electrics against only 936 gasoline-powered cars. Of the 8,000 motor vehicles then in use in the United States, fully 38 percent were battery-driven.
Top of the list was General Electric. As a maker of electric cars their pedigree was impeccable. And they had a production prototype. In 1978 GE unveiled its Centennial Electric to celebrate its first 100 years. The slope-nosed two-door hatchback was designed and built for GE by Michigan's Triad Services. It was led by the creative Mike Pocobello, a former Chaparral Cars engineer. Claimed for the Centennial Electric's lead-acid batteries were a top speed of 60 mph and range of 75 miles at a constant 40 mph-not bad numbers 30 years later.
On the strength of this effort GE teamed up with Chrysler to produce two electric prototypes under a $6 million Department of Energy contract. The result was a sophisticated four-passenger subcompact whose batteries were housed in a central tunnel like those of the Centennial Electric. Publicly GE disavowed any interest in entering the auto industry, saying that its only aim was to sell drive trains and controllers to the established cars makers.
Another big supplier of electrical equipment, Westinghouse, acknowledged no such constraints. At its electric vehicles operation in Redlands, California it had been making a range of three- and four-wheeled electrics for off-highway carriage of people and cargo. In 1967 it built on this expertise with production of the Markette, a shoebox-shaped two-seater that was initially priced just under $2,000. Westinghouse planned output of 500 in the first year and as many as 50,000 annually thereafter.
Reality bit hard. "It was a dog," said a Ford researcher of the Westinghouse runabout. With each Markette costing Redlands up to $2,700 to produce, the price soon rose to $2,800. Production was halted after 65 were made. The company blamed the new safety standards. "We didn't know about the Safety Act when we went into that business," admitted a Westinghouse official. "We decided to back away from it until we could get better batteries to build a higher-performance car." That day has been long in coming.
Speaking of batteries, their makers invested in electric-car prototypes in the 1970s. A beauty, the Endura, was built for battery maker Globe-Union. ESB Inc., maker of Exide and Willard batteries, commissioned advanced electric vehicles from Chicago racing-car builder Bob McKee. Their two ultra-light Sundancers were successfully tested for more than 10,000 miles.
For obvious reasons the Copper Development Association also got into the act. Its swoopy Electric Town Car, another product of Triad Services, claimed a range of 103 miles at a 40-mph cruise and a 73-mile action scope in city driving, aided by regenerative braking. But this was clearly a promotional effort by an industry association that aimed to raise the profile of its material-so much so that its electric prototype had copper-alloy brake drums.
Last time around, then, the bigger battalions of the electrical industry failed to make significant headway in the motor industry. Thirty to forty years later, however, newcomers might have a better opportunity. Car buyers are less wedded to traditional brands, thus more willing to take a chance on a new marque that offers a special appeal to their pocketbook and/or social and environmental consciousness.
On the other hand, the obstacles that were present then would still hamper newcomers today. One is perhaps less significant. This is the extreme reluctance of suppliers to the indigenous industry to be seen to be competing with their customers. That's why battery makers, for example, always stressed that their concept cars were just that, not potential rivals to the auto makers. In today's more free-wheeling global industry, with joint venturing running rampant, this is less of a constraint.
Another obstacle still looms. This is the need for a sales and service network. Their distribution systems are in fact the crown jewels of the auto companies, their barriers to entry by rivals. Where car companies develop good networks and tie them closely to their brands, they can and do make it difficult for pretenders to make headway. Though the force of this obstruction varies considerably from nation to nation, according to their traditions and regulations, it's a daunting barrier to entry into the industry, one that many bright-eyed entrepreneurs tend to underestimate.
On balance I think the new generation of would-be entrants has a lot going for it. They have a much wider choice of producing nations, thanks to the rise and rise of India, Korea, China and others. Engineering expertise is available from the Porsches and Lotuses of this world. And the trend in legislation has given dealers more freedom to take on new brands. All in all, then, the outlook is bright. Although too late for Minicars, the new industry paradigm has arrived in good time for Fisken and Tesla, to name only two.
http://www.lightningcarcompany.co.uk
- Karl Ludvigsen
---
Four-Leaf Clover Lucky this Time?
Because Alfa Romeos are so attractive they've had more than their far share of exposure in Winding Road for cars that aren't on sale in North America. Fiat may finally be getting its exotic daughter in shape for a fresh attack on the New World.
Fiat's takeover of Alfa Romeo in 1989 was a culture clash of the first magnitude. Imagine Toyota acquiring Nissan? GM buying Ford? Daimler scooping up BMW? Here were two great rivals in their home market, Alfa assuredly the minor player but very proud of his history and the prestige of its brand-perhaps too proud.
The two Italian companies had coexisted quasi-amicably until 1972, when Alfa Romeo aimed an Exocet into Fiat territory with its cheeky Alfasud small car, made in a former aircraft-engine factory near Naples that was rebuilt with taxpayers' money by government-owned Alfa. Here, thought Fiat-not without reason-was unfair competition on its home ground. Though bedeviled by strikes and absenteeism, the Naples plant produced an attractive car conceived by Austrian Rudolf Hruska that was a lively domestic alternative to Fiats and an export success until rust ruined its reputation..
Fiat has struggled in trying to manage its Alfa acquisition. After the takeover it created a new company called Alfa-Lancia, forcibly marrying the Milan company with its long-time Turin rival, which Fiat had rescued from the breaker's yard in October 1969. Famously there is no love lost between the cities of Turin and Milan; each has contempt for the other. And in naming the joint company Alfa-Lancia the proud Alfa Romeo name was mortifyingly truncated (much like the erasing of Benz from DaimlerChrysler).. When I braced senior Fiat people on this point they feigned mystification. They were the conquerors; they could do as they liked.
Fiat Auto's dynamic managing director, Vittorio Ghidella, was named chairman of Alfa-Lancia. In an interview he was scathing about Fiat's new acquisition, briefing a reporter that it was 'in serious trouble because of the strategic error of having attempted to enter the small-car market with its humble Alfasud,' which 'went against the image of power associated with Alfas for more than half a century. Alfa always sold well because of its exceptional performance and aggressive line until mistakes were made in recent years.' Ghidella tried to engineer some cost-saving commonality between Alfa Romeo and Lancia, but only two years later he was out of the Fiat Group after a bitter internal clash over its allocation of resources.
Missing the jet thrust of Ghidella, Alfa Romeo declined into the doldrums. Just short of 200,000 in Fiat's first year, 1987, production rose initially to 220-230,000 through 1990. Then it collapsed to half that level in 1993, 1994 and 1996. New models based on Fiat platforms arrived, but with excruciating slowness. Only with the launch of the gorgeous 156 in 1997 did Alfa sales start to recover, with more than 200,000 made from 1999 through 2001. In 2002, however, output declined to 187,437 Alfas. Production in 2006 fell to 157,775 and in 2007 was some 6,000 less still.
Most mortifying of all has been the negligible market success of Alfa Romeo's prestige flagship, the 166. Its predecessor, the Enrico Fumia-styled 164, made a valiant effort to establish a place for Alfa in the executive-car market, selling a quarter-million over seven years, a decent annual average of 35,000. In contrast the 166 has muddled along at annual volumes of 8,000 that Autocar called 'pathetic'.
I discussed this and the parallel problems of Lancia with a Roman friend who is knowledgeable in the field of auto design. 'I think the reason that the Italians don't do well with luxury cars is that they lack the necessary culture,' he said. Italy has a flourishing culture in small cars and sports cars, segments in which it's among the world's best. But luxury cars? Italians just don't believe in them. They're heavily dutiable and an all-too-visible sign of wealth that attracts the tax man. Italy's finest post-war effort in the luxury-car field, Lancia's Flaminia, struggled vainly against these handicaps. Italy should be able to make outstanding executive cars. But her designers and engineers lack a heartfelt commitment to this class of car. That they don't like the Berlusconi-class people who drive them is all too obvious.
Another handicap for Alfa Romeo is the brand's insularity. All but a handful of its cars are sold in Europe; the rest of the world doesn't exist. Even at that the picture in Europe is not reassuring; Alfa Romeo's European share is sub-one-percent. A key market, Germany, has seen a steady decline from 2001's 25,700 units to 19,000 in 2002, 15,000 in 2003 and less than 12,000 in 2007. Although 89 percent of German Alfa owners say "I like my brand", that figure is down from the previous 93 percent. Even more worrying is a drop from 24 percent to only 18 percent of Germany's car enthusiasts who say of Alfa Romeo "I like the brand".
The story of Alfa Romeo in North America is no more pretty. A friend was an Alfa dealer in Cleveland; in the 1960s he went two years without new cars and Milan didn't seem to think that was anything out of the ordinary. Alfa relied on the fact that it had a core of dealers in America who were so dedicated to the marque that they would put up with anything, including indifferent quality and elusive parts supplies. Those days are long gone, of course, now that dealers have been badly spoiled by the Japanese. And the attitude of Alfa's men in America didn't help. "What's the matter with these Americans?" one grumbled to me in frustration. "Don't they know this is an Alfa Romeo?"
I breathed a sigh of relief when I heard that the original plan to return Alfa Romeo to America in 2003 was postponed. In the wake of Fiat's "strategic alliance" with General Motors in 2000 the first signs were that Alfa would be back in jig time but with a minimal model range, a sure-fire recipe for disaster. It was thought then that Alfas would piggy-back on the GM dealer network, a concept that brought back memories of the ill-fated partnership between Chrysler and Alfa Romeo in the late 1980s. This was a vestige of the failed talks between Chrysler and Fiat Auto that had hoped to achieve an alliance. Against goals of selling up to 30,000 cars a year, the effort struggled to move 8,000. Alfa carried on alone and sold 414 cars in its final year in the States, 1995.
Next the plan was to return to America in 2007 with a full line of the new cars that have been launched in Europe in 2005 and 2006, the 159, Brera, Spider and GT. The goal then was said to be annual sales in the 50-60,000 bracket, which sounded awfully high. Nor was the idea convincing of selling Alfas through Cadillac, Saab and Saturn dealers. Saab outlets might have a fighting chance, but otherwise these aren't dealerships that would attract people who'd consider an Alfa Romeo. Its dealers should be stand-alone outlets backed by people who understand the sporty-car market. They're out there, but whether they want to sign on for another roller-coaster ride with Alfa Romeo remains to be seen.
Since the bad old days of Alfa-Lancia, Fiat has made some effort to rediscover the brand's soul. Alfa Romeo is a separate business unit with some autonomy. But its top executive's chair has been something of an ejection seat. First to take it in 2002 was manufacturing engineer Daniele Bandiera. He was followed by Antonio Baravalle, who left Fiat in 2007. Instead of a direct replacement his seat was filled by Fiat wonder boy Luca De Meo, who's also in charge of all the Fiat Group's marketing activities. De Meo jumped to prominence after joining Fiat in 2002 to head Lancia's marketing.
Luca De Meo is one of the new crew recruited and promoted by Fiat CEO Sergio Marchionne. Joining Fiat's board in 2003, barrister and accountant Marchionne was appointed its CEO on the first of June, 2004. With neither fear nor favor he swept out most of the old guard and appointed new young talents to key positions, among them De Meo. The bad news is that this meant the departure of many long-serving experts. The good news is that this meant the departure of many long-serving experts, among them the dyed-in-the-wool Alfa Romeo people who, like my friend above, just couldn't understand why people weren't buying Alfas.
Now the expectation is that Alfas will return to America in late 2009 as 2010 models, just in time to celebrate the centennial of the company, which traces its origins to 1910. Much is being made of the role of the exciting 8C Competizione as a harbinger of the range, with its Spider sister as well. More important will be the merit of the affordable models in the range. Here there's reason for concern. They're based on the "premium Epsilon" architecture developed during the GM-Fiat alliance, a platform that GM itself abandoned in 2003 for reasons of "weight", according to GM product czar Bob Lutz.
The effect of this is all too evident. Comparing the Brera with its rivals in Number 16, Winding Road found a "glaring difference in dynamics" owed to "the Brera's weight. We drove all four cars at their true fighting weights onto a public scale and the Brera 3.2 Q4 at 3990 pounds weighs nearly 730 pounds more than its nearest competitor, the TT 3.2 Quattro at 3263 pounds! Even though we knew the Italian was heavier ahead of time, this mondo weight difference was a shock and it explains almost everything about how we felt toward the Brera." Nor were the car's other attributes up to snuff.
That's why it's good news that new people are on the Alfa Romeo case. They'll be less dependent on the fading glories of the brand and more likely to be aware of the product shortcomings versus rivals that urgently need attention. One man who'll be dealing with that is Frank Stephenson, the stylist credited with both the New Mini and Fiat's retro-styled 500. He took over the Alfa Romeo studios at Arese near Milan in June of 2007. Former chief designer Wolfgang Egger did the 8C Competizione and the new MiTo small car unveiled on our May 2008 issue.
In its racing heyday the emblem of Alfa Corse, the company's in-house racing team, was a four-leaf clover. This brought Alfa Romeo a lot of luck, including the first two Formula 1 world championships of 1950 and '51. Alfa will need a lot more luck when it tries to take another bite of the American cherry. Let's hope that it finds the right management, the right timing, the right dealers and the right cars, because a little affordable Italian sporty luxury could go a long way in the New World.
- Karl Ludvigsen
---
Those Cars of the Year
As "Car of the Year" awards proliferate we start wondering what they're all about. Our man who's been there, done that takes you behind the scenes.
I was party to a virtual meltdown of the world's first and best-known Car of the Year award - at least according to the suits at Petersen Publishing. The occasion was Motor Trend's 1972 award, when for the second year I was a member of its adjudicating panel cleverly dubbed CARS - Conference of Automotive Research Specialists.
I was in great company. On the panel were Phil Hill, who needs no introduction, and Bill Milliken, engineer extraordinare whom I wrote about in Winding Road Number ??. Also on board were ace car designer and Art Center course leader Strother MacMinn and Motor Trend Editor Eric Dahlquist. It had been Eric's idea to enhance the transparency and validity of MT's award by corralling the COTY finalists for a ride and drive by experts over the desert roads of Southern California. If the award had been tarnished by obviously commercial choices over the years - and it had - this could restore the balance.
We restored it, all right. From a field that included the Porsche 911S, Fiat 128 and Chevy Blazer we picked the CitroŽn SM. Doesn't ring a bell? That was CitroŽn's daring execution of a sporting two-plus-two powered by a V6 designed and built by Maserati, which CitroŽn then owned. Dahlquist and I argued for the merits of Fiat's 128, the authentic pioneer of a new wave of front-drive small cars, but Milliken's impassioned advocacy of the exotic SM carried the day.
Krakatoa's eruption was a mere whisper compared to the outraged ululations from Petersen's advertising honchos. CitroŽn! That pipsqueak of an importer! Not much chance of a wall-to-wall wave of ads from them. And that weirdo SM! What kind of car was that? At least Fiat would have pushed the boat out with some advertising, not to mention Chevrolet.
Completely lost on these worthies was that our impartial recognition of the merits of the offbeat SM restored great authority to a COTY award that had lost much of its credibility after it was given, for example, to the whole Pontiac lineup in both 1959 and 1965 and again to the Pontiac GTO in 1968.
MT's was the first-ever Car of the Year program. It traced its origins to the magazine's Engineering Achievement Award, given in 1952 to the 1951 Chryslers. By 1956 it had become established as an annual event in more or less its later format. Only in 1970 were imports given a look-in, with the disastrous 1972 consequences described above. Later imports were given their own award.
I was reminded of 1972's shenanigans by the latest European Car of the Year award. This has a tradition of its own. It began as an initiative of the gregarious Fred van der Vlugt, editor of the Dutch car magazine Autovisie. Having founded the weekly in 1955, he then decided to enhance its prestige by recruiting a panel of journalists to vote on a Car of the Year. The first was announced in 1963, the Rover 2000.
Soon after leaving GM to go freelance in 1967 I became the American correspondent of Autovisie and then a member of its judging panel. We chose the Fiat 128 in 1970, the CitroŽn GS in 1971 (the SM finished third) and Fiat's brilliant 127 in 1972. In the latter year, however, competition threatened from the powerful Stern in Germany, which started its own COTY award. Seeing clearly that competing awards would be good for neither publishers nor car makers, Fred van der Vlugt negotiated successfully to create a pan-European program in which participating publications in each country rotated the chairmanship.
The downside of this for yours truly was that non-Europeans were no longer needed as jury members. The upside, of course, was that the European COTY went from strength to strength as you can see at www.caroftheyear.org. Success in it was seen by European auto makers as important, as I recall from my time at Ford. We nabbed it with our first front-drive Escort in 1981, a big feather in our caps, while our Sierra was just edged into second by Audi's 100 in 1983.
Over the years Fiat Auto's cars have been adept at winning the European COTY. Cynics ascribe this to the hospitality lavished on jury members by the Italians, including magnificent gifts in the early days, but product merits of Fiats, Lancias and Alfa Romeos also played a role. In 2004 Fiat's Panda became the 11th Fiat Group car to win the European prize, beating the Volkswagen Golf and Mazda3 which were tied for second place.
For 2008 a Fiat was the choice again. Fifty-eight journalists from 22 countries elected the new Fiat 500 with 385 points against 325 for the Mazda2, in second, and new Ford Mondeo with 202 points in third place. Said the jury's president, Briton Ray Hutton, "The jury saw the new 500 less as a retro design and more as something new, smart and streetwise, with solid practical and technical virtues.
"The jury was not immune from its attractions," Hutton added. "Voting comments ranged from 'heart beats head', 'the most charming car of the decade' and 'it makes everyone smile' to 'simply irresistible'. The Fiat 500 sends out the message that inexpensive and economical small cars need not be dull, drab, boring and slow. They can be fun. Fun to look at, fun to drive, fun to travel in."
In another context, however, Hutton admitted that jury members had been kicking themselves for not anointing BMW's new Mini in 2002. The retro-styled Mini finished a meager fourth in that year's voting behind winner Peugeot 307, followed by Renault's Laguna and Fiat's Stilo. Their reasoning went that the Mini had been a roaring success while they, the COTY voters, had been short-sighted in not spotting this - as if the popularity of a new model, not its inherent excellence, were to be the new criterion for the European Car of the Year.
By choosing the retro-styled Fiat 500 - nothing but a new dress on the Panda that won in 2004 - the jurists scored a twofer. They made up for their failure to pick the Mini in 2002 and at one and the same time they named a car that was already a clear sales success. Their choice was also a tribute by the journalist jury to what seems to be a turnaround at Fiat Auto, as Ray Hutton said at the Berlin prizegiving:
"The new Fiat 500 is simply the right car at the right time. Its success - for it is already a great success, with demand far exceeding supply - confirms Fiat's turnaround as a car manufacturer. Five years ago the company was in trouble. Since then, the driving force of Sergio Marchionne and his mostly new management team - many of whom are here this evening - has re-thought the product line, halved development time, and put Fiat back where it belongs: as one of the world leaders in small, economical cars."
To my ears, at least, this has the unpleasant sound of sucking up to a much-liked auto maker, not at all the independent perspective that should behoove a jury that is assumed to choose an outstanding automobile on its particular merits. This, after all, must be the thinking behind a COTY: that such recognition should single out a car that people could and should buy with greater confidence than usual. To boot, it should be a car whose conception and engineering may point a constructive way forward.
I was heartened to learn that an international panel of 47 journalists has chosen the Mazda2 as 2008's World Car of the Year, as announced at New York's International Auto Show last March. Here's a car that deserves recognition. When it was launched in mid-2007 even the chauvinistic European press raved about its efficiency and ingenuity.
At a time when weight reduction is an industry obsession, the new Mazda2 is more than 200 pounds lighter than its predecessor. Thanks to this and its efficient engines it emits 15 percent less CO2 than the outgoing model. To boot the Mazda2 has cheeky looks, a delightful interior and hatchback practicality. In the WCOTY judging it came top of finalists that included the Audi R8 and Volvo C30.
In existence since 2004, the World Car of the Year looks like deserving more of our awareness. On the basis of the 2008 results, at least, it's by far the more serious of the many efforts to nominate a new car that merits your attention - and your money. Check it out at www.wcoty.com.
- Karl Ludvigsen
---
Destiny's Darling: the Diesel
I'd jumped into this Jaguar S-Type because I wanted to try one on the twists and turns of the Millbrook test track where the motor industry was showing its wares to writers. It was impressive. It was smooth with plenty of poke as you'd expect from a Jaguar. Handling was good too as was its interior trim - an impressive car. But I was surprised that its engine only revved to 4,000 or so. Didn't Jaguars have higher-speed engines?
The penny dropped when I returned the S-Type to Jaguar. This was its brand-new 2.7-liter twin-turbo V-6 diesel! It was phenomenally smooth and quiet with ample punch from its 207 horsepower and 320 lb-ft of torque. Developed in cooperation with diesel experts Peugeot, its engine had new-fangled common-rail oil injection and four valves per cylinder with twin overhead cams per bank. Now, powering the new Jaguar XF, it's rated by many experts as that car's best engine.
This is the state of the diesel art these days - so good that a so-called car expert can't tell the difference. And the Jaguar is just the tip of the iceberg of advanced diesel development. Consider for example BMW's 3.0-liter 535d six with its twin turbos in series. It pumps out 272 bhp in an engine that's happy to rev to 4,800 rpm. As low as 1,500 rpm it starts delivering 369 lb-ft of torque with its peak of 413 lb-ft reached at 2,000 rpm. That's oil-burning performance.
Although more modestly powered at 210 bhp at 3,800 rpm from 3.0 liters, the E320 V-6 diesel from Mercedes-Benz is evidence of a serious and persistent effort by that company to maintain its traditional position as a leader in diesel-powered passenger cars in North America. Using Bluetecģ exhaust-treatment technology this engine has just been certified for sale in all 50 states in the E320, ML320, R320 and GL320. Its torque of 400 lb-ft from 1,600 to 2,400 rpm gives this 24-valve Mercedes diesel ample shove while offering routinely better than 30 mpg and the potential of 40 on the highway in a full-sized vehicle.
GM is getting into the luxury-class diesel act with its announcement of a 2.9-liter single-turbo V-6 for the 2009 Cadillac CTS. A legacy of GM's short-lived liaison with Fiat, the engine is a project of GM Powertrain in Turin and will be built in Cento, Italy by diesel specialists VM Motori. Among its advanced bells and whistles the 24-valve aluminum-head V-6 has closed-loop combustion control, a variable-geometry turbo and piezo-technology injectors and pressure sensors. Its 250 bhp and 406 lb-ft will make this new GM diesel highly competitive.
If it's launched in the USA, this V-6 will be a change from GM's previous American-market passenger-car diesels. From 1978 to 1985 its Oldsmobile Division - renowned for its engine expertise - produced V-8 diesels in 5.7- and 4.3-liter formats and from 1982 to 1985 a 60-degree V-6 diesel of 4.3 liters. With pushrod overhead valves and Roosa-Master oil injection these engines, used widely across GM's range, looked like the high-fuel-mileage answer to the second Energy Crisis of the late 1970s.
Several factors militated against the long-term success of these engines, which in their first versions justly merited their reputation for unreliability. When the V-8 was launched in 1977 I interviewed the Lansing engineers about their handiwork. They took me through the engine's development, showing how they'd beefed up the base engine using casting patterns from an abandoned 7.5-liter V-8 and how they'd experimented with some 300 different designs and injection timings to evolve its combustion prechamber.
Their tests of the new engine were rigorous. Before a diesel went into an Olds, test engines racked up 45,000 hours of dynamometer durability runs. Prototype engines numbered 250, 29 of which went into a test fleet with cars in all parts of the States that had tallied almost a million miles when the diesel was introduced. But still they were rushed. When the diesel idea "caught on at the Corporation level," said an Olds engineer, "all of a sudden they were putting the heat on us to do it."
In haste some basics were overlooked. "GM Truck and Bus Group kept telling us there were many pitfalls that we didn't know about," the Olds engineer recalled, "and we missed one of the big ones. Because the diesel is always running at wide-open throttle, you have to test it over lots of hours. We were using a 200-hour test, so we thought we'd better move the diesel to 400. We later doubled that, but it was still inadequate. It took a 1,000-hour test to prove a diesel." By the time its V-6 was launched Oldsmobile had learned this lesson.
Then the engine's manufacturing was short-changed. Those in charge of the purse strings thought the diesel might be a passing fad, so they approved only the minimum budget needed to set up a production line. When the engines were allocated to other GM divisions the completely new service training that was needed by all dealerships was rushed as well, the result being that mechanics in the field were poorly equipped to cope with problems as they arose.
And they arose. Water in the fuel caused rusting in injector pumps. Head gaskets blew and heads warped. Head bolts, rockers and pushrods failed. Starter motors broke. Failure to change oil at the unusually and unfamiliarly short interval of 3,000 miles caused breakdowns owed to lubricant contamination by combustion byproducts. This especially affected camshafts and lifters, for Olds used severe valve actions to get the best combination of performance with quietness. Bearings failed, sometimes because owners failed to use the specified diesel-grade oil.
Task forces proliferated as Olds engineers and service people worked around the clock to get on top of the problems. A "water in fuel" warning light was a necessary Band-Aid while basic changes were made, including the installation of a separator to take water out of the fuel. A new cylinder block, the DX, dealt with many of the faults, fitted as it was with a new camshaft with roller lifters. This allowed the oil-change interval to extend to 5,000 miles.
By the early 1980s Oldsmobile was building entirely serviceable diesels. Thanks to Lansing's experience and lengthened testing, its V-6 was a good engine from the get-go. Later V-8s had phenomenal durability, some lasting 400,000 miles. But the early ones were so bad that GM suffered the ignominy of a class-action lawsuit by the Naderite Center for Auto Safety that concluded with an FTC-supervised program that compensated owners up to 80 percent of the cost of a new engine with no time or mileage limits on failures.
In spite of its problems, in 1982 Oldsmobile alone had one-third of the US market for diesel-powered cars. But the demand for diesels was diminishing. While America was coming out of its early-1980s recession, OPEC opened the gasoline spigots. Seizing the moment, unenlightened authorities slapped more taxes on diesel fuel. By then, wrote one historian, "while people loved diesel economy, they didn't like clattery engines, reduced performance, longer starting times, the smelly fuel or having to fill up at truck stops." Diesel cars also cost extra, an added deterrent.
By the time Oldsmobile stopped making diesels mid-way though its 1985 model year it had produced more than a million. The very public problems had hurt, to be sure, but the real reason GM exited the American diesel market was that the demand for diesels had faded. This hit all those trying to sell diesel cars in North America, not just Oldsmobile.
Now it's time for a diesel comeback. As I said in Winding Road Number 25, the potential range of fuel-economy "improvement by dieselization is 15 to 40 percent. In fact it's the only available technology that offers double-digit cuts in fuel consumption. The emissions problems of diesels have to be solved - as they can be. As the Partnership for a New Generation Vehicle concluded, diesel engines are the way to go."
With diesels at all sizes of cars offering outstanding performance with great fuel economy, it's hard to argue against them. All they lack is the sex appeal that's been so beneficial to hybrids. This is coming. Subaru has produced a diesel version of its traditional flat four, while Honda has plowed its own diesel furrow with excellent results. The VW Group has made a major commitment to diesels. And if its Audi R8 V12 TDi isn't sexy, I don't know what is.
Powered by a twin-turbocharged 6.0-litre V12 diesel, Audi's R8 is thrust toward the horizon by 500 bhp and 737 lb-ft of torque. It's said to have a 0-62 mph time of 4.2 seconds and a top speed "well over" 186 mph. Maybe this is the kind of projectile we need to give Doctor Diesel's great engine the respect that causes more than half the new cars in Europe to be diesel-powered. It's the least we can do for the great pioneer whose 150th birthday we celebrated last March 18th.
- Karl Ludvigsen
---
Capturing a Leaping Cat in Metal
The new Jaguar XF, a gift from Ford to the luxury-car maker's next owner, finally cracks the code of a suitable style for future cars from the leaping cat. We take an inside look at Jaguar and its past and present design techniques.
After Ford bought Jaguar I visited its executives to drum up business for my management-consulting company. One of my ideas was the creation of a "Jaguar Bible". This would be a guide to the way that Jaguar did things, to the distinctive methods that contributed to the special character of this most British of executive-car companies, techniques that would be alien to the minds of the Ford executives taking over. Needless to say they turned me down. "We know all about that" was the thrust of their reply.
We are approaching twenty years later with Ford never having cracked the Jaguar code. I'm reminded of the comment by William Clay Ford when he was asked how soon Jaguar would be in the black. "Well," he replied, "it took forty years for Lincoln to make a profit. I hope it doesn't take as long with Jaguar!" Now it will be up to someone else to solve the puzzle of Jaguar, with Ford having decided to see the back of one of the world's most prestigious car brands.
Styling has been at the heart of Jaguar's special appeal to the pocketbooks of car buyers the world over. There have been bad Jaguars, but it's not easy to think of ugly Jaguars - certainly not during the years to 1972 when the company's founder, Sir William Lyons, had the final word about the way Jaguars looked.
The was a reason why Jaguars had a special panache. Although William Lyons was effectively chief stylist as well as chief executive, he was no artist. He didn't sketch or draw design suggestions. Rather, Lyons worked in the form of full-scale steel models. His craftsmen shaped panels in the usual way and mounted them on a wooden frame so they served as a visible mockup of the future design. After Lyons reviewed and critiqued the mockup the responsible workmen revised the shapes and presented their proposals again to Lyons.
Lyons worked with one or two selected panel beaters, men who had a particular sympathy with his ideas. When the metal mockup was ready for review it would usually be assembled in Sir William's front drive at home. This allowed him to see the shapes in the daylight, in the open air and in the kind of surrounding in which the car would eventually be judged. Only after he had approved such a metal mockup would the final drawings and engineering for production be carried out.
This design method meant that Jaguar shapes were fully compatible with the use of sheet metal. This typically gave Jaguars a crisp, light, metallic skin that lacked the excessive curvature or over-wrought look that sometimes results when shapes are modeled in clay for their own sake by designers who aren't respectful of the demands of sheet metal as a body material.
By necessity this method of working was progressive rather than spectacular. Thus the designs of Jaguar models tended to evolve gradually rather than making sudden leaps from one form to another. The Lyons method tended to give continuity to the Jaguar design patrimony, which it did with great success.
Nevertheless the Lyons Jaguar was capable of making big leaps in design when its leader sensed that the market demanded it. After his transitional Mark V Lyons segued smoothly into the full-fendered era with 1951's Mark VII. While this evolved into the "big" Jaguar. Lyons sensed a need for a smaller and less expensive sedan. He filled this gap with the 2.4 Litre launched in 1955. Powered by a short-stroke version of the famous twin-cam six, this was Jaguar's first integral body/frame car. Its styling was sleek and compact, strikingly different from the bigger and more costly Mark VII.
Here, if heeded, was a clear lesson from the "Jaguar Bible" for the Ford managers tasked with taking Jaguar forward. However, when they introduced the S-Type and X-Type they aped, on a smaller platform, the styling characteristics of their predecessors. They should have searched for a new idiom, as William Lyons did, that would appeal to a more youthful owner body. Instead they flew in the face of the well-known car-industry axiom that you can sell a young man's car to an old man, but you can't sell an old man's car to a young man.
Through these crucial years, from 1984 to 1999, Jaguar styling was in the hands of Geoff Lawson. Although a purebred Briton, the mustachioed Lawson was a passionate fan of American cars in general and Corvettes in particular. Among his many other interests were guns and shooting, designing and playing guitars, mountain biking, abstract art and sculpture. A strong personality, Lawson saw his role as a custodian of the Jaguar tradition in design. He showed this with the evolutionary XJ8 sedans and the XK8 sports coupe of 1996. Although clearly indebted to the E-Type, the latter was demonstrably the finest Lawson Jaguar.
New to the Jaguar styling team in 1999 was Scotsman Ian Callum. Like Lawson a graduate of the Royal College of Art, he spent 11 years at Ford, contributing to the RS200, Escort Cosworth, Fiesta and Mondeo. In 1990 Callum left to set up a new design studio for Tom Walkinshaw's vehicle engineering group TWR. "Some of my colleagues came to see me from Ford. I'd walked away from this giant studio at Dunton, the corporation, all that stuff, into this little tin shed in Kidlington. They thought I was utterly mad. But I was as happy as could be. I was doing something I wanted to do."
Car fanatic Callum shaped body kits for TWR-converted Mazdas and Holdens. He then hit the big time when TWR was commissioned by Ford to design and build the Aston Martin DB7, which was launched with great acclaim for its styling. Further Astons and a variety of other projects for TWR followed. In 1999 Callum came back into the Ford fold to set up an advanced-design studio for Jaguar, only to be named the company's styling director when Geoff Lawson unexpectedly died aged 54.
For a while Callum directed design for both Jaguar and Aston Martin. He has clear ideas about the differences between the two makes. "Jaguars are more voluptuous than Astons, more curvaceous, more extreme. They shout a bit louder than Astons." The E-Type, he says, is the perfect example. "Though it was a beautiful car it was quite a statement. Visually it's shouting at you. You couldn't get more ostentatious than the E-Type."
Another earlier Jaguar, the original XJ6 sedan of 1968, was a big influence on Ian Callum. "I just stared at it and stared at it, literally for hours on end," he says. "Basically it's where I learned about the proportions of a car. The wheels were enormous and there's this lovely lean piece of metal above them. Gorgeous. That was Lyons. He just knew how to do this."
But Callum knew that aping the past wasn't the path to the future for Jaguar. He wanted to create a Jaguar for the 21st Century. But to do this he had to win over Ford managers who were nervous abut tinkering with the iconic Jaguar look, even though markets were telling them it wasn't working. The company had been heavily criticized for introducing a new XJ in 2002 which used radical new aluminum technology for its unit body but looked little changed from its predecessor.
"I had to convince them that there was more than one way to skin a cat, so to speak," said Callum of his managers. To achieve this he had to raise his own game, he admitted: "I never considered being number one, but I was offered the best job in the world and I was terrified. I had never wanted to be promoted into a position where I'd be expected to make public speeches. I also had to learn how to manage people and a whole department. My initial problem was naivetť. I didn't know how to run a department of 100 people. I wasn't an executive and I had to learn the processes." As well he had to learn how to communicate to a board that had proven that it was nervous about styling: "I had to learn how to verbalize what Jaguar was all about: good taste, good design and drama."
Concept cars were the way, Ian Callum decided, to gain fresh perspectives both inside and outside Jaguar. "I wanted to make a statement about what a Jag could look like that wasn't what you'd expect. It was a ploy to convince people that a Jaguar didn't have to be a stereotyped vehicle, as it's been in the past." He showed this with the R Coupe in 2001 and then with the R-D6 unveiled at Frankfurt in 2003. With the latter, said Callum, "I wanted to produce something that was very difficult to define. People didn't know whether it was a coupe or a hatchback or a saloon car or a sports car. They couldn't work it out. That's great!
"Jaguar adhered to the rulebook of what a Jaguar is for too long," Callum said in 2005. "The next stage is to throw the rulebook away completely - because that's what Lyons would have done." Indeed, as we've seen that's just what Lyons did when necessary. And it's what Callum had his team did with the new Jaguar XF sedan, which won justly-deserved plaudits for its sharp new style both inside and out. It's the replacement for the S-Type and sits on a development of its chassis, so they could have called it the XS - but I suppose they didn't like the way that sounded!
The new rulebook - the "Jaguar Bible" for the 21st Century - seems to be taking shape. If India's Tata takes over Jaguar together with Land Rover, as seems likely at this writing, it will further liberate Callum and his colleagues to fashion new Jaguars that will deserve serious consideration by those for whom Germany's domination of the executive-car sector is increasingly unedifying. Why didn't it happen on Ford's watch? I think I've given you some clues.
- Karl Ludvigsen
---
Porsche Was Right - Twice
Front-wheel drive has enjoyed a long run as the layout of choice for small cars. But it's not without disadvantages as engineers in Japan, Germany and India - yes, India! - have decided. The auto industry's next step is to the rear.
The overwhelming new trend in small-car design, already visible through the haze, came into high-definition focus at the end of last year. Engines are marching to the rear. This brings an eerie echo of the 1950s, when the most popular small cars were rear-engined. Fiat's 500, 600 and 850, Renault's Dauphine and Volkswagen's Beetle all had engines between their rear wheels. The merits of the layout even led Chevrolet to build its Corvair in America and Hillman its Imp in Britain.
Then in the 1960s front-wheel drive became the rage. Led by the Mini of Alec Issigonis and the Fiat and Autobianchi designs of Dante Giacosa, engines were mounted transversely up front to power the front wheels. Power packages were still integral, with engines attached to transmissions and axles, but now in the front instead of the rear, a change made possible by better tires and universal joints.
Generations of drivers soon got used to the new paradigm. Handling and stability were good, thanks to the weight forward, though a well-equipped car needed power steering. Also the steering wheel sometimes seemed to have a mind of its own thanks to the phenomenon known as "torque steer". Front-tire wear could be heavy while braking needed careful tailoring owing to rear-wheel lightness when the car wasn't heavily laden. A much-touted advantage of front-wheel drive, the elimination of a central floor tunnel, wasn't actually achieved in practice. The exhaust and controls had to go somewhere.
Now engineers who've taken a fresh look at the small car have decided that rear engines weren't such a bad idea after all. In 1992 we had a glimpse of the future in GM's Ultralite, which had its two-stroke engine in the rear. In 1994 Mercedes-Benz unveiled its involvement in the Smart project and showed two small-car studies of its own, both rear-engined. When the Smart ForTwo came to market in 1998 its rear-mounted engine was the most unusual feature of a very unusual car.
Meanwhile at a car-development center at Okazaki in Japan's Aichi prefecture auto engineers were mulling over the design of a new entry in that country's intensely competitive Kei class of small cars. So important is it that of the 3.7 million cars sold in Japan in 2006, 2.0 million or 55 percent were Kei cars, limited to 660 cc engines and a maximum length of 3.4 meters or a little more than 11 feet. Here was a real challenge for designers. How could they pack the most space and value into this specification? That's what Mitsubishi needed to find out.
The first sign of their conclusions was the "i" concept car that appeared at Tokyo in 2003. It was a four-door car with MacPherson strut front suspension and a de Dion rear axle. Its newly developed three-cylinder engine was positioned just above and forward of that axle, nestling low behind the rear seats. That this was more than a pipe dream was shown by the introduction of the i as a production model in 2006. The following year it went on sale in selected markets abroad.
Mitsubishi's Shinsuke Kawamura, who played a key role in the i's creation, pointed out that the rear engine brought a number of advantages, including:
No need for power steering in the base model.
Freedom from torque steer.
A better turning circle in combination with a long wheelbase and large wheels.
Great flexibility for the development of more models on the same platform.
Adequate front and rear crash-energy absorption compatible with a long interior compartment.
Kawamura-san could have added that with front/rear weight distribution of 45%/55% braking effort was shared more evenly among all four wheels, increasing their stopping power. Drive traction was excellent as well.
Many of these considerations were in the mind of Ferdinand Porsche when he conceived the famous Volkswagen Beetle. While others had tinkered with rear engines, Porsche was the first to make a practical rear-engined small car in volume. His pre-war KdF-Wagen - as it was known then - was the inspiration for the Fiats and Renaults. Thus it's significant that at the end of 2007 the company he co-founded announced its plans to introduce a new range of rear-engined small cars "before the end of the decade".
In concept form Volkswagen unveiled its "up!" as a two-door at Frankfurt and then in four-door form, with a longer wheelbase, at Tokyo. It was the joint effort of Ralf-Gerhard Willner, in charge of concept development, and chief designer Walter de Silva. Their work, they said, involved "a hard clash of ideas between engineers and designers. That is the only way to produce icons." They deliberately aimed for a look of raw functionalism which they described as "A clever innovative wholeÖa friendly and masterful car."
So far VW is coy about the up!'s technical details, saying only that its engine is in the rear. It could do worse than to recall the concept that the Porsche company designed for it in 1969-70. VW chief Heinz Nordhoff launched Ferry Porsche and Ferdinand PiŽch on the assignment to deign a Beetle successor before his death in 1968. His successor Kurt Lotz asked the Porsche men to push ahead with the project that was Type 1966 to Porsche, EX266 to VW's engineers and Type 191 as the production model it was intended to be.
The Porsche layout was radical. The in-line water-cooled four was placed longitudinally in front of the rear axle, lying horizontally to the right. In the space to its left were its radiator and fan. In this "under-floor" layout the engine was placed well forward, actually under the rear seat, with a four-speed transmission between it and the final-drive gears. This meant that top gear could be a quiet and efficient direct drive. The under-seat engine meant that passengers in the rear sat higher than usual, which as Porsche pointed out gave them a better view, especially with America's mandated front headrests.
Anything as radical as an under-floor engine was bound to attract its critics. One was a VW engineer who had formerly designed submarines. "What about water on the engine?" he asked. This so irritated Ferdinand PiŽch that he ordered a huge tub to be built in which the entire prototype was immersed. "It started under water," said an observer.
As a final pre-series for testing Porsche built 100 engines and 50 gearboxes of the Type 1966. In four development stages some 50 complete vehicles were made in 1970 and into 1971, 15 of these made by VW itself. Preparation of production tooling was under way when, in the autumn of 1971, Kurt Lotz suddenly and unexpectedly left the company. He was succeeded by Rudolf Leiding, who decided to cancel Porsche's project and instead to plunk for the layout of 1969's Car of the Year, Fiat's 128. Creation of the Golf was an important step in the rise and rise of front-wheel drive. Thus Porsche and Ferdinand PiŽch - both deeply involved with VW these days - have unfinished business in the rear-engined small-car arena.
The latest indication that engines in the rear are making a comeback came on January 10th in New Delhi, India. There to intense enthusiasm Ratan Tata unveiled his Tata Nano, designed and tooled to sell in its most basic form for about $2,500. Conceived as a gap-filler between motorcycles and India's smallest cars, the Nano is set for production at better than 250,000 a year at Tata's factory in Bangladesh. It's a cheeky four-door sedan designed by 500 of the company's own engineers with the help of Turin's IDEA Studio, long-time consultant to Tata.
With its standard CVT transmission, the Nano's 624 cc twin-cylinder engine is smack between the little car's rear wheels. It's a layout that provides remarkable spaciousness in a car only two inches more than ten feet long. Tata took a leaf from the book of Alec Issigonis by giving its Nano four tiny wheels at its corners, providing maximum stability with minimum intrusion on its interior. Though designed to meet India's needs, the Nano is scheduled to be exported in a less austere version once initial domestic demand has been satisfied.
Those are the first indicators of this new trend. One other point is strongly in favor of rear engines for small cars: the layout is ideal for alternative forms of power. Up front, between the wheels, space is limited for all the gubbins needed by an electric or hybrid drive train. At the rear there's plenty of room to accommodate these new low-emissions power trains. In fact Mitsubishi has already launched a trial fleet of the MiEV electric version of its i, with batteries under the front seats. Sounds like an idea whose time has come!
- Karl Ludvigsen
---
Setting Sun in Formula 1
When Honda engines were powering McLaren and Williams Grand Prix cars to wins in the 1990s it seemed that the Japanese were taking over the sport. Now that they're building and racing their own cars, however, the outlook isn't so bright.
Honda's Formula 1 team had cause to celebrate at the end of the 2007 season. They won a Grand Prix, their first of the year. It wasn't on the track, however. Honda received the "Green Awards Grand Prix" presented by a judging panel set up by the United Nations Environment Program as a means to "recognize outstanding creative workÖfor brands promoting anything from fair trade and renewable energy to resource efficiency and waste awareness."
In its sphere this was a pretty big deal. The Honda team's environmental initiative, its www.myearthdream.com website and the swathing of its cars in huge decals showing the surface of the earth combined to win its nominated category of Best PR Campaign with a budget of over £100k against strong competition from Marks & Spencer and Procter & Gamble. Then with the other category winners Honda Formula 1 went into the final judging for the Grand Prix - and won. Honda's was judged "the campaign which best exemplified an outstanding environmental message and had the greatest capacity to raise awareness amongst the general public."
In less elevated terms Honda reaped what one publication called an "image disaster" from its unconventional Formula 1 livery. When it was launched at the beginning of the year its earth-like look was widely lambasted as bizarre, inappropriate, illegible and even ugly. Nor did it yield recognition on the track, imparting a strange look to the RA107. As well its lack of clear identity logos won Honda the last place in an image-recognition survey of Formula 1 at mid-season.
Also scuppering Honda's attempts to gain visual recognition for its "green" imagery was its cars' appalling performance on the track. For Jenson Button it wasn't enough to be eclipsed by meteoric newcomer Lewis Hamilton. He became the forgotten British star, mooching about at the back of the field with team-mate Rubens Barrichello, once a race winner for Ferrari.
In 2007 Honda ranked eight in the championship of makes table with a measly six points. As a nadir this was comparable only to the seven points it scored in 2002, its third year as an engine supplier to British team BAR. BAR-Honda did wonderfully in 2004 with 11 podiums on the way to second in the championship with 119 points. This was a tribute to the design skill of Briton Geoff Willis, whom BAR had poached from Williams.
In 2006 Honda took over the BAR team and began sailing under its own banner. It did well, scoring one lucky win for Button and compiling 86 points for fourth place in the makes rankings. Mysteriously, however, it dispensed with the services of Geoff Willis in mid-2006 after a former Honda motorcycle-racing engineer was promoted above him. The 2007 results suggest that this was not Honda's smartest move.
The Japanese, it seems, had taken against Willis's style of firm direction from the top. "He wasn't very well liked by the resident Japanese engineers," said an insider, and as a result was subjected to a witch hunt. In the BAR days, said my source, "there was a room with 60-odd Honda engineers linked to the CAD system. They had full access to view the drawings but the IT system wouldn't accept any uploading of drawings from the Japanese section, it having been made quite clear to them that they were there to look but not touch."
Only weeks earlier in 2006 the other Japanese car-maker team in Formula 1, Toyota, had released its high-profile technical director, Mike Gascoyne. Toyota started its Grand Prix team from scratch, converting and expanding its former rally headquarters at Cologne, Germany and staffing it with experts from many countries and companies. Starting in 2002, its results in the first two season were mediocre with 16 points or eighth place in the championship in 2003.
At the end of 2003 Toyota hired Englishman Gascoyne, who had a well-deserved reputation for turning struggling teams around with a tough regime. He'd done that for Jordan from 1998 to 2000 and for Renault through 2003, giving them winning form. At a reputed salary of $6.5 million he led the design of Toyota's TF105 for the 2005 season, taking the team to fourth in the championship with 88 points, two pole positions and five podium places.
The TF106 started the 2006 season slowly, however. Chafing under Gascoyne's dictatorial rule, Toyota's Japanese masters agreed his departure in April of 2006, saying that he left "amicably" after a "fundamental difference of opinion with regard to the technical operations" of the team. Having established its Formula 1 team based on "the wrong brief, premises and personnel," said my insider friend, "the hiring of Gascoyne was just an example of the credo that if you throw money at it, it will eventually work."
So how has Toyota fared subsequently with its more collegiate approach, without an experienced big-name technical director? In both 2006 and '07 it was sixth in the makes championship, this year with a paltry 13 points. Like Honda, Toyota ranked a place higher than it deserved this year by virtue of the docking of all the makes points of McLaren-Mercedes after the discovery of its use of confidential Ferrari information. Although fielding having competent drivers in Jarno Trulli and Ralf Schumacher, Toyota had not a sniff of a podium in its sixth season of 2007, let alone a win. Saying "sometimes thinks in life don't work out the way you expected them to," Ralf left at the end of the season.
In spite of results so far that give new meaning to the word "mediocre", Toyota declares its intention to press on. In fact Kazuo Okamoto, its executive vice president for research and development, forecasts a win in 2008. "Motorsport is all about dreams and passion," he said. "We will not pull out just because we haven't won a race. F1 is an important development ground for Toyota." In the Formula 1 of the future, he added, "there are development opportunities for using hybrid technologies and bio-fuels."
Nor does Honda envision a withdrawal. Like Toyota, it relishes rubbing shoulders in the paddock and on TV screens with upscale brands like BMW, Ferrari and Mercedes-Benz. Its purpose, said Honda's Yasuhiro Wada, is "a mixture of engineering challenge and also carrying on the racing heritage which is connected to the Honda brand. Obviously, nowadays we have to think about some marketing aspects of the Formula 1 society as well." Hence the myearthdreamô concept.
Somewhere in this corporatespeak something's missing - a clear commitment to win races and championships. In the Japanese teams, says an engineer who works with them, "all the major decisions will be taken by a committee after a lot of horse trading on spheres of influence, attributes and roles. The actual business at hand will not be high on the list of priorities. This bodes ill for decisive moves on racing decisions or even for a clear direction continuously pursued. They will chop and change with the wind.
"At Honda and Toyota there are many 'project leaders'," adds the engineer, "senior this or that, but fundamentally they're all kept in check by a informal peer group. Within this they have to maintain good relations and accommodate the thoughts of others. Anyone standing out from the group will be hammered down. They are not very good at accepting forthright comments or dissension, which explains why Gascoyne had to go.
"A technical director or chief designer goes against the Japanese tradition of anonymous group work," says my insider. "They're very good at smothering everything under meetings and reports ad-infinitum, plus the ever-popular 'counter-measure' to solve the problems caused by indecision and fumbling along. Add to this a no-blame (at least for the Japanese) culture that sweeps everything under the carpet and ignores it.
"Despite the generous finance available," concludes my source, "a fully Japanese-managed team will never win a world championship and never has, be it in motor racing, ping pong or rose growing, because they will never take any action and assume the blame if it doesn't work. The modus operandi is to wear belt and braces and keep sitting down to make sure one's pants don't fall down, plus procrastinate and delay decisions until there is only one way to go. Therefore no-one is to blame because that was the only possibility left."
Moreover, adds my insider, bringing in foreigners is seen as a last resort. "The Japanese view all gaijin as barbarians and assume that they can do it better, despite ample evidence to the contrary, and only deal with foreigners under duress or extreme need." That Honda has come to realize that its dire situation constitutes duress and extreme need is shown by its appointment of Britain's Ross Brawn as its new team principal, effective November 26th. He first visited the factory in Brackley two weeks earlier.
Honda has trusted its fate in racing to gaijin before. It entered Formula 2 in Europe with Jack Brabham's team and called on John Surtees to help it in 1967, when it scored a lone win with its engine in a Lola-derived chassis. Since then Honda engines have performed well, for McLaren and Williams among others, but building a complete car and running the racing team are tasks of an altogether higher order of magnitude - as the Japanese are discovering.
Now with the hiring of Ross Brawn Honda has set aside its pride - indeed arrogance - to hire the bespectacled 52-year-old whose Ferraris won six constructors' championships in a row from 1999 to 2004. From the end of 2006 Brawn has been on sabbatical from Ferrari. "I miss the racing a lot," he found. "I miss the sport. I miss the teamwork. I miss being part of a group of people who achieve something that is very difficult but when achieved is very rewarding."
Brawn's arrival will buck up Rubens Barrichello, who raced for him at Ferrari and has just suffered an excruciating season in which he scored no points. "It's the best thing that's happened in a long time," said Britain's forgotten speed merchant, Jenson Button. It looks like one Japanese team, at least, is starting to take Formula 1 seriously.
- Karl Ludvigsen
---
Abarth Back in Action
When I first wrote about Abarths I called them "Tiny Tornadoes from Turin". The name still suits a promising revival of one of the most dynamic brands in automotive history.
What qualifies a moribund marque for a second coming? The answer boils down to category, content and charisma. Its image has to suit the category into which a car maker or entrepreneur wants to introduce a new product. It must suggest a technical and stylistic content that suits that category. And it must have charisma, that ineffable attribute that excites love and longing in the potential customer. On all three criteria Abarth scores big time.
So why has Fiat's Abarth brand been "resting" - as they say in the acting trade - for several decades? Why was such a valuable asset for a maker of small cars allowed to languish unloved? Blame it on a revolving door of top and medium managers who lost track of what made Fiat's cars appealing. They kept the distinctive scorpion badge alive in a desultory way, slapping it on variants willy-nilly much as Ford still deploys its deeply devalued Ghia badge in Europe.
Now Abarth is reviving big time. The company is being set up again in its traditional and historic quarters on Turin's Corso Marche. Its staffing of 113 includes 26 engineers, 43 production experts and a team of nine dedicated to motor sports participation. I know these buildings well, having visited Abarth in the late 1950s and early 1960s and several times at the end of the 1970s when they were preparing two special 131 Abarths for us at Fiat to enter in the SCCA's rally championship.
It was always a treat to visit Abarth because something exciting and interesting was bound to be happening, be it a new twin-cam engine on the dyno, a record-breaker under construction or a new sports-racer being completed. The small quarters were always in perfect order. "If there's anything he hates," driver Hans Herrmann said of Carlo Abarth, "it's dawdling, disorder and dirt. The factory halls are almost as clean as a pharmacy. Materials, tools and cars have their designated places. He takes care that his cars go to the start sparkling." Abarth's 21st-Century successors have a lot to live up to.
They're off to a pretty good start. Abarth has been resuscitated by Lapo Elkann, the Agnelli descendant who looks after branding at Fiat, and Luca de Meo, in charge of the Fiat business, now a separate unit in the Fiat Group. They're kicking off with cars based on the well-received Fiat Grande Punto. Just launched in Europe is the car's Abarth sister, which uses a turbo to pump out 180 bhp, in the SS version, from only 1.4 liters. It's a spunky machine that is decisively badged as an Abarth - no Fiat identity anywhere.
Then there's a rally version, prototypes of which were campaigned in 2006 to win the Italian and European rally championships. This has four-wheel drive and a stonking 270 horsepower from 2.0 liters. Power production should be no problem with Paolo Martinelli, the genius behind Ferrari's great Grand Prix V-10s, now on Fiat's engineering strength. As the Grande Punto Abarth S2000 the Corso Marche outfit will build similar cars for customers. Says Fiat, "The new Abarth division will prepare racing and rally cars for customers in a wide range of series and one-make championships."
If this weren't enough, Abarth will work its wonders on Fiat's new 500, just elected Car of the Year in Europe. At the Geneva Salon its Abarth version will appear with a stronking 150 horses under its stubby hood. This will make the latest Topolino more Mighty Mouse than Mickey Mouse. All this activity smacks of the vitality of the brand's heyday under Carlo Abarth.
Abarth has been a Fiat property since August of 1971. When he sold it Carlo Abarth was 62; he died just short of his 71st birthday. Although Abarth had flirted with alliances with Alfa Romeo and Simca, his links with Fiat were by far the strongest since the later 1950s. After the war Turin's Siata and Nardi were prominent among the many companies that exploited Fiat's first-class raw material. Abarth soon raced by them with his knack for publicity and good-looking equipment that performed.
With its clusters of consonants "Abarth" wasn't mellifluous to the Italian ear. It was a gift from Abarth's Austrian father, who with his wife, from Merano, welcomed their son Karl into the world in Vienna on November 15, 1908. Apprenticing with Castagna in Italy, the swarthy youngster was soon besotted with motorcycling. Working with cycle shops in Vienna, he also began racing. Into the 1930s he was a successful competitor who made a name for himself in Austrian circles.
Showing his mechanical flair, Karl Abarth designed a special racing side car that had its own steering-wheel control to adjust its angle to the motorcycle. With this he cleaned up in his category. He also used his special rig in 1934 to beat the time of the famed Orient Express over 853 miles from Vienna to the Belgian coast at Ostend.
Around the same time Abarth married Maria, a legal secretary. In Vienna she worked for Anton PiŽch, lawyer son-in-law of car engineering legend Ferdinand Porsche. Anton was deeply involved in all aspects of Porsche's business, including his creation of the future Volkswagen car and factory. "He was always in contact with us," PiŽch's son Ernst said of Abarth, "but because he was Jewish he had to leave Austria. He went to Yugoslavia with Maria. There he was said to be a mechanic for Tito's partisans."
At war's end Abarth went to his mother's home town of Merano, now part of Italy. He divorced Maria, who returned to Vienna, and married a strong-willed Italian lady who became an important asset to his business activities. "I'll live the second phase of my adventurous existence as an Italian," he said, signing his name as "Carlo". Abarth's Italian became serviceable if guttural.
Free as he was to move about in cordoned-off post-war Europe, Carlo Abarth became a vital link between the Porsche engineers, desperately in need of work, and the project in Turin of Piero Dusio to build Cisitalia cars. Porsche was soon designing for Dusio and Abarth was soon Cisitalia's successful racing manager.
When Cisitalia overreached and faltered, Carlo Abarth picked up many of the pieces, including sports-racers nearing completion. He also found a novel muffler that engineer Giovanni Savonuzzi had created. Impressed by the effectiveness of the silencer on an American pistol, Savonuzzi dismantled it and found a fine netting of wire mesh surrounding the barrel. Designing a straight-through muffler on similar lines, the engineer discovered much improved performance.
A serendipitous discovery, the mufflers became Carlo Abarth's cash cows. Crackle-finished with chrome tips, they sold all over the world and especially well in America, where they introduced the Abarth name. Striking too was their bold logo, a sting-tailed scorpion. This was Carlo's canny choice from his astrological sign of Scorpio. Even Ferrari fitted Abarth mufflers as standard equipment.
Abarth carried on Cisitalia's car making, on a smaller scale initially. His breakthrough came with Fiat's introduction of the rear-engined 600 in 1955. Not only was Abarth's 750 cc version extremely popular, it also served as a superb basis for special-bodied cars that sold as Abarths in their own right. With Zagato's distinctive double-bubble roof the cheeky Abarth coupes were soon wreaking havoc on race tracks around the world. Low-drag versions were breaking records at Monza in class after class.
Soon Abarths were part of the American racing scene. Franklin Delano Roosevelt, Jr., a striking dead ringer for his father, imported them in addition to Fiats. Sports Illustrated ad salesman John Norwood ran Roosevelt's racing team and drove the cars as well. Rampaging American circuits, the red coupes soon made Abarth a household name in SCCA circles.
Moving up to a twin-cam one-liter engine, the coupes began outrunning their Fiat 600 underpinnings. Assigned one by Briggs Cunningham for the three-hour race at Sebring in 1962, Bruce McLaren found that they "would have benefited from some attention to the handling, braking and steering. It seemed that at every corner you were in danger of landing on your head! There were several of them racing and on nearly every corner you would come upon one spinning crazily, either on its wheels or roof." Nevertheless McLaren outfumbled Walt Hansgen in a sister Abarth to win the three-hour race.
Carlo Abarth and his trusted lieutenant Renzo Avidano improved their cars and built more adventurous machinery, competing well in classes up to two liters. Attempts at Formulas 1 and 2 and a big V-12 to fight the Porsches and Ferraris were a reach too far, however, for Abarth and his team. Their high costs contributed to the company's 1971 acquisition by Fiat.
I have a table that tots up more than 3,600 Abarth class and overall victories through 1966. A claim by Fiat that Abarth successes total more than 7,000 doesn't seem improbable. It looks like that tally will be growing with Abarth again in gear. It's an exciting prospect. At long last a marque has been revived that fully deserves a second chance.
- Karl Ludvigsen
---
Fearless Forecasting
With big takeovers and mergers out of style, how are the world's automakers going to make the savings that they need to survive? What of the menacing upstarts in the developing world? The Europeans seem to have found the answer.
Back in 1993 I took a shot at forecasting the mergers that would reshape Europe's auto industry. At the end of the previous decade we'd just been through a wave of mergers and takeovers. Volkswagen subsumed Spain's Seat. Fiat trumped Ford to acquire Alfa Romeo. Ford bought Jaguar while GM - outbidding Fiat - gained control of Saab's auto business. In 1991 Volvo and Renault created an interlocking shareholding. So what was most likely to happen next?
Looking ahead to the year 2005, I foresaw a major combination in 2001 between Ford and Fiat. This would have included Rover, which I thought Fiat would acquire in 1994. Instead, of course, it was GM Europe that linked with Fiat in an arrangement of joint sourcing and powertrain production that unraveled early in the 21st Century. Rover went to BMW, which later unloaded all of it save for the phenomenally successful New Mini.
I forecast an early merger of France's two automakers, Renault and PSA Peugeot-CitroŽn. I saw them under tremendous pressure after France's domestic market, long rigorously protected, was opened up to the Japanese. By 1996, I thought, they'd join forces after having cooperated for many years in engine design and production. This was an obvious clinker, for these proud French pioneers have staunchly maintained their independence.
In 1998, I thought, Chrysler would be snapped up by a German company. Aha, you think, Ludvigsen got one right. Not quite; I thought it would be Volkswagen, not Daimler-Benz. A combination between VW and Chrysler would have brought them both tremendous savings in shared components and engineering. Exactly the opposite was the case in the merger of Chrysler with Daimler-Benz, which achieved little in the way of significant cost reduction through component sharing. That's why the latter alliance was both easy to make and easy to unwind.
To that grouping, I forecast, would be added a company that I thought VW would acquire in 1996: Porsche. In 1991 the top people at then-struggling Porsche tried hard to convince me that they could go it alone, that they wouldn't have to be absorbed by a bigger car maker. But I didn't believe them. I didn't reckon on the ability and vision of Wendelin Wiedeking to convince his Porsche and PiŽch shareholders to back his turnaround plans. And what a turnaround! Porsche is gobbling up VW instead of the other way around.
I was moved to revisit these ruminations by remarks that Carlos Ghosn made at the end of a recent interview with Germany's Die Welt. You'll remember Mr. Ghosn, boss of both Renault and Nissan, from Winding Road number ??. Asked about his vision of the future of his business, Ghosn said that "there'll certainly be new players in the industry. China is becoming one of the world's largest markets and it's very likely that at least one Chinese producer will surface on the global market. India too is developing into an important region and here as well there's no reason why an Indian manufacturer couldn't play a world-wide role."
So far as India is concerned the most obvious candidate is Tata, part of a large industrial group and fully able, in time, to move abroad. It will recover from its first such effort, the fiasco of supplying CityRovers to that expiring British company. In fact Tata was mentioned among the possible bidders for Ford's Jaguar and Land Rover. It's also preparing the launch of an extremely cheap car. But it will be a while before Tata is ready for a global role.
You know how I feel about the Chinese. There too it will take some time before they're fit and able to expand globally. But most noteworthy about Carlos Ghosn's remarks was that he saw these developing-market car makers intervening in the established Western industries. "I think that Chinese, Indian or Russian manufacturers will buy established automobile groups or merge with them or enter into alliances," he said.
"That would be quite natural," the Renault/Nissan chief added. "How many such companies will appear on the world market is in any case entirely open." This trend, Ghosh opined, would force further mergers and combinations in the developed world. "It's certain," he forecast, "that there'll be greater consolidation in the mature markets of West Europe, the USA and Japan."
This isn't new. Auto-industry executives are forever predicting shrinkage of the number of industry participants - of course not including them! "We could end up with a dramatic decrease of one-half or more of the auto companies in the world," said Chrysler's Bob Eaton in 1998. He foresaw "six or seven big companies each selling five, six million vehicles a year." Eaton's solution to what he feared as the coming crisis was, of course, his fateful merger with Daimler-Benz.
In the same year Bob Lutz, then a Chrysler retiree, had a different take. "Companies disappear," he said, "but at the same time new companies are created. There are companies that are going to consolidate and merge and others that are going to be created at the bottom." The trend toward outsourcing could create so much independent capability in engineering, manufacturing and assembly, Lutz thought, that "it might be just like the brewing business where there might be hundreds in another ten years."
In fact Lutz put money behind a micro-brewing effort of his own. With Briggs Cunningham's grandson he had a go at reviving the Cunningham marque, which in the 1950s built something like three dozen cars. It was planned as a virtual automobile company with all services outsourced. Though Lutz's effort didn't take flight, the concept may still have merit.
Notably Carlos Ghosn didn't mention the Japanese as possible predators in the auto-making jungle. They've never been inclined to be acquisitive away from home, preferring organic growth with their own people and products. They've toyed with foreign participation, as Toyota did with 15 percent of Lotus and Honda with 20 percent of Rover, but have never bought foreign brands outright. They create their own new brands instead.
The same holds true of the Koreans with the notable exception of Daewoo, which under its buccaneering Chairman Kim bought up failing East European auto companies in a kind of pyramid scheme to build up both capacity and debt. He didn't exploit their brands, placarding everything as Daewoo instead.
How have the Europeans managed so far to avoid the consolidations that I and others have forecast? What has allowed them to maintain their proud independence? The secret has been cooperation.
PSA Peugeot-CitroŽn is a prime example. It has major joint ventures with Fiat in light commercials and minivans. In the Czech Republic it builds small cars with Toyota while with Ford it jointly develops and produces diesel engines. It shares gasoline-engine production with arch-rival Renault. In this manner PSA Peugeot-CitroŽn achieves the scale economies of larger production volumes that it can't justify from its own output alone. Obviously its partners gain a mirror-image advantage.
We're enjoying an outbreak of cooperative fever. GM, Daimler and BMW are sharing heavy hybrid technology. Porsche's higher volumes were the result of cooperative deals with Volkswagen long before it started buying shares in the bigger company. Haughty BMW, justly proud of its independence, is prepared to discuss major component-sharing deals with other companies, including arch-rival Daimler. City cars and small engines are said to be on its agenda. BMW and PSA Peugeot-CitroŽn already cooperate in the manufacture of small power units.
This looks like the way forward for the Europeans. It's less glamorous than big blockbuster takeovers. It offers no bragging rights at the club, the ski slopes or the opera. It requires dogged hard work to align product programs and make the compromises needed to permit aggregates to be shared. But it works. And it might even work in America.
- Karl Ludvigsen
---
Car Guys and Carpet-Baggers
John Bentley was a shrewd, active and amiable Brit who made America his home, writing books and articles and racing actively at Sebring and Le Mans in Cooper, Lotus, OSCA and Abarth cars. John was a motorhead with a lot on the ball. In the 1950s he offered his considerable car-guy abilities to one of the Big Three in Detroit. "You're much too interested in cars," he was told. "You wouldn't fit in here at all."
In 1967 I faced a similar situation. Working in public relations at General Motors in both Detroit and New York I'd been exposed to most operations of that then-great company. I'd worked closely with such icons of the automobile as Bill Mitchell and Zora Arkus-Duntov. Nevertheless I couldn't convince myself that GM offered a long-term future to someone like me who was deeply into automobiles. That's why I left the General to pursue a free-lance career. When I left the P.R. Staff in Detroit they didn't recruit another car-knowledgeable person. I regretted that I'd failed to convince them that it was essential.
A colleague of mine at GM in New York had similar problems. He was very knowledgeable about cars and interested in their design. From product planning he went overseas to Opel and then GM France, from which he was headhunted for a top sales job at BMW. Then he moved to Ford of Europe and finally to Dearborn, where he was marooned in the backwater of truck operations. When he moved to Chrysler his automotive know-how energized colleagues below him but alarmed those above him who hated being shown up as the frauds they were. Bob Lutz was destined never to have the top auto-company job for which he was manifestly qualified.
The same could of course be said of the charismatic and controversial John DeLorean. John's car-guy credentials were impeccable and his upward trajectory vertiginous. But he had to start his own car company in order to run it, and then he made a hash of it. DeLorean was seen as a potential successor to Ed Cole as GM's president. Outmaneuvering Bunky Knudsen along the way, Cole was a rare example of a dyed-in-the-wool car fanatic making it to the top of General Motors. But he was never elevated to chairman, and when he retired he suffered the virtually unprecedented slight of being denied a seat on the board of directors.
While Alfred P. Sloan, Jr. was not a finance man - his degree was in electrical engineering - his emphasis on financial controls gave GM a tradition of accountants at the top. Fred Donner, Tom Murphy and Dick Gerstenberg provided the General with firm guidance. But Roger Smith was a bean counter of another color. His legendary reorganizations and purchases of Hughes and EDS left GM reeling. The coup de grace was the arrival of Bausch & Lomb marketing man Ron Zarrella and his battalions of brand managers, recruited from the likes of Procter & Gamble and General Electric. GM is still struggling to recover from this disaster.
The Zarrella catastrophe is a negative example of what can befall a car company when top managers are recruited from other industries. These are carpet-baggers, a term traditionally used to describe out-of-state politicians who barge into local elections but equally applicable here. It's timely in view of the arrival of ex-Home Depot chief Robert Nardelli to run Chrysler in the wake of ex-Boeing boss Alan Mullaly's appointment at Ford a year ago. Carpet-baggers are suddenly in style in America's auto industry.
The last time Chrysler had a similar experience was in 1961 when accountant and MBA Lynn Townsend was named its president. Townsend, who had leapt up the ladder since joining Chrysler in 1957, was appointed at the suggestion of board member and soon-to-be chairman George Love. The latter's sole - and successful - business experience was reviving and consolidating money-losing coal companies.
Under carpet-baggers Love and Townsend Chrysler's fortunes improved. Lynn Townsend moved up to the chairmanship in 1966 and retired in 1975. He was followed in both posts by another non-car-guy, John Riccardo, to whom the task fell to dismantle Townsend's ill-fated overseas alliances with Rootes and Simca. The Pentastar logo and spectacular turbine cars were cosmetics for a Chrysler that fatally neglected its quality in these years, leading to its near-bankruptcy in 1979.
The Love/Townsend involvement in Chrysler paled in comparison to the most striking carpet-bagger invasion in the history of America's car industry. As World War II ended Ford was limping badly. Its finances were in "wretched confusion" and its post-war product plans non-existent. The Ford Motor Company was created by the ultimate car guy, whose son Edsel had a distinct flair for automobiles. In contrast, Henry Ford II was never a car guy. But he was smart, brave, decisive and willing to learn, attributes in extreme demand when he was named Ford's president on September 21, 1945 at the age of 27.
In November of 1945 Henry received a telegram from a group of ten Army Air Force officers who, in terms that "bordered on impudence", offered their services to Ford en masse. Led by a full Colonel, Charles "Tex" Thornton, some of these men had revolutionized the Air Force's efficiency in wartime. Adding more Harvard-trained officers, they created a cadre of ten who decided to offer themselves as an executive team to a deserving company in peacetime. Ford's national stature appealed to them, so they sent their wire direct to its president. To their surprise - not knowing the depths of the company's problems - eight of them were lunching with Henry Ford II only days later.
Aged between 26 and 34, none of the officers had any auto company experience or enthusiasm. Among them were Ed Lundy, Robert McNamara, Arjay Miller, Ben Mills, Francis Reith and James Wright. While Lundy would go on to found a finance staff that ruled Ford with iron rigor, both McNamara and Miller were future presidents of the company. Indoctrinated with a four-month deep dive into Ford's departments, the newcomers were dubbed the "Quiz Kids" for their incessant questions. This was later refined to "Whiz Kids".
At first the team was kept together under Tex Thornton to plan Ford's restructuring. They worked under finance man Lewis Crusoe, who had been lured to Dearborn by Henry Ford II together with other experienced auto-industry executives Ernest Breech and Harold Youngren. Crusoe decided to tutor the Whiz Kids after concluding that, although bright, "they knew nothing about business and the automotive industry. Their knowledge was from books." Learning well under the demanding Crusoe, the carpet-baggers spread out into Ford's operations after creating the company's new structure and the manual needed to run it.
The rebuilding of Ford might have occurred without the fortuitous arrival of the Air Force Ten, but certainly less quickly and probably less effectively. Their incisive intellects more than made up for their lack of auto-company experience. Brilliance is not always valued highly in car makers, overpopulated as they are by field sales managers promoted well beyond their capacities. They're understandably suspicious of bright sparks with fancy degrees.
Seeing the military as a source for top talent is a viewpoint not unique to Henry Ford II. This is also the perspective of new Chrysler chief Robert Nardelli. Officers from the services were prominent among Home Depot executive trainees. Soldiers, Nardelli told Business Week, "understand the mission. It's one thing to have faced a tough customer. It's another to face the enemy shooting at you. So they probably will be pretty calm under fire."
This philosophy flies in the face of everything we know about how to run a modern company. The best are demand-driven by close contact with their customers and by management empowered, at the lowest possible levels, to make and keep them satisfied. This is the diametric opposite of the way the Army is run. Nardelli's demand for people who "understand the mission" and implement it assumes that there's somebody high up in the organization who defines and communicates that mission. Operating that way fails to make use of most of a company's best brains.
When Don Petersen was running Ford he tried as hard as any man could to transform it into a bottom-up organization that was sensitive to customer needs and wants. Pete was the perfect prototype of a good auto-company boss. An engineer by education, he worked in product planning, marketing, trucks and international operations on his way up the ladder. He wasn't a car guy, but he burnished his credentials with sessions at Bob Bondurant's driving school.
In short, Pete Petersen was savvy enough about the auto company he managed as president from 1980 and as CEO from 1985 to 1990 to know when people were bullshitting him. Having a working BS meter is vital in an arcane organization like a car company where so many people so ably conceal their foulups. Are carpet-baggers Alan Mullaly and Robert Nardelli likely to see through such obfuscations? Can they cut costs without cutting the hearts out of their companies? Not a chance.
- Karl Ludvigsen
---
Not Thinking about China
I spend as much time as possible not thinking about China.
In my fifteen-odd years running a motor-industry management consultancy I thought a lot about Pacific-Rim auto makers. We helped the Japanese find a foothold in Europe and, after that, the Koreans. We even worked with car producers in Malaysia, Taiwan and Indonesia. So I figure I've paid my dues in the Pacific Rim.
That's why I spend as much time as possible not thinking about China.
But it isn't easy.
For one thing, there's this business of the Olympic games next year. You've probably heard that they're going to be in China. Early in August the International Olympic Committee visited Beijing for the one-year-away ceremonies. Welcoming them was "a stinging mass of what could be vaguely described as air." The smog was so intense that the IOC's president, a physician, said that similar conditions in 2008 would require the rescheduling of some endurance events.
Beijing's smog is the byproduct not only of industry but also of vehicles. In addition to the ubiquitous delivery trucks and scooters the city is home to more than two million private cars. In search of a palliative, its government plans two days each week when cars will be barred from entry, odd-numbered license plates one week and even numbers the next. Severe controls on exhaust emissions are only in the talking stage.
This is the consequence of an explosive expansion of vehicle sales that has rocketed China past Japan to make it the second-largest market in the world after the United States. This happened in 2005 when sales of China-made vehicles hit 5.8 million. In 2006 both production and sales surpassed seven million. The outlook for this year, says the China Association of Automobile Manufacturers, is 8.5 million, after sales for the first seven months were up a stunning 23.3 percent.
Who's leading the charge? None other than General Motors with its Cadillac, Buick and Chevrolet cars and Wuling-badged mini-cars and mini-commercials. They accounted for 872,271 sales in 2006. Wuling products made in Guangxi province kept GM ahead of Volkswagen, whose total was 694,406 units. The latter, however, were all full-sized VWs and Audis, allowing the German company to claim the crown of China's leading auto producer. So far in 2007 VW's Santana and Jetta are the best-selling cars with the Buick Excelle third and Toyota Camry fourth.
Like their American and European colleagues, GM and VW are operating with Chinese companies as joint-venture partners. They have to, because no foreign firm is allowed to own more than half of a Chinese enterprise. Another constraint is that a foreigner can cooperate with no more than two Chinese firms. The Chinese, on the other hand, can work with as many foreigners as they want. Dongfeng of Hubei province, for example, is partnering with Honda, Kia, Nissan and PSA Peugeot-CitroŽn.
Sales of one domestic interloper are breaking into the ranks of the foreign-branded models that dominate the Chinese sales charts. Based in Anhui province, Chery Automobile Company is third in China's passenger-car market ahead of Toyota. In fact last March was historic for Chery, which led the field that month in passenger-car sales. This was viewed as a breakthrough for one of the so-called "independents", the smaller companies that aren't linked with the government-controlled "Big Three" of Dongfeng, Shanghai and China FAW.
In recent months the independents have received an important boost from the highest level. Drafts of the government's eleventh five-year plan for the development of the auto industry have called for fully half of vehicle output to come from the independents by 2010 against the current share of less than 30 percent. Though watered down from an earlier goal of 60 percent this is still a strong vote of confidence for the independents, which have shown greater agility, opportunism and export-eagerness.
Here's an example of their methods. One of the independents was negotiating for a super-high-tech German paint shop, the kind of long-lead-time equipment that usually determines when a plant will be able to start operating. The supplier's products were in intense demand, so it was no surprise that it quoted a two-year delivery time along with the price. The Chinese company chief's response was unusual: "What would it cost me to have it in two months?" He paid the higher price - and had it in two months.
Sales leader among the independents, Chery Automobile Company, was much in the news in 2005 as the company that would make cars to be sold in America by a company set up by Malcolm Bricklin. Bricklin was to make important contributions by sourcing competitive designs and technologies. The partnership collapsed with Bricklin's people accusing Chery of having appropriated these design ideas - thank you very much - without due compensation. This is consistent with the actions of many Chinese auto makers, who have little respect for styling rights and are all too ready to copy foreign designs if its suits them.
Chery is back in the spotlight with its deals with Fiat and Chrysler. An initial agreement with Fiat to supply 100,000 engines was expanded in August to a joint venture capable of making 175,000 Fiat, Alfa Romeo and Chery models yearly. Meanwhile in July the long-planned pact with Chrysler was signed and blessed by the government in Beijing's Diaoyutai State Guesthouse. Chrysler will get existing Chery models for sale outside the USA while Chery will make designs from Auburn Hills such as the Dodge Hornet. Chery chairman and president Yin Tongyue has every reason to be delighted with these deals.
The Chery-Fiat alliance is a slap in the face for the Italian company's current Chinese partner, Nanjing Automobile Group in Jiangsu province. Bottom-feeding among the world's failed car companies, Nanjing has bemused Britons with its stuttering revival of MGF production at Longbridge. Speculation is that Shanghai, which has its own version of the former Rover 75 newly branded "Roewe" for export, may take over Nanjing to resolve the differences between them over the rights to former MG Rover intellectual properties.
The auto makers are crafting many of these initiatives abroad to win brownie points among the all-powerful authorities in Beijing, who are eager to promote exports. In 2006 China exported 340,000 vehicles, only one-quarter of which were passenger cars. Most exports are going to minor markets with many being sold in Russia, seen as offering a "back door" to Europe's markets. China's share of global auto exports is now less than one percent; Beijing's goal is to hike that to 10 percent over the next decade.
Substantial exports can only be achieved with unique Chinese brands, for example those offered by companies like Chery and Geely. The latter caused a stir by displaying its 7151 CK sedan at the 2006 auto show in Detroit. Then thought likely to be exporting to the USA in 2008, Geely has put back its debut at least a year after its samples stumbled at emissions and crash-test hurdles. An attraction will be a high-efficiency six-speed automatic transmission designed in cooperation with Franco-British firm Antonov.
Meanwhile an American importing enterprise, better-funded than Bricklin, is picking and choosing among the best products on offer in China to put together a comprehensive range that it expects to launch in 2010. After more than half a dozen visits to numerous vehicle producers it expects to sign its first importation contract by the end of the year. More are likely to follow.
Some of the Chinese brands already appearing on European roads are the Hover, Brilliance and Jiangling's Landwind. The last-named's New Vision, a big SUV based on an Isuzu design of the 1980s, sells for 25 percent less than a comparable Hyundai or Kia. In an independent crash test, however, it showed "grave design faults that caused an unacceptable reduction of survival space." Nor did a Brilliance BS6 sedan tested this summer fare well. Its passenger compartment contorted grotesquely in the crash.
The attraction of low pricing sweeps away the doubts of some Europeans about crash protection. In Italy Eurasia Motor is importing Great Wall's Hover SUV while Germany-based HSO Motors is the European importer of the Brilliance BS6, aiming to sell 7,000 cars this year. It will be hoping that not too many people have seen the video of the BS6's crash test.
Quality, in fact, is a big worry. With Mattel recalling 18 million China-made toys, Nokia warning about faults in 46 million batteries and stories spreading about anti-freeze in toothpaste, killer tires and tainted dog food, the reputation of Chinese products is taking a heavy hit. Some retailers are fashioning reassuring labels saying "Not Made in China". This is bad news for the ambitions of China's auto exporters.
One observer of the auto scene said that "the game the Japanese mastered in 15 years and the Koreans in 10, the Chinese will do in 18 months to 5 years." That's way too optimistic. Two years after their first car-export efforts the impact has been negligible. As well the still-rapid expansion of the domestic market is easily absorbing increases in production capacity. Competing for share in China is still the overriding goal no matter what Beijing may say.
Not until the next decade will exports, with all their problems of safety, emissions and service, rise to the top of Chinese agendas. Until then I'll spend as much time as possible not thinking about China.
- Karl Ludvigsen
---
Washington's Dysfunctional Fuel-Economy Surge
Quick - of the auto makers in America, which has the better passenger-car fuel economy: GM or Nissan? Yes, it's a trick question, because the answer is General Motors. In 2004, the last year for which final unadjusted fleet-average figures were published, GM's cars gave 29.3 miles per gallon against Nissan's 27.9. Subsequent provisional figures show Nissan edging ahead and both doing well with their domestic fleets averaging around 30 miles per gallon.
So, you might ask, why all the excitement about the Senate's energy bill passed on June 21st? The one that requires vehicle fleets to average 35 miles per gallon by 2020? The one that has the industry up in arms, saying that the standard would be impossible to meet? They don't seem all that far away.
In 2006 the domestic passenger-car industry as a whole averaged 30.0 mpg, against a mandated Corporate Average Fuel Economy (CAFE) standard of 27.5 mpg. They've made a big improvement from 28.0 mpg back in 1999. How hard could it be to get to 35 mpg in 13 years?
Well, pretty hard, actually - unless you look for the easy ways.
For one thing the Senate, in its wisdom, set its proposed standard to cover the combined average of all light- and medium-duty vehicles weighing up to 10,000 pounds, not just cars. That's the new upper weight limit of the CAFE rules for light trucks that were promulgated in 2006 to take effect in 2011. Set at 22.2 miles per gallon for 2007 with the fleet averaging exactly that in 2006, the truck standard will intensify to 24.0 mpg. With trucks included, observers say that the Senate bill demands a 40-percent increase in miles per gallon.
Sounds like a lot. And further improvements of four percent a year are mandated to follow.
Though they might be swept aside by the Senate measure, the new truck CAFE standards are worth a mention. They assign each class of vehicle an economy target in relation to its "footprint", the ground area it occupies. Requiring all vehicles to show improvements, this means that a maker can't meet the standard just by packing its fleet with light and flimsy pickups.
The new rules will also sweep up some of the crossover cheaters that the industry loves. Did you know the PT Cruiser was classed as a truck? The Chrysler Pacifica, Dodge Magnum, Volvo XC70, Saturn Vue and Subaru Outback? Letting these in as trucks means that makers can sell more ginormous gas-guzzling sport-utilities while staying within their truck-CAFE limits.
The people who make these rules have been asking since 2002 to be allowed by Congress to revise the 30-year-old CAFE guidelines for cars so they'll spread fuel-saving technologies across a maker's ranges from the big to the small. Recommended in a major study by the National Academy of Sciences (NAS) released in 2002, this policy has been implemented in the new truck rules by the Department of Transportation's National Highway Traffic Safety Agency (NHTSA), which has the thankless task of administering CAFE.
I say "thankless" because fuel economy has nothing to do with the Agency's important and central mission of improving the safety of our vehicles. One might think that responsibility could rest with the Environmental Protection Agency (EPA), which in fact generates all the fuel-economy data that NHTSA then analyzes and administers. Or it could be lodged with the Department of Energy (DOE), which surely runs point in America's fitful efforts to reduce its fatal dependency on imported oil.
Stuck as it is with the job, NHTSA has been manfully struggling to cope with the new environment in spite of Congress's reluctance to allow it to modernize the CAFE rules. In fact NHTSA's hands were tied from 1996 to 2001 by a mandated freeze on any changes at all in auto CAFE. Now of course the buzz words are "global warming" and "greenhouse-gas reduction". Fortunately lower fuel consumption in vehicles translates directly into less greenhouse-gas emission.
Activity at NHTSA was energized both by George W. Bush's State of the Union speech, which called for 34 miles per gallon by 2017, and by 2005's Energy Policy Act. Its Section 773 called on the Agency to get busy on ways to reduce automobile fuel consumption by 2014, be they rule-driven or market-driven or both. In cooperation with four other alphabet-soup arms of the US government the DOT's NHTSA has launched a study of these options and opportunities that's to be completed early next year.
The study is ambitious, to put it mildly. It has the aim of forecasting the "economic, environmental, safety and energy-saving effects" of a wide range of fuel-consumption-reducing strategies to 2025. Drones at auto companies have spent thousands of man-hours completing the spreadsheets of a questionnaire NHTSA launched last February that asks for excruciatingly specific detail on all product plans to 2017, including costs, prices and forecast volumes. This is easily five years longer than any sensible motor company has made firm future plans, so they'll have made up lots of it.
With NHTSA and its Beltway colleagues beavering away on this study, will they have any opportunity to put their conclusions to work? Won't the heavy-handed Senate bill preempt their worthy efforts? That's the 64-billion-dollar question. First the House of Representatives has to have its say. There Michigan Democrat John Dingell is chairman of its Energy and Commerce Committee, which will contribute a lot to the shape of the final measure.
John Dingell has been Detroit's man in Washington for a fantastic fifty years. He's been on his home industry's side through all the safety, emissions and energy wars. But until the Democrats took over both Houses in 2006 he'd been out of power for twelve years. Dingell showed that he was out of step with the Senate when he said, last March, that "We have carried fuel efficiency about as far as we can." The Senior House put the lie to that assertion with its draconian fuel-economy amendment to the energy bill, which it passed by 65 votes to 27.
In the House of Representatives a bipartisan bill has been introduced that would demand 32 to 35 miles per gallon by 2022, discriminating among vehicle types and sizes in the manner recommended by the NAS and NHTSA. John Dingell is moving cautiously in response, bowing to the aggressive pace of House leader Nancy Pelosi. The Representatives are thought likely to wait until autumn to take further action on their version of the energy bill.
In the meantime the auto industry gains some solace from the "off ramps" that the Senate bill provides. They allow the administrator to relax the rules in the event that either the costs or the technologies or both are seen as too extreme. Quite rightly some legislators are not too keen on the "off ramps", however, so they may not survive in the final measure.
Earlier I mentioned the easy ways to transform the fleet toward lower fuel consumption. The one that no one has dared mention in all this debate, that would have the most compelling impact on customer choice and lower fuel consumption, is a massive increase in gasoline tax to bring pump prices more in line with those in the rest of the developed world. One dollar is too little and two dollars are probably too much; a buck fifty would be about right. That would raise the cost of a gallon close to the five-dollar level, enough to make people think seriously about fuel economy in their next vehicle purchase.
The other "easy" measure, one that would bring vast reductions in fuel use and CO2 emissions, is wholesale adoption of diesel engines. According to the NAS study the potential range of improvement by dieselization is 15 to 40 percent. In fact it's the only available technology that offers double-digit cuts in fuel consumption. The emissions problems of diesels have to be solved - as they can be. As the Partnership for a New Generation Vehicle concluded, diesel engines are the way to go.
A final important step would be the adoption of a fuel-consumption measure on the European model. They use liters per 100 kilometers to give a direct measure of the volume of fuel consumed for the distance traveled. For America the best parameter would be gallons per 1,000 miles or gptm. For example 25 mpg would be 40 gptm and 40 mpg would be 25 gptm.
Why is this important? Because the so-called "improvements" in miles per gallon terms are illusory. Let's take the Senate bill. In mandating a move from 25 to 35 mpg it's headlining a 40 percent improvement. In terms of gallons per 1,000 miles, however, the move is from 40.0 to 28.6 - a reduction in consumption of 28.5 percent. It we don't work with a measure that gives a direct index of the amount of fuel used we'll be kidding ourselves. But then we do that a lot.
- Karl Ludvigsen
---
A Tale of Two Car Companies
Germany's Audi and Sweden's Saab have an amazing amount in common. We consider how that relates to their dramatically different fortunes in the 21st Century.
Apart from being four-letter words, what do Saab and Audi have in common? Not much, you might think. One's German and owned by another German auto company, while the other is Swedish with an American proprietor. One has a limited product range for the truly dedicated while the other thrusts a multi-pronged offensive across global segments and markets. While one does well to make 120,000 cars a year the other is on track to build an order of magnitude more.
Yet their early years were astonishingly alike.
Both started from scratch after World War II. When the Iron Curtain came down across Europe the factories of the Auto Union combine were on the communist side. This sequestered Horch, Wanderer, Audi and DKW in East Germany. Before the war DKW was one of Europe's most popular small-car marques, with its reliable two-stroke engines and front-wheel drive. Though the East Germans would have a version of the DKW, no factory in the west was equipped to make such cars.
For Auto Union stalwart Carl Hahn this was unthinkable. He set up a new headquarters at Ingolstadt, using a facility that was a pre-war parts and service base, and found a former armaments factory in DŁsseldorf. In 1950 he and his colleagues were able to start producing DKWs again. They made 1,538 that year.
DKWs had been popular in Sweden where Saab, a maker of airplanes, was looking for an additional product for its factories after the war. It decided to get into the automobile business. For power it chose a two-stroke after the pattern of the DKW, whose patents on scavenging systems expired during the war. With a sleek design styled by Sixten Sason, Saab began building cars in 1950. It made 1,200 that year.
Both companies started with transverse two-stroke twins. DKW's measured 76 x 76 mm for 684 cc and produced 23 bhp at 4,200 rpm. Saab's had the same stroke with the bigger bore of 80 mm for 764 cc and delivered 25 bhp at 3,800 rpm. Both added three-cylinder engines to their two-stroke ranges, DKW in 1953 and Saab in 1956. These were mounted forward of the front wheels on a longitudinal axis.
In 1958 DKW maker Auto Union, struggling financially, was taken over by Daimler-Benz. Its production of larger cars in DŁsseldorf in 1960 was 58,139 units. Saab, in its much smaller home market, was not that far behind with 26,100 cars produced. DKW, however, was surging ahead thanks to a new factory in Ingolstadt and a smaller model, its Junior, which brought its total 1960 output to 126,237 cars.
Problems with noise, emissions and smell - Saabs were nicknamed "Stinky Toys" in Sweden - meant that neither company could long delay a change to four-stroke engines. Auto Union, helped by a team of Daimler-Benz engineers under Ludwig Kraus, was first out of the starting gate. Launched at 1965's Frankfurt Show, its new four-stroke model carried the revived "Audi" name. The pride of launching it fell to Volkswagen, which acquired a controlling share of Auto Union at the beginning of 1965. Sales of the two-stroke DKWs plummeted, the last being produced in 1966.
Saab was only slightly slower to introduce its own four-stroke. Lacking the support of a Daimler-Benz, which poured 86 million dollars into Auto Union over seven years, the Swedes had to be ingenious. They found that Ford was making a V-4 in Germany that slotted neatly into their chassis. Developed by stealth, lest sales of the two-strokes suffer, the V-4 version was introduced in the summer of 1966. After several years the ring-a-ding two-strokes were quietly dropped.
Saab followed up in 1969 with the launch of a completely new car, their 99. Developed under engineer Rolf Mellde and again using the styling ideas of Sixten Sason, the 99 was both handsome and satisfyingly Saab-esque. Its engine was an overhead-cam slant-four initially made by Standard-Triumph and later produced for Saab in improved form by Scania in Sweden. Although the ambitious Mellde rightly saw in his 99 a car with great pan-European market appeal, to his regret Saab failed to back it up with the investment needed to expand production.
Failure to exploit the volume potential of its all-new 99 must be seen in retrospect as a moment at which Saab elected to be a regional rather than global player. This decision was taken when Sweden's Wallenberg interests were acting as marriage broker at the wedding of Saab with truck-maker Scania, creating Saab-Scania in 1970. A new and more boring badge replaced the classic Saab emblem with its distinctive front view of an airplane, a badge that vividly reminded us of Saab's aeronautical origins.
In 1970 the two companies weren't wildly apart in production. Saab's volume was 74,000 units against Audi's 165,900. But Audi had taken a decisive step to secure its future. In secrecy Ludwig Kraus had developed a larger car which hard-driving Audi chief Rudolf Leiding adopted with enthusiasm. They sold it successfully to VW boss Heinrich Nordhoff and the Audi 100 entered production in 1968.
The team of Kraus with Leiding, who rose to run VW, gave vigor and drive to Audi, whose independence of operation endowed its cars and actions with great vitality. This impetus only accelerated with the arrival at Audi of Ferdinand PiŽch as technical chief. He oversaw the launch of the four-wheel-drive quattro in 1980, creating a new and appealing image for Audi cars that has endured into the 21st Century. From 1987 to 1993 the demanding PiŽch maintained Audi's momentum as its chief executive.
Saab had a valid counter to quattro, a USP (unique selling proposition) of its own. I vividly recall the arrival of Len Lonnegren, Saab's public relations man in America, on my Pelham Manor, New York doorstep in 1977 with a black two-door 99 with something special under its hood: a turbocharger. European turbocharged road cars weren't new; from the early 1970s Porsche had one and BMW sold one briefly. But Saab's was something special, a well-balanced road car that gave excellent performance insouciantly without heavy fuel consumption. The Swedes were the first to find the formula that would make turbos serviceable and attractive for normal cars.
Saab had another USP of compelling appeal: its origin as the offspring of an aviation company, a designer and maker of front-line supersonic jets. This was a heady reputation for a maker of upscale cars whose aerodynamics and interiors could only be seen by potential customers to benefit from the know-how of an airplane maker. When I consulted on the launch of Saab's 9000 in 1984 I urged its marketers to be sure to emphasize any and all aspects of the interior that reflected aviation practice.
Unlike Audi, which mercilessly merchandised its quattro on the road, in rallying and in racing, Saab let its two USPs run into the sand. It wasted "Saab Turbo", a great marriage of words which - backed up by product - could have sustained its success. Especially after GM bought control of Saab and half the company in 1990, the other USP, aviation, was wasted - even though it had just been exploited in Britain with immense success by a creative ad agency.
For the GM people managing Saab in the 1990s it was the separation from the company's aviation arm that was important, not the invaluable and irreplaceable halo of a skyriding heritage. This was made clear to me by a GM transplant during a visit to Sweden soon after the takeover. When I asked about Saab's maintenance of its charismatic aeronautical lineage he scoffed, "Oh, we won't be doing any of that. We're a separate company now." In current advertising they're trying to revive the association with aircraft. This would be more impactful if, instead of plunking another bland new badge on the cars as they have, they'd gone back to the winged original.
Meanwhile Audi has Vorsprunged from strength to strength. Although slow to react when CBS's 60 Minutes demonized its 5000 model in 1986, famously accusing it of life-threatening "unintended acceleration", the four-ringed company gradually recovered from a serious slump in its American sales. By 1990 the contrast between Saab and Audi was embarrassing: 87,356 Saabs produced against 421,378 Audis. In 2000 with almost 600,000 made, Audi volume was still more than four times Saab's. Having topped 900,000 units in 2006, Audi is now setting out its "Route 15" plan to launch 15 new models to take its volume to 1.5 million units by 2015. Now that Martin Winterkorn has moved to Wolfsburg to head the VW Group, Rupert Stadler will pilot Audi on Route 15.
What of Saab? For the first third of 2007 its European production was down by 12 percent from last year. With some models derived from Subarus and Buicks it does get products from other sources, but they haven't set the market on fire. Heralded as "dynamic new looks", the facelift of Saab's 9-3 features garish chrome wedges that fail to convince as an integrated whole. I'm not a big fan of Audi's gaping grilles, but at least they look like they were executed by professionals.
The outlook for the Swedish company is not encouraging. Among opportunities that the company has turned down was research and analysis to understand Saab's "home market" - not in the usual geographic sense but in terms of the kind of people throughout the world who would be most receptive to Saab's message. It could have helped the company focus its research and development efforts more productively.
On the other hand, you can only match the audience to the message if the latter is clear and powerful. While Audi was showing how that works, Saab has done without a consistent message for more than a quarter-century. We can see how that works.
- Karl Ludvigsen
---
Xceptional Incentive for Car Creators
This has the potential to be interesting. Their first venture certainly was. I'm sure you recall it. Twice within five days, in September and October of 2004, a manned spacecraft took off from Mojave Airport and soared almost 70 miles up, well over the 62-mile limit that's the frontier of space. On its own this wasn't anything special. Men have walked on the moon, after all. But what made the flights no noteworthy was that they were achieved by private enterprise, not by NASA's technological might. And they were prompted by a prize.
Yes, that's right. To win a prize of $10 million experimenters and entrepreneurs spent far more than that to put civilians into space - briefly, for the SpaceShipOne's pilots were only weightless for three and a half minutes. That 26 teams lodged plans to attempt the feat and five made significant steps toward hardware and testing shows the power of a prize to promote a great undertaking. Th successful flights have been followed up by a $21.5 million commitment from Sir Richard Branson's Virgin Galactic to put paying passengers aboard five-passenger ships now abuilding.
A noteworthy previous example was the prize of $25,000 offered by New York's Raymond Orteig in 1919 for the first heavier-than-air flight between Paris and New York. It was the inspiration for Charles Lindbergh's successful crossing of 1927. Eight years thus elapsed between announcement of the prize and its awarding to Lindbergh. In 1995 Peter Diamandis announced the $10 million X Prize for a successful spacecraft; nine years later it was awarded to Paul Allen's Scaled Composites for the successful flights of an airborne rocket designed by Burt Rutan
Now the St. Louis-based X Prize Foundation has turned its attention to the automobile. On April 2nd at New York's auto show it announced the Automotive X Prize, the goal of which is "to inspire a new generation of super-efficient vehicles that help break our addiction to oil and stem the effects of climate change." Prize money is yet to be determined but it's likely to be around $25 million. That should flush some potential developers out of the shrubbery!
Some of you might wonder why this is necessary. With American gasoline prices heading for four bucks a gallon, aren't market forces enough to inspire auto makers to build more efficient vehicles? They can draw on know-how from past projects, like Bill Clinton's Partnership for a New Generation Vehicle. Using diesel-hybrid technology it showed that 80 miles per gallon was reachable in 1999. They can even look to Europe, where a half-dozen current car models exceed 60 mpg on the road and some approach 70. VW sold 29,500 of its Lupo 3L TDI, which gave almost 80 mpg.
The X Prize people think this isn't good enough. "The Foundation decided to expand into genomics, energy and education with its prizes," explained executive director Mark Goodstein. "In the energy side, we toyed around with various ideas and settled on the automotive industry. We wanted to see what will actually change an industry that is so mature, so seemingly resistant to change that the gas mileage of the original Model T is better than the average gas mileage of vehicles on the road today."
After their "toying around" the X Prize managers began talking with automotive developers, academics, journalists and the inevitable critics in 2006, staging a major "brainstorm session" in July. Among current automakers only Honda and Ford participated in what was an almost entirely North American exercise. From this the Automotive X Prize was formulated and published, in draft form, on April 2nd, on the website http://auto.xprize.org. Nominally 60 days were allowed for comments, but you might still be able to have your say.
It takes 32 pages to describe all the proposed Automotive X Prize criteria. Highlights are these:
A requirement for at least 100 miles per gallon or the energy equivalent thereof.
No more than the equivalent of 200 grams per mile of greenhouse-gas emissions.
Meeting all safety requirements throughout the world.
Production cost at 10,000 units per year "within levels that the market is likely to bear", supported by a "clear and viable" business case.
"Vehicle must be desirable."
A plethora of specific performance criteria must be met, depending on whether the car is in the Mainstream Class, for four-wheelers with four passengers, or the Alternative Class for two-passenger cars with as many wheels as you like.
Letters of intent to take part will be accepted to September, after which plans will be assessed and teams to take part selected in 2008. In 2009 finalists will take part in a Qualifying Race and Grand Prize Final Race to choose a winner. These races will be over stages and could be as long as coast-to-coast in America.
Finalists with Production Intent designation will represent that they have "the capability and intention to manufacture and sell the vehicle in the year after the Final Race."
As you can see from just these few highlights the AXP people are taking on a massive task of assessment and adjudication. The potential for cheating in the qualifying and final races will be so great that they'll need to have NASCAR's tech inspectors on the job.
Speaking of racing, one of the wealthy X Prize trustees is Kevin Kalkhoven. His biography on the X Prize website rightly lauds his entrepreneurship but omits altogether Kalkhoven's part ownership of the Champ Car series, formerly CART, of a Champ Car team and of Cosworth Racing, builder of engines for the series. In other words he is, as we say in England, a "petrolhead". Perhaps mentioning this would have lowered the tone of AXP's lofty website.
Some aspects of the proposed rules are patently unworkable. The idea that a competitor could be producing his vehicle in the 2009-10 time frame from a starting point this year is ludicrous. Instead, success in the Automotive X Prize should be his springboard to success in funding his manufacturing effort. Lengthy continent-spanning "races" to demonstrate the durability of the contestants aren't needed. It would be sufficient for designs to show the potential for long-term durability.
Nor does their mission statement makes sense. "Super-efficient vehicles" are welcome but how are they going to "stem the effects of climate change"? If you accept that increased greenhouse-gas emissions are changing the climate - a point on which there's still disagreement - all that these vehicles would do is slow that rate of change. They can make no contribution whatsoever to dealing with the effects or consequences of a changing climate.
It's not for me to tell the X Prize trustees what to do with their mega-billions. But I would suggest that some of them throw tens of millions in the direction of Munich's Uli Sommer and Gerhard Heilmaier. At the March 2006 Geneva Salon they unveiled their Loremo, short for "low-resistance mobility". It's an ingenious ultra-light 2+2 turbo-diesel passenger car for which they claim mileage of better than 150 mpg - 156 to be specific. There's even a GT version that gets 87 mpg while offering zero to 60 acceleration in 9 seconds and a top speed of 137 mph.
Well styled and cleverly engineered for production (see www.loremo.com), the Loremo meets the AXP's "desirable" criterion. With the motto "Simple, Clever, Fun" the company is now raising the funds to start production in 2009 in just the initial annual volume of 10,000 that the AXP requires. They have a clear road ahead, said Heilmaier: "None of the big manufacturers has plans for this segment."
For all practical purposes, then, the goal of the AXP has already been met. Does this mean that they should raise their sights? Shoot instead for something really radical? An earthbound equivalent to an outer-space breakthrough? It's worth a thought.
- Karl Ludvigsen
---
The Book of John (Z)
On the morning of May 16, 1973 I sat down with John DeLorean in the modest offices of Grand Prix of America in Troy, Michigan. Background music to our conversation was the buzz of Wankel-powered single-seaters on the one-third-mile track outside, each lap timed and shown to the driver by built-in equipment. This was the business that Jack built, John's entrepreneur brother who'd been developing the GP of America concept for several years. By the end of 1973 Jack was hoping to have as many as 15 tracks in operation in the United States.
Our talk took place less than a month after John DeLorean stunned the industry by announcing that he was leaving his post as General Motors vice president and group executive in charge of the car and truck group. In fact his resignation wouldn't take effect until the end of May. But John wasn't letting grass grow under his Gucci loafers.
DeLorean waxed with his habitual eloquence on the potential of his brother's scheme. Driver-training students would be donated a few laps, he said, to help them learn how to handle a car - and perhaps give them the GP of America racing bug. "Our plan is to try to make it a major sport like bowling," he said, "We'll have regional runoffs, then national with a top prize of one million dollars. We'll be developing a whole new breed of racing driver in America. All the top drivers in the world will suddenly be Americans!"
We were wrapping up our conversation when John dropped his bombshell. "I'm going to write a book about General Motors," he said. "Who do you know who could work on it with me?" He was talking to someone who had left GM six years earlier and who had since built a fairly handy career as a free-lance journalist and author. Interested? I had to be although, as John joked, "If we do this neither of us will have anything to do with General Motors again!"
Seven-thirty on the evening of June 4th found me sitting down to dinner in Bloomfield Hills with John and the ravishing Christina Ferrare DeLorean. With the Watergate hearings starting their third week, John jested that he was going to look up Spiro Agnew's press secretary in Washington: "I don't see how Nixon can survive!" After dinner we settled comfortably on the Pink Porch to talk about the issues that John wanted to deal with in his book.
On Friday the 8th of December 1971, DeLorean told me, he'd spent an hour with GM's president, Ed Cole, and vice-chairman, Tom Murphy. "They all but promised me the GM presidency," he recalled, "if only I'd give up this championing of underprivileged people, minorities and the disadvantaged." He pointed to a 1941 book by General Motors icon Alfred P. Sloan, Jr., Adventures of a White-Collar Man, in which Sloan advocated a more activist role for GM in the building of low-cost prefabricated homes to help overcome a national shortage of affordable housing. "A company can be responsible," John said, "and still make money."
DeLorean showed me a memo, dated December 17, 1971, that he'd written to Tom Murphy after their conversation. It set out a series of case histories, activities in which he felt that GM could be performing more responsibly without jeopardizing - indeed even helping - its profitability. In outline they were as follows:
The X-type frame used by several GM divisions in the 1950s, including Chevrolet, offered no side protection in an impact. John had introduced perimeter frames at Pontiac.
An Oldsmobile hood ornament. Ornaments were aggressive in the 1950s, but those of Oldsmobile more aggressive to pedestrians than most.
GM's failure to adopt widely the interlocking motor mounts that John had introduced at Pontiac and brought to Chevrolet in 1970 to end a visibly public plague of broken mounts and meandering engines.
Decision-making that led to the adoption of the first Corvair's controversial rear suspension. All the relevant records had been destroyed, John said.
Design of the direct-air heater fitted to 1961-1969 Corvairs, which could admit carbon monoxide to the car's interior if there were leaks in head or manifold gaskets. John knew that high-level Chevrolet engineers had argued against its introduction. Its faults led to a Senate hearing in February of 1972.
Programs introduced at Pontiac to offer job opportunities were criticized.
Advancing capital participation by black people, at the dealer level, was looked at askance.
John urged the matriculation of more black students at the GM Institute.
Controversially, DeLorean pushed the idea of marketing cars whose emissions were lower than required by prevailing standards, possibly as an optional offering.
He pressed for the curtailing of the huge engine range offered by Chevrolet so its engineers could do a better job on emissions.
Harking back to 1956, he recalled the setting of higher test standards for brake fade that led to vastly improved brakes.
Although GM had led in inventing and developing the air bag, it had dropped its further development and use.
Operating under GM's radar, John had enhanced the countryside by having all Chevy's billboards taken down. By not bidding on the contract, he took Chevrolet out of the business of making artillery shells.
Calling GM's effort to build a modern steam car a "sham", he criticized the Corporation's failure to conduct real research and development on such serious advanced engines as the gas turbine.
Although something of a mish-mash, these were all serious issues that could contribute to the story that John wanted to tell about the way corporate decisions were made, for good and for ill. Looking back, I can see that such a memo would have conveyed to Tom Murphy that John DeLorean needed careful handling, that he had a lot of anti-GM arrows in his quiver that he could fire off if their relationship foundered. Having seen the memo, John's lawyer said that he thought such revelations could lead to GM's dissolution. I left the DeLorean home at 10:00 that night, my head swimming.
Two days after that dinner I saw my father, an experienced motor-industry executive, in Cleveland. When I described some of John's criticisms of GM, without mentioning the source, he said, "It sound like some of the things Bunkie Knudsen has been saying." If GM took umbrage, my dad thought, it could sue John but not me as co-author. He cautioned me against relying on John for my further future and stressed that the book would have to be objective and bulletproof in its facts.
On July 19th I wrote to John to say that I'd be willing to work with him on his book. I said that "I'd put every ounce of effort at my command into making it as successful as possible in its text, its truthfulness and its impact." This was a response to DeLorean's desire that it be "a non-put-downable life-story novel", that it be "widely read or a great amount of its value will have been lost".
I'd been in Michigan that summer but in August I went back to my home in New York. All went quiet on the DeLorean front while I started work on the Porsche history I'd contracted to write. In February of 1974 John contacted J. Patrick Wright, Detroit bureau chief for Business Week, suggesting cooperation on The Book. Pat delivered the resulting manuscript to Playboy Press in early September of 1975. DeLorean, however, had second thoughts. He withdrew approval of its publication, feeling that it would roil the corporate waters excessively while he was planning to produce a car of his own.
I learned about this when I met with John at his Bloomfield Hills offices on November 12, 1975. He said that Wright had been suggested by the publisher as co-author, probably a Little White Lie. The book had not met his aims at all, he continued, and he wanted to work with me to get it done right. He sent me a copy of the manuscript. To say it was "non-put-downable" was putting it mildly. Its contents were sensational and its presentation of them powerful.
On January 30, 1976 I sent John three pages of recommendations for restructuring the book "to moderate its negative tone - not its critical content - and stress the way it illustratesÖa guidebook to profit through responsibility." I said that John had to add credibility by owning up to some fiascoes on his own watch, such as the folding of Grand Prix of America and the tendency of his Pontiac Tempest to ground and snag its front crossmember on grade crossings. We could add some other costly skeletons in GM's closet, such as its air suspension, Wankel engine and Turboglide transmission.
With Playboy stymied by John's rejection of the Wright book, the idea surfaced that DeLorean write a business-related book that would be a separate entity. John suggested that I outline such a work, which I did on February 18, 1976. I adumbrated ten pithy chapters with the title - ironic in retrospect - Ethical Management. While I carried on with other projects for John, this one had no issue.
The idea of revising the text of the Wright book refused to go away. John wrote to me on May 3, 1976 to request "some specific revisions, additions and generally an outline for this book." He had some specific objectives, including a flattering request for "that Ludvigsen magic". I went back to the text and on June 21 produced a five-page analysis of exactly what had to be done "to give it the most positive effect possible, without taking away from the impact that it should have to be widely read."
None of these changes was made. In September of 1976 John and I were still discussing ways to improve the book's final chapter to put a positive spin on his plans for his own sports car. Finally, despairing of getting DeLorean's approval and knowing that he had a hot property on his hands, Pat Wright self-published his original text of On a Clear Day You Can See General Motors in November of 1979. It was and is still a riveting read.
In the spring of 1981 I had an echo of these events. Sitting in my sixth-floor office at Ford of Europe in Brentwood, Essex I took a call from John DeLorean. He was involved with some legalities concerning the Wright book, he explained, and needed to be able to show that the book as published wasn't what he wanted, that he'd made significant efforts to channel it in a different direction. Could I provide copies of the many recommendations that I'd made at his request? Thanks to the organizational skills of my former secretary in Connecticut, Judy Stropus, I could and did.
Thus ended my involvement with the literary ambitions of John DeLorean. But I still remember vividly my slack-jawed astonishment at that first reading of Wright's raw manuscript in the winter of 1975-76, four years before it reached a wider public. It gave an unparalleled inside view of the damage a company and its people suffer when politics get in the way of decision-making. I recommend it unreservedly to today's industry bosses.
- Karl Ludvigsen
---
Mercury Rising?
A brand with surprisingly rich history has hit a bad patch. Surely Mercury deserves to flourish as a valid part of the Blue Oval's portfolio between Ford and Lincoln. Or will we see Mercury following Oldsmobile and Plymouth into oblivion?
What pops into your mind when you think of Mercury?
Maybe it's the fabulous Cougar Trans-Am team of 1967 prepared by Bud Moore with iconic drivers Dan Gurney and Parnelli Jones. They came close to stealing the title from Shelby's Mustangs.
Perhaps it's the stunning Turnpike Cruiser of 1957 and '58, one of the most spectacular manifestations of the boldly baroque era of American car design.
It could be the 1964 Comet, a mini-fleet of which averaged more than 105 mph for 100,000 miles at Daytona to set a staggering array of international speed records. I can still hear the catchy theme tune of the commercials.
You might have a soft spot for the jaunty Capri coupe, a popular import from Germany in the early 1970s.
Or your mind's eye might picture the 1949-1951 Mercury, favorite of the lead-sled customizers and the wheels of James Dean in Rebel Without a Cause.
Memorable could be the Breezeway models of 1963 through 1966 with their reverse-slope rear windows, opening electrically. They were Mercury's bid to create a feature as vivid and promotable as Pontiac's envied Wide Track.
Then there's Troy Ruttman's fantastic finish behind two Ferraris and a Chrysler in the 1951 Mexican Road Race in the 1948 Mercury coupe he bought from a used-car lot for $1,000 and Clay Smith prepared for another $2,500. They won more than $11,000!
Mention of the M-word could even bring to mind the special booklet, "A More Enlightened Approach", that I wrote for the launch of the 1984 Topaz, first car to be identified by the waterfall-M emblem that Mercurys still carry. It was the last job I did during my duty tour for the Blue Oval.
OrÖ..you may have only a vague notion of what Mercury stands for. The Ford brand's latest strap line - "New Doors Opened" - doesn't exactly pinpoint the reason why you should besiege the showroom of your nearest Mercury dealer.
Plenty of folks still have the same impression of Mercury that road-tester-supreme Tom McCahill expressed sixty years ago, calling it "the Ford that Ford would have built if there hadn't been such a thing as price competition." In fact this was the background story to the 1949 Mercury. It was designed to be the '49 Ford but kicked upstairs to Mercury when it proved too costly to carry the Blue Oval.
Since 1939, when the brand was created by Edsel Ford to fill the yawning price gap between Ford and Lincoln's Zephyr, Mercury has struggled to differentiate itself clearly and effectively. With more power than the Ford and little more weight, it had an early reputation for performance. As the examples above illustrate, this remained an important strand of Mercury's DNA, but it hasn't been prominent in the latest generations.
Style, too, has been a Mercury trait. When he was styling boss in Dearborn, Gene Bordinat didn't hesitate to endow Mercurys with some of the Rolls-Royce features he used to give his Lincolns a touch of class. Gene's theory - and not a bad one - was that with fewer cars on the road than his rivals he gained more impact with car buyers by sharing certain identity features among his brands.
With its hidden headlamps and hot XR-7 version the original Mercury Cougar of 1967-68 oozed sassy style. Though it was too-soon denatured by the application of its name to lesser machinery, Cougar gave Mercury the prowling cat that became a symbol of the brand in ads and at dealerships. When Ford's brass tried to kill the Cougar, the division's general manager Ben Bidwell had an answer ready: "How can you run a cat house without a cat?" Today's Mercury could do with some of that chutzpa.
Mercury is topical because it's one of the problems - challenges? - facing the New Ford Motor Company under Alan Mullaly. In 1977-79, 1984-86 and again in 1988 Mercury sold more than half a million units yearly. Mercury and Dodge were running neck-and-neck as strong brands in the market's midfield. Now, taking cars alone, Mercury has less than half Dodge's volume. Including trucks Dodge is more than five times as big. Total 2006 sale of 180,828 units is Mercury's lowest since 1959.
There's no shortage of advice for Mercury. Some commentators say it should become Ford's importer of European cars. Lincoln-Mercury dealers have tried that - remember not only the Pantera and Capri but also the Merkur? - but the negative economics of Europe's high costs and currencies weigh against it. A while back my idea was that Mercury should become Ford's export brand to Europe. In fact that might still work. I'd like to be driving a Mariner Hybrid on the east side of the Atlantic.
At the Windy City in February a breath of fresh air was the decision to rename the Montego as "Sable". With both dealers and the public this will trade on the huge brand equity built up by one of the most popular Mercurys of the past. Let's hope similar Mullaly-brewed medicine is being prescribed for the Milan, not at all a compelling name for what looks like a very nice car. Could there be much wrong with "Topaz"?
A better-known name has to resonate more with the marketplace than the "Zen-like" attributes that are being promoted for Mercury by brand manager Kim Irwin. "Today's Mercury brand is for those who prefer to do things a little differently rather than following the crowd," claims Irwin. "We're attracting a new generation of customers not only by building great products with distinctive style, but also by connecting with them one-on-one and building relationships." She's relying heavily on the internet for "connecting", although her latest website, www.drivezen.com, doesn't seem to be doing anything special.
I'd like to see Mercury become a cat house again. Somewhere in its global product plan Ford should be able to find a Cougar with some teeth to restore visceral excitement to the Mercury brand. There's a platform that seems to be working, called Mustang. Giving Mercury its own upscale version of that platform would convince both dealers and the public that Ford is serious about saving this beleaguered brand. I'm sure Kim Irwin has asked for it and Peter Horbury has designed it. Let's push the button and build it!
- Karl Ludvigsen
---
The Gold-Diggers
One of the most dramatic events of this winter in Europe's auto industry has been the emergence of Porsche's strong influence at Volkswagen. Looking initially like an investment and a defensive move by Porsche, its shareholding in VW, now approaching 30 percent, is giving it a management role as well. Porsche boss Wendelin Wiedeking is sending in the shock troops of his consultants to sort out every aspect of the VW Group's business from marketing to product planning and manufacturing.
I was struck by this Wiedeking comment in a recent interview: "I believe VW really is a gold mine. The only thing is that you have to dig day and night." This was a powerful echo of a remark by Wiedeking when I interviewed him for my history of Porsche. "They left me a gold mine," he said of his predecessors. "We still have to dig 24 hours a day in the gold mine they left for me." He dug so successfully that Porsche recovered from its crisis years of the early 1990s to become consistently the world's most profitable car maker.
Wiedeking's story is remarkable. When a key production manager at Porsche in the mid-1980s he was one of the company's feisty young Turks, sharply protesting Porsche's lack of a coherent product policy. Utterly frustrated, he left Porsche in 1988 to join Wiesbaden bearing-maker Glyco. In what was called a "turbo-career" he rose within two years to head the firm. In 1991 he was invited back to Porsche as board member for production.
He hit the ground running: "I already knew the company from my earlier period here. When I came I already had a book ready for the next two years." In October of 1992 he was rewarded for a spectacular job of sanitizing Porsche's production operations by the top position on Porsche's management board. This autumn will mark 15 years of Wiedeking leadership at Porsche - a record exceeded only by Ferry Porsche.
Said a former chief engineer of the sports-car company, "There was a lot of low-hanging fruit" for Wiedeking. When in charge of production Wiedeking swept aside a cadre that had long resisted change. "We had about ten senior managers who had worked for Porsche for more than 25 years," said Michael Macht, then Wiedeking's assistant. "This is always a big problem," added Macht. "The old guys say your proposals are impossible. They are so familiar with their areas that they know every trick."
Wiedeking slashed his manufacturing hierarchy. By July of 1992 he had cut his management cadre from 362 to 328. After the works holiday a new organization took charge that had only four instead of six levels and a 226-man staff. Most importantly, all the old senior managers were shifted to new areas where "they had to learn new processes and work with new people," Macht said. "They could no longer make excuses."
These and like measures at every level exploited the inefficiencies that Wendelin Wiedeking knew plagued Porsche. Supplier numbers were cut back from 1,000 to fewer than 300 to assist concentration on constant improvement. These and related measures helped reduce defects per car by 63 percent and production time by half. Direct and indirect labor to build a 911 fell from 120 hours in 1991 to 95 in 1993 and 76 hours by 1995.
Wiedeking wielded a big stick with his in-depth knowledge of his company and its products: "I don't stay on the level of the acrylic paint; I get right down into the oil pan. It's important to understand the processes in your company, to know a car as more than a balance sheet and a marketing strategy." Wiedeking does, and his people know he does.
Another widely hailed company doctor, Carlos Ghosn, expressed exactly the same imperative in his book with Philippe RiŤs. "If you don't know anything about motor vehicles," he said, "if you don't know how cars are built, or what their technical characteristics are, or how long it takes to develop new models, or how the priorities line up, you can't be an effective manager of a car manufacturer, especially during a period of crisis."
Ghosn not only received an advanced education in science and mathematics but also survived a manufacturing apprenticeship at Michelin before beginning a career in factory management. He knows how tab A fits into slot B. When he was assigned by his employer Renault to take charge at its new affiliate Nissan, viewed as a poisoned chalice by the rest of the motor industry, Ghosn discovered that "the people at the top of Nissan weren't really engaged with its products. Nissan's key managers often rose through the ranks of personnel."
Unsurprisingly Ghosn, like Wiedeking, founds lots of low-hanging fruit at Nissan. Foremost was its network of other companies in a traditional Japanese keiretsu. He found that Nissan owned shares in 1,394 companies, holding an interest exceeding one-fifth in more than half of them. "With the exception of our participation in four companies," Ghosn announced, "none of these holdings is considered indispensable to Nissan's future." Sale of the rest went a long way to lowering Nissan's debt mountain.
Carlos Ghosn began mining gold throughout Nissan, in its redundant factories, excessive staff, confusing product lines and overlapping sales operations. He gave styling a higher status in the company and brought in a new design leader from Isuzu "who didn't carry all the baggage of the company's history." By building product attractiveness while cutting costs Ghosn and his French team revitalized Nissan and returned it to profitability.
Both Ghosn and Wiedeking benefited from ample "low-hanging fruit" in the companies they revived. Their gold mines rewarded their efforts. While Wiedeking maintained the pace at Porsche with a product and volume explosion, Ghosn - now running Renault as well - is finding the next steps less easy. Nissan may need another cold-water cure if it's to remain consistently on the black side of the ledger.
At Wolfsburg, expect dramatic developments. "For the first time in VW's history they have a real shareholder," said Wendelin Wiedeking, contrasting Porsche's activist role with the passive stance of the state of Lower Saxony. "Now a shareholder who will ask for money, ask for dividends and check on what is going on." And a shareholder, as well, who is both willing and able to start digging in the gold mine that is Volkswagen's historic cushion of benevolent inefficiency.
- Karl Ludvigsen
---
A White-Knuckle Ride
When you open the pages of Bill Milliken's book, Equations of Motion, fasten your seat belts because you're in for a bumpy ride. Every misadventure that could occur on land or in the air seems to have befallen this plucky character. As a youngster Bill had scrape after scrape, from which he emerged with this philosophy: "I had the feeling that I'm never going to have any excitement in life if I'm not willing to have a few accidents. And when I think about my life it's been nothing really but a whole series of accidents!"
Milliken's mishaps are part and parcel of his notoriety. "In his fifteen years of driving in about a hundred and fifteen races," wrote Griff Borgeson, "it was only with the Miller that he did not have a serious accident." This was hyperbole on Griff's part. Milliken raced at Pike's Peak and Sebring frequently in a crash-free manner. But when Bill went ass-over-teakettle in his Bugatti at Watkins Glen in 1948 the offending turn was instantly named "Milliken's Corner". There's even a nearby mural to celebrate his crash!
William Franklin Milliken, Jr. was born on April 18, 1911 in Old Town, Maine. Passionate about racing cars as a youth, with the help of friends he built numerous powered and unpowered vehicles that taught his first lessons in control dynamics. After an erratic flight in a home-built airplane he concluded that "the best handling results from plenty of control, modest amounts of stability and adequate damping of any oscillatory tendencies."
That flight ended with the Milliken M-1 upside-down, not the only one of its kind in the book. They're among the many period photographs that are one of the considerable pleasures of Bill's amazing book from Bentley Publishers. He takes us back to 1927 when, at the age of 16, he was entranced by the preparations for Transatlantic flight that culminated in the success of "dark horse" Charles Lindbergh. The Lone Eagle's success convinced Milliken that "I could physically and mentally condition myself to a more adventurous existenceÖthat I had some control of my life."
Bill took control by plunging into aviation, helped by the professorial contacts he made at MIT, where he helped manage the wind tunnel. With World War II on the horizon he soon found himself at Boeing, running high-altitude tests on the B17 and later the alarmingly fire-prone B29. Though marred by deaths of colleagues these were halcyon days for Milliken. "Like a first love," he tells us, "nothing in my career can quite come up to those adventurous years and the Seattle I knew."
Peacetime saw Bill at the Buffalo-based Aeronautical Laboratories of Cornell University, where he exploited his wartime contacts to get project work. Here more adventure waited. As an observer with Cornell pilot John Seal he "witnessed a masterful display of piloting as John, all-out on the controls, wrestled with the airplane. Charged with adrenaline, cursing and swearing, he gave the impression of having the airplane by the throat." They both walked away from that landing.
Milliken's racing passions were reawakened by the sight of an MG TC on the streets of New York. He soon traded up to the Bugatti with which he crashed so memorably at Watkins Glen. That he wasn't injured was owed to his authorship of the rules for this, the first major road race in America after the war. He made both crash helmets and seat belts mandatory - a pioneering move at the time.
Bill Milliken became chief steward for the Grand Prix races at the Glen, which began in 1961. In this role, he said, "I experienced both woe and satisfaction. It was my responsibility to collect the drivers, make sense out of the Driver's Meeting and start the race on time (not always successfully). GP drivers are a tough and independent lot, so I tried to focus on the few essentials."
In his own racing Milliken was fascinated by four-wheel-drive machinery. In 1948 he borrowed one of two 4x4 Millers built for the 1932 Indianapolis Race and campaigned it for several seasons. Its 1952 successor was another 4x4, a British AJB Special S.2 with Austrian Steyr V-8 power. Much later Bill built a radical single-seater of his own with steep negative camber on all four wheels. He starred with it at Goodwood's Festival of Speed in 2002.
Milliken successfully married his interest in racing with his knowledge of aircraft stability to win car-industry contracts for fundamental research and analysis of why cars behave as they do, work that still underpins our understanding half a century later. Setting out a work program in 1952 that a colleague called "a work of genius," Bill won General Motors as a first client for Cornell's work. "Within a year we were getting $100,000 contracts," Milliken recalled, "and we were free to publish." That many equations and analyses pepper the pages of his book should not deter the non-engineer reader.
Equations of Motion is both a revealing personal memoir and a repository of insights into the nature and findings of research into the dynamics of ground and air vehicles. Bearing in mind Bill's colorful career, I particularly appreciated his thoughts on the nature of risk and the avoidance of its possible consequences, as follows:
"Arising through an unforeseen factor, a risk is detected before it becomes catastrophic. If there is enough information, or experience, available to make a remedial decision and time to take positive action, and if panic is avoided and the action avoids compounding the problem, and if sufficient feedback is available, success may be achieved albeit by a very small margin."
To this Bill added, "In any narrow escape the element of chance cannot be totally discounted." Discounted? I'd say that Milliken harnessed chance and made it dance!
Equations of Motion - Adventure, Risk and Innovation, An Engineering Autobiography by William F. Milliken. Hardcover, 7 7/8 in. x 10 1/2 in. 696 pages, 700 photos and diagrams. Bentley Publishers ISBN-10: 0-8376-1348-5, Price: $59.95.
- Karl Ludvigsen
---
Stepping on the (Hydrogen) Gas
I said I'd scream if I saw another article about hydrogen as a fuel headlined "Stepping on the Gas". Well, I'm screaming because I've gone and created another one.
There've been quite a few such articles lately because industrial groups including car makers are building up pressure (there I go again) on the future use of hydrogen as a fuel not only for cars but also for many other purposes including home heating and power generation. Three main arguments underpin the case for hydrogen: pound for pound it's the most energetic of all fuels, it can be made available in virtually unlimited quantities and when burned to liberate energy its emissions are harmless. Very compelling virtues these!
In our world of combustion engines the first practical use of this gas for fuel was in the power units of dirigibles held aloft by the buoyancy of hydrogen. Lighter-than-air engineers realized that burning some of the hydrogen from their gas bags would be an economic way of doing what they had to do anyway, namely reducing lift to compensate for the lightening of the ship as its regular fuel was consumed. Used in this way hydrogen could be a range extender.
First experiments in the 1920s with this technology were advanced in the early 1930s in Germany by Rudolf Erren, who successfully fed hydrogen to the diesel engines of dirigibles. With direct injection he overcame two of the fuel's disadvantages: ultra-fast combustion that provokes detonation and backfiring into the inlet manifold. Erren's research died with the loss of the Hindenburg in 1937 in flames at Lakehurst, New Jersey. Ending the age of the Zeppelin, the big ship's conflagration was often blamed on its hydrogen-filled gas bags although flammable materials in and under its skin were later found to be the more likely cause of its loss.
British engine-combustion pioneer Harry Ricardo also conducted tests with hydrogen during the 1920s. Then when the Japanese fleet cut Australia off from its usual sources of fuel during World War II that nation's scientists set to work on the adaptation of hydrogen to power its domestic vehicles. Before the war's end they successfully ran prototypes with the new energy source.
In the early 1970s, just 30 years ago, interest in hydrogen surged again although not as a primary fuel. Instead, researchers found that they could exploit its ability to burn at a wide range of fuel/air mixtures as an additive that permitted gasoline engines to run at "ultra-lean" mixtures and thus extend fuel economy in the midst of the Energy Crisis. This worked well, although the resulting hydrocarbon emissions were relatively high.
Nudged by increasingly strict emissions limits, the next big push for hydrogen in cars came in the early 1990s. By 1991 hydrogen-powered Mercedes-Benzes had logged half a million miles of testing while BMW, Nissan and Mazda were evaluating the clean yet energetic fuel. Pound for pound hydrogen delivers almost three times the heat value of gasoline and six times as much energy as methanol. Its rotary engine, said Mazda, was exceptionally well suited to burn hydrogen by virtue of its leisurely combustion mode and its widely separated ports, which are less likely to ignite backfires.
Although billed as "emissions-free", car engines fueled by hydrogen do have one dirty-exhaust secret. With the atmosphere nearly 80 percent nitrogen, that gaseous element forms oxides at high temperatures in engines - the NOx that's a proven contributor to smog formation. If however combustion temperatures are kept below 1,000įC or 1,800įF the rate of NOx creation is very low. This can be controlled by water injection or exhaust-gas recirculation.
Meanwhile another hydrogen-burning prime mover has been moving up in the fast lane. This is the fuel cell, first conceived as an "inexhaustible battery" in 1839 by English scientist William Grove. Not until the 1930s did work begin to create a practical fuel cell in Cambridge in the laboratories of Francis T. Bacon. Soon after World War II Bacon demonstrated a workable cell generating five kilowatts of power. Running on hydrogen and oxygen, Francis Bacon's concepts were used in the fuel cells that powered the Apollo missions to the moon.
As William Grove found, the fuel cell reverses the reaction that uses electricity to separate water (H2O) into Hydrogen (H2) and oxygen (O). Encouraged by catalysts, in the fuel cell the hydrogen molecules ionize and travel from a negative electrode through a membrane to the oxygen's positive electrode. An external current between the electrode results. With oxygen present in 21 percent of the atmosphere and hydrogen accounting for one-ninth of the earth's water, ample resources are available to feed such cells. And with nitrogen unaffected by the relatively low temperatures in such cells, their "exhaust" is pure water. The Apollo astronauts drank it.
An important and inherent characteristic of the fuel cell is high efficiency. Claims vary but conversion efficiencies as high as 80% have been quoted. In practical cells the efficiency is in the range of 50-60%, far better than the 25-35% of internal-combustion engines. This is a powerful motivation for fuel-cell use, as is the inherent quietness of the devices - as long as the blower for the air supply is quiet enough.
In the early 1960s Allis-Chalmers was powering a tractor, golf cart, fork-lift truck and an underwater research vessel with its fuel cells. The first fully fledged fuel-cell road vehicle was GM's Electrovan of 1966, which carried both hydrogen and oxygen on board in liquid form to power its Union Carbide cells. With aerospace applications driving demand, the first such cells cost $400,000 per kilowatt. By the end of the 20th Century the cost had fallen to $10,000 per kilowatt. Though some currently claim fuel-cell costs as low as $15 per kilowatt, the cost of a complete system is still well in excess of the $50 per kilowatt that's needed in order to contemplate rivaling the low-emissions internal-combustion engine.
To their credit, leading car makers have been contributing to the development of fuel cells suitable for cars. Several have been working with one of the pioneers, Canada's Ballard Power Systems. Hydrogenics and UTC Fuel Cells are other developers. General Motors, Toyota and DaimlerChrysler have led in making installations of these cells. Plowing its own furrow as it has done so often, Honda is not only building fuel-cell cars but also developing its own cells.
This autumn two impressive advanced fuel-cell vehicles were unveiled: GM's Sequel and Honda's FCX Concept. The latter is a stylish successor to the humble-looking FCX of 2002, the first fuel-cell car to be certified as a zero-emissions vehicle by both EPA and CARB for commercial use. At the end of that year leased FCXs went into government service in Los Angeles. GM is producing a run of 100 Equinox SUVs with fuel-cell power and Ford has just unveiled a cell-powered Explorer for which it claims a world-record distance of 1,556 miles in 24 hours. As shown on the website www.H2Mobility.org, more than 300 fuel-cell vehicles have already taken to the road. That number will quickly be doubled.
Two important challenges still face the makers of hydrogen-fueled vehicles whether they're driven by fuel cells or by adapted engines. The first of these is the on-board storage of hydrogen. The classical method is as a gas compressed to some 5,000 psi, the equivalent of 350 atmospheres. This is the method most used in Japanese and North American fuel-cell cars, with both Ford and GM storing hydrogen at an impressive 10,000 psi, the latter using costly spun-carbon tanks in its Sequel.
Though staying at 5,000 psi, Honda says it has increased fuel capacity by putting a new-fangled hydrogen absorption material in its tanks. There are many such materials, for hydrogen readily forms affinities with certain metals and chemicals. Indeed, a long-favored storage method has been the use of metal hydrides, a method first reported on by the Brookhaven National Laboratory in the mid-1960s. Hydrides are the safest storage means but excruciatingly heavy for their capacity, which struggles to be better than 3% of their weight. Thus a hydride "tank" holding ten pounds of hydrogen weighs at least 350 pounds including its container.
While considering that hydrogen stored under pressure would be satisfactory for smaller cars, BMW rejects both that and hydride storage as being too heavy and bulky for larger vehicles. Like a spacecraft, its new Hydrogen 7 stores its fuel in liquid form at -253įC, only slightly above the -273įC of absolute zero. Its double-walled stainless-steel tank holds some 18 pounds of hydrogen, enough for a range of 125 miles in the big 7-Series sedan with its V12 engine. Though gradual loss of the fuel occurs through its "boil-off" as a gas, the tank can retain its contents for a surprisingly long time. BMW also advocates the use of a small fuel cell to drive the car's on-board accessories.
In Europe Ford is another advocate of this cryogenic storage system. Carrying their fuel in liquid form, examples of its fuel-cell Focus FCEV are in service in Berlin with a courier company. Partnering both BMW and Ford in fueling and delivery systems is Germany's Linde, one of the major makers of hydrogen and its infrastructure. The chief executive of Linde? None other than Wolfgang Reitzle, former head of car development at BMW and one-time chief of Ford's Premium Automotive Group.
If a range of 125 miles for a big BMW doesn't sound like much, it's because the new model also runs on gasoline with a tank big enough for a range of more than 300 miles. Switching between the two systems is seamless, so the 100 prominent citizens in important markets who'll be invited to lease these Bimmers won't have to worry about being caught short of their next hydrogen fueling station.
There aren't many such stations yet, but their numbers are set to increase. The website www.H2Stations.org shows where they are and where they're planned for the future. You're out of luck in Russia, Africa and South America but Europe and North America aren't doing badly. There's much still to be resolved between delivery in the form of a gas, a liquid or even the semi-solid slurry that holds future promise. Honda's angle is a self-contained unit next to your house that makes hydrogen from natural gas for your car and also drives a fuel cell for home electricity and heating.
The source of the hydrogen is a hotly debated issue. Like electricity, hydrogen will always be a secondary form of energy that demands more energy to liberate it than it can deliver. Its advocates say that the renewable forms of energy generation can and should be used to generate hydrogen. Electrolysis by electricity from nuclear reactors was once the favored source and may indeed become so again.
Most compelling for the use of hydrogen as a vehicle fuel is its versatility. Never has the long-term outlook for fuel supply been so cloudy. We want and indeed need to step up our recycling and our use of renewables. Hydrogen is by far the most energetic fuel that can be made from everything, be it crude oil, coal, biomass, solar energy or wind. In the final analysis the ability of hydrogen to be generated from a vast variety of sources will speak most strongly for its role as the universal fuel for the second half of this century.
- Karl Ludvigsen
---
It's Chilly Up There
Two of the world's premium motor makers have joined battle at the very highest level of the car market. Which is managing best - Daimler-Chrysler with its Maybach or BMW with its Rolls-Royce? Karl Ludvigsen assesses their progress and prospects.
Priced any one-third-of-a-million cars lately? I'm sure WindingRoad has a superb demographic, but I doubt that many of you have been in the market for a Maybach or Rolls-Royce, the two brands that between them define the global market for Łber-luxury sedans. In the US prices start at $328,750 for your basic Rolls and $335,500 for the Maybach 57. The longer 62 starts at $386,500. Don't you just love that $500 on the end?
These hyper-luxury sedans are the products of the two German auto makers that are the very definition of intense competition in the world of cars. While BMW bought Rolls-Royce, paying $75 million for the rights to the name and Flying Lady hood ornament and investing $120 million in a new factory in Britain, DaimlerChrysler revived a marque which it took over wholly in 1966 but which hadn't made cars for 25 years.
In 1912 Wilhelm Maybach and his son Karl set up Maybach Motorenbau GmbH at Friedrichshafen in southern Germany with the majority backing of Count von Zeppelin to make engines for his eponymous airships. With this business vanishing after the Great War they had the idea of making engines for cars, but when this gave little joy they decided to make complete cars. The first Maybach was introduced at Berlin's 1921 motor show.
From then until the last of some 1,800 Maybachs were made in 1941 the car-making enterprise was a bottomless pit financially for the phenomenally patient von Zeppelin and his successor Hugo Eckener. Judging that the cars were good advertising for their heavy engines, they gave virtual free rein to Karl Maybach to create exotic motorcars at the apogee of the German industry in both price and prestige.
Clever customers, realizing that Maybach was selling its cars well below cost, adopted them to the irritation of managers at Daimler-Benz. In the latter's boardroom a serious suggestion in 1937 was that they should make Maybachs under license as a means of bolstering the top of their range.
At the end of the 1990s DaimlerChrysler was well aware of BMW's plan to take over the Rolls-Royce marque. Both companies reckoned that dot-com multi-millionaires and Russian oligarchs would be eager to obtain ostentatious transport. Mercedes estimated that 8,000 people world-wide were in a position to buy a car "positioned above the S-Class in the Mercedes-Benz program with respect to size and status," not to mention price.
Tokyo's show in 1997 saw the prototype of such a car from DaimlerChrysler's design studio in Japan. It was presented as a "Mercedes-Benz Maybach". Debate raged thereafter as to whether such a car should be a Mercedes model or should stand alone as a Maybach. Proponents of the latter approach prevailed. The production car was launched in July 2002 with the sales goal of 1,000 annually. BMW's Rolls-Royce team had a similar target for their Phantom, launched in January of 2003.
The best that can be said of the Maybach effort is that with total deliveries of 1,900 cars to the end of 2006 they've exceeded in four and a half years the total produced by their Friedrichshafen predecessors in 20 years. That's an average of 420 cars a year for the new effort, less than half the forecast volume. From a high of 244 deliveries in America in 2004 Maybach sales declined to 152 in 2005 and 146 last year.
At Rolls-Royce the picture is better if not brilliant. Last year its global deliveries topped 800 - by five units - for the first time. Sales had been just under 800 for the two preceding years, up from 300 in the launch year of 2003. Not wildly short of its 1,000-unit objective, this has added up to a total of 2,693 of the new model sold in four years. Sales in the USA have followed the same pattern as Maybach, tailing off from a high of 412 in 2004 to 382 in 2005 and 336 in 2006. The shortfall in America has been counterbalanced by higher sales in such new markets as Brazil, Chile, Nigeria, Poland and Bulgaria that came on line in 2005.
Four powerful factors have contributed to the clear advantage of Rolls-Royce over Maybach. The first is continuity. Although hampered by a hiatus when VW-owned Bentley was managing the marque, Rolls has enjoyed uninterrupted market presence since 1904. Needless to say, not many of today's car buyers have any recollection of Maybach, which was obscure even at its zenith.
A second factor is design. While you can gainsay the bluff effrontery of the Phantom's styling, created in a former London bank, it proclaims its arrival with no little panache. No valet parker will overlook it or its occupants. The same can't be said for the Maybach, whose scale and size don't announce themselves convincingly.
A third factor is point of origin. Shrewdly, BMW negotiated with Goodwood's Lord March to install an assembly plant for Rolls-Royces in the West Sussex countryside a short stroll from the Goodwood race track and annual Festival of Speed. It's hallowed ground for the motor-minded and true-blue British. The Maybach, in contrast, has engines made in Berlin-Marienfelde and installed at the sprawling DaimlerChrysler Sindelfingen plant. Friedrichshafen didn't figure. Thus there's no distinctive and evocative home for the marque, no there there.
The fourth and crucial factor is representation. In America 27 of a total of 28 Rolls-Royce dealers also sell Bentleys. Costing about half of a Rolls-Royce, Bentleys are not dealership competitors. Yet they're quintessentially complementary to the cars from Crewe, long-time showroom sisters that represent the best of Britain. Bentley's higher volume sustains the dealers and their ability to move Rolls-Royces. In contrast, DaimlerChrysler has paired Maybach with the minuscule volume of the McLaren SLR.
The retail partnership with Bentley accounts for the planned pricing of around $250,000 for a new smaller Rolls model to be introduced in 2010. That's low enough to attract fresh buyers while high enough not to cause problems for Bentley. A second shift at Goodwood will produce the new model. And there's a Phantom cabriolet on the way this year as well.
Though neither maker has scored a home run with its Łber-luxury models, BMW has made a pretty good first of its commitment to one of the world's great automotive brands. It's time for Stuttgart to make clear its commitment to rival Maybach with a striking facelift and additional body styles. The wealthy are waiting!
- Karl Ludvigsen
---
Volkswagen's Billion-Pound Bentley (Autumn 2006)
After a turbulent history since its founding in 1919, Bentley Motors has found a home with none other than the Volkswagen Group. How good a fist are the Germans making of one of Britain's proudest sporting-luxury brands?
Come to think of it, we did pretty well out of the sale of Rolls-Royce Motor Cars. By "we" I mean Ludvigsen Associates, the motor-industry management-consulting company that I ran in London from 1984 to 2000. In 1997 British defense contractor Vickers announced that it would dispose of the luxury-car company it acquired in 1980. One of the interested parties, Bahrain-backed Investcorp, already owned several luxury brands. It hired us to conduct due diligence into the product and brand offerings of the Crewe-based company making both Rolls-Royce and Bentley motor cars.
Opportunistic bidders like Investcorp were swept aside when it became evident that Germany's BMW, Daimler-Benz and Volkswagen fancied owning Rolls-Royce. While Daimler bowed out early, instead merging with Chrysler and launching Maybach as a separate top-level marque, the other two locked horns in a strategic contest that VW finally won by the simple expedient of offering more money - £473 million or $774 million - to a greedy Vickers board.
So why isn't VW making Rolls-Royces? The reasons are that BMW already had close ties with Rolls-Royce in aero engines, had a lock on the use of the Rolls-Royce name and was an established supplier of the British auto company's engines. In a negotiated compromise BMW got the rights to make Rolls-Royce cars from 2003 while Volkswagen kept Bentley, the worldwide sales network and what VW chief Ferdinand PiŽch called "the fantastic know-how of the workforce at Crewe."
In his thinking about the future - "Thinking ahead is fun" - PiŽch had already concluded that the market for top-line luxury cars would be expanding faster than he could upgrade his Audi range to meet the demand. "However," he reasoned, "we had to cover the topmost category." This meant acquiring an existing brand. "One didn't have to do a great deal of looking around to get Bentley into one's sights as an ideal acquisition," PiŽch realized. Although the race-bred marque had suffered its ups and downs, he decided, "a brand name that in spite of such circumstances has survived brilliantly over more than six decades represents priceless capital."
The catch, it seemed, was that to get Bentley one had to take Rolls-Royce as well. For Ferdinand PiŽch this was a problem: "Personally I found the Rolls-Royce brand too conservative and above all to limited in its potential model policy. Under such a name one could never produce a coupe or a sports car. It offered no opportunity for refined understatement." Indeed, Bentley had once been described as the car for those too diffident to drive a Rolls, the latter being seen as the flash-Harry alternative. Thus for PiŽch the hiving off of Rolls-Royce to BMW was an acceptable solution.
Under Vickers ownership Bentley experienced something of a revival. One of my former Ford of Europe colleagues, Mike Dunn, sharpened up its chassis and engineering and created the sensational Mulsanne Turbo R. Our consultancy carried out in-house clinics and studies to assess alternative courses of action. From being the neglected sister of Rolls-Royce, its market scope deepened by introduction of the less costly Eight, Bentley was already making a comeback.
Having also bought Bugatti and Lamborghini, the VW Group had its hands full with exotic new marques. Where and how should it position them to achieve the best results in the marketplace? This was another task for Ludvigsen Associates. For Volkswagen we carried out a meticulous brand-positioning exercise for the upper reaches of the executive and exotic car markets.
We saw Lamborghini as needing to retain and defend its well-defined position at the absolute extreme of the exotic sports-car market. We thought Bugatti should aim for the ultimate in close-coupled grand-touring cars, a more costly version of what Aston Martin was doing. Ferdinand PiŽch had other ideas, but I have a sneaking suspicion that Bugatti's next act may be along the lines we recommended.
The opportunity for Bentley we saw as outstanding. A substantial price gap separated the top ranges of BMW and Mercedes-Benz, the volume producers, and the then-current offerings of Rolls-Royce and Bentley. Ferdinand PiŽch's intuition had been right on the mark. Without giving up its position at the apogee of the market, vital to define its reach and excellence, Bentley could add a less-costly range to which Bimmer and Benz owners could aspire. The outlook was golden for significant volume and profitability.
That's just where Bentley positioned the new Continental range that made its bow in 2003. First to appear was the two-door GT coupe version, followed in 2005 by the Flying Spur four-door sedan and in 2006 by the GTC, the convertible edition of the two-door. For the likes of you and me these are costly cars but their accessibility is just right to tap that market opportunity. As a result, showing the benefit of an investment of £500 million or $800 million, output of Bentleys has shot up from less than 1,500 to a heady 9,000 per year.
Managed since March 2002 by former Audi man Franz-Josef Paefgen, whose youthful looks belie his 60 years, Bentley has outpaced its expectations. At the Continental GT's launch the hoped-for annual volume was 3,000. Instead demand was for 5,000 in the first year and the yearly level is now 6,000. Added to that are several thousand of the Continental's Flying Spur version, which as Paefgen says is "a car that disproves the theory that choosing luxury and space requires a compromise on power and driving experience."
Road testers are agog at the Flying Spur's marriage of cosseting luxury with zero to 60 acceleration in 5.0 seconds and a top speed of just on 200 mph. One tester managed to see 202 on the high-speed circular track near Nardo in southern Italy. Bentley has come a long way from the 1980s when the top speeds of its cars were artificially limited because suitable tires weren't available. My advice to them was that this wouldn't be tolerated by customers on the continent who expect real speed from their exotic cars. The current range has swept away that handicap - and then some.
A thousand or so of Bentley's volume is accounted for by its range-topping models. The four-door Arnage is being made at a rate of 500 per year. The Azure cabriolet, standing proud as the world's ultimate four-passenger open car, is headed upward from 300 to 500. While the big Rolls and Bentley models used to have body shells made outside, since 1998 the Crewe factory has built up its bodies internally for these cars from 600 panels stamped by Premier Pressings. The target is a total of 1,200 per year of both models, which will remain Bentley's flagship offerings.
The Continentals use Bentley's own version of the VW Group's W12, assembled in the Crewe factory. Impressively, Azure and Arnage are both powered by a developed version of the pushrod aluminum V8 that Crewe introduced at the end of the 1950s. At one time this was seen as an engine that couldn't be upgraded to meet modern emissions and performance demands. Having rushed it back into service to replace the departing BMW engines, VW's engineers found that the V8's almost seven liters still had untapped potential.
"Today's V8 is a descendant of the 1959 engine but massively improved," said Bentley's engineering director Ulrich Eichhorn. "It now has over 100 percent more power, over 100 percent more torque, 40 percent less fuel consumption and produced 99.5 percent fewer emissions." Producing 500 horsepower and 1,000 Nm of torque, the twin-turbo eights are hand-assembled by a multi-skilled team of 36, about half of whom have been at Crewe for more than 20 years. Rolls-Royce used simply to say that the power of its Bentleys was "adequate" and in this latest version it certainly is.
A visit to Crewe - de rigueur for many Bentley buyers - gives an eye-opening perspective on the internal transformation of its World-War-II-era buildings, once the site of Merlin aero-engine production. Quality standards meet and exceed the best in the VW Group's other facilities. The area set aside for fabrication of wood pieces and veneers, ingeniously mechanized and laser-equipped, is one of the largest in the plant.
A separate section of the factory, Bentley Mulliner, takes the name of a once-great British coachbuilder. There fortunate Bentley buyers can have their cars tailored in bespoke colors, interiors and equipment to suit their fancy. They meet with experts in a special studio where all the options can be explored. A shorter wheelbase or higher roof is no trouble. Rarely are requests judged impossible, like that of a client who wanted his entire car gold-plated, including the engine. Bentley declined, saying that it wouldn't be able to get a good match among the hues of all its surfaces.
Bentley has come a long way under VW's stewardship, but there's still work to be done. The cars aren't perfect; heavy fuel consumption when driven hard means a range of only 200 miles for the Flying Spur, not ideal for the long trips of which the car is otherwise eminently capable. It's not the fuel cost that's a concern; Bentley buyers aren't worried about that. It's the annoyance of frequent full-ups, and Bentley owners shouldn't experience annoyance.
An early fault, often criticized, was Bentley's use of a keyless-entry fob from VW's mainstream range. "I've been astonished by the amount of discussion there's been about this key," said Franz-Josef Paefgen. "But my view is that if the key is the only problem that we have with the car, I'll happily live with it." He's since fixed the key.
- Karl Ludvigsen
---
Ave atque Vale Michael Schumacher (Autumn 2006)
It was somewhat different in 1958. Five-times world champion Juan Manuel Fangio withdrew gradually from racing, competing in Indy cars for the first time and Maserati sports and Grand Prix cars for the last time. Only at the end of that year did Fangio make clear that he was retiring, giving the news first of all to Mercedes-Benz with whom he felt a special bond.
"At first, a world title had been the limit of my hopes and my boldest dreams," the charismatic Argentine reflected. "Then I had to win a second one, after which it seemed only logical to try for a third. Then a fourth was added to the other three and the fifth confirmed that the others had not, perhaps, been due entirely to luck."
In 1958 Fangio was 47, old enough to have fathered some of the youngsters who were muscling into Formula 1. On the one hand, those youngsters were frankly eager to see Fangio step aside to grant them more opportunities. On the other hand, their respect for him was such that they acknowledged his role as the premier racer of his age.
When Juan Manuel joined Ferrari in 1956 both Peter Collins and Eugenio Castellotti said, "Juan, you are the leader, you are the world champion." There was no doubt who was Number One. And when he defeated the Ferraris of Hawthorn and Collins in an epic Maserati-mounted drive at the NŁrburgring in 1957 the two Englishmen "were ecstatic, as if they had been the winner. They never stopped congratulating me."
The acknowledged Number One of his era, Michael Schumacher, has now decided to step down at the age of 37, a decade younger than Fangio. Like the Argentine, the German was aware of the passing of the years. "I'm not getting any younger," he said, "and I had to ask myself if I would be able to gear up the energy, the strength and the motivation that you must have in order to compete at the top. Just being a mediocre driver has never been my ambition. That's not my style." His words exactly echoed the considerations that caused Fangio to end his driving career.
Only after the end of the season will Schumacher announce his future plans. "I always said that the day I retire I will just do nothing for a while," Michael reflected, "and then I will see what I'm doing, what's my mood and what's going to happen." Of one thing we may be certain: Michael won't "retire" to the German Touring-Car Championship like former Formula 1 aces Heinz-Harald Frentzen, Jean Alesi and even double world champion Mika Hškkinen. What would be the point of risking his reputation against the likes of Bruno Spengler, Stefan MŁcke and Jamie Green?
"I will always be part of the Ferrari family," Michael added. There's a certain irony in this, for like Fangio he could have been a Mercedes man. First to have him on its radar was Ford, for he was successful in Formula Ford 1600 in 1988 as his step up from karting. He turned to Formula 3 in 1989 and was German champion in '90 with a commanding performance. That's when he was talent-spotted by Jochen Neerpasch, who was a member of the Mercedes-Benz motorsport strategy group as well as an official at P.P. Sauber A.G., Peter Sauber's racing-car company at Hinwil in Switzerland.
Sauber and Neerpasch were strategizing to lure Mercedes-Benz into a wholehearted Formula 1 commitment. To that end Sauber's company reached agreement with both Michael Schumacher and fellow racer Karl Wendlinger that assured their availability to drive a purebred Mercedes Benz Formula 1 car as soon as it was ready to race. The contracts were valid to 1995. In 1991 Harvey Postlethwaite commenced work on the design of the 1993 Formula 1 Mercedes-Sauber.
At the end of '91, however, Mercedes-Benz waved off any Formula 1 involvement. Instead it carried on in Group C sports-racers with Sauber, with whom it had won two world championships. In 1990 young Michael had three second-place finishes in the Sauber-Mercedes, partnering veteran Jochen Mass who was mentoring members of the Mercedes "junior team". In a troubled 1991 season Schumacher stayed loyal to the fast but cranky Mercedes C291. He gave it its only fastest race lap at Mexico City and its sole victory, an end-of-year success in Japan.
"I'm really happy for the team," said Michael after his win with fellow Junior Team member Karl Wendlinger. "They've done so much work this year, it's unbelievable. To keep all the time the motivation to continue like this was very hard." Even after making his Formula 1 debut with Jordan and then Benetton in 1991 Schumacher continued to express his hope and desire to drive a silver car in Grands Prix. "To become world champion with Mercedes - that would be the greatest," Michael said. " Because the history that was written by the Silver Arrows goes right to the heart. If one could be linked again to this tradition it would be fantastic."
This was a rare expression of awareness of racing history by Schumacher, who otherwise lives in the present with intense concentration. In October of 1994 his dream seemed near realization when Mercedes-Benz announced partnerships with McLaren and Ilmor for Formula 1 starting in 1995. McLaren chief Ron Dennis made no secret of his desire to sign the brilliant driver, who in '95 would score his second Formula 1 world championship at the age of 26, driving a Benetton-Renault. In 1996 Michael Schumacher would be free of his commitment to the Benetton team.
In mid-August of 1995 Dennis learned that his hopes were in vain. Three lines from Maranello stated that Schumacher had been signed to drive for Ferrari for two years starting in 1996. Marlboro and Shell had stepped up to the challenge of the $25 million retainer needed to secure the German's services. It would be a fresh start for Ferrari, which changed from V12 to V10 in 1996 and paired Michael with Ulsterman Eddie Irvine.
Most telling was the comment of Fiat supremo Gianni Agnelli. "When you have a driver like Schumacher," he said at the time of the signing, "if you don't win it's the team's fault." "In essence," explained Alan Henry, "by signing Schumacher Ferrari has eliminated one crucial variable from the complex equation involved in running a Grand Prix team. They can now assume that if their car is not quick enough, then the blame certainly cannot be laid at the door of their number one driver."
In no team was this more important than Ferrari. Arguments raged constantly in Italy's polemical press about the merits of the team, its cars and its drivers. To his death in 1988 Enzo Ferrari was merciless in his assessments of his driver cadre. Few were up to his demanding standards. Not since Ferrari fired Alain Prost for calling his car "a truck" at the end of 1991 had the Scuderia fielded a driver who was indisputably of world class.
From 1996 Michael Schumacher was the measuring stick for each new Grand Prix car from the Maranello workshops. It was this, more than any other personal attribute, that he brought to the team. Much has been written about Michael's supposed role in building a team around him, but in fact that team was already being constructed by Jean Todt under Ferrari boss Luca di Montezemolo with the arrival of technical chief Ross Brawn, designer Rory Byrne and chief mechanic Nigel Stepney. Though well entrenched, Maranello's legendary blame culture was swept aside and replaced by a new spirit of problem-sharing teamwork.
With five world championships in a row, starting in 2000, the team measured up to the driver. After going off the boil in 2005 Ferrari learned its lesson, fighting back bravely in 2006, a season that demonstrated that Schumacher has lost none of his legendary speed and cunning. Asked whom he rated his toughest competitor, Michael said, "The nicest battles I had were with Mika - always at a very high level without any animosities, pure racing." This was a tremendous tribute to McLaren-Mercedes man Mika Hškkinen, the 1998 and '99 world champion who retired after the 2001 season at the age of 33 - too early, as it turned out.
"Michael has decided to stop at the end of the season," said Jean Todt after Monza. Todt, now in overall charge of Ferrari, added that Schumacher "will still be involved with some responsibilities with Ferrari. The detail of his responsibilities will be specified after the end of the season."
It's unlikely that we'll see him engaged in cerebral activity. Like Fangio, Schumacher had only a decade or so of formal schooling that gained him qualification as a car mechanic. His interviews with Stirling Moss convinced author Ken Purdy that a certain lack of intellectual capability and curiosity could be an asset to a racing driver. Both Fangio and Schumacher brought phenomenal concentration to the cockpit, immune as they were from distraction by phenomena irrelevant to their driving task.
Neither man could be accused of being dim. Fangio was blessed with a wily intelligence and vast reserves of common sense, while Schumacher impressed with his capacity for information. Jean Todt, who since 1993 was running the prancing-horse racing stable, said of his new recruit that he was "a great guy. He is [only] 26 years old but when you have a discussion with him you find a guy who thinks, who speaks, who understands in a fantastic way. I have not met many people like him."
It goes without saying that Michael Schumacher would be unrivaled in the role of ambassador for Ferrari. From his home at Vufflens-le-Ch'teau on the Morges River west of Lausanne he could fly to global commitments, perhaps with wife Corinna and his children, Mick and Gina Maria. Speculation has often swirled around his possible involvement in another team, perhaps as investor. If Michael gets bored - and his system demands activity - that's a plausible application of his energies and knowledge, not to mention his millions.
Whatever Michael Schumacher's choice, we can only wish him well in his retirement and thank him for sixteen enthralling seasons in Formula 1 that brought (at this writing) 68 pole positions, 90 victories and 153 podium positions from 245 starts. It's a record that will never be surpassed.
- Karl Ludvigsen
---
Hailing a Homebuilt Hybrid (Autumn 2006)
Mercury and hybrids are a perfect match. Herald and messenger of the Greek gods, Mercury is swift of winged feet and agile of mind. Mercury the metallic element also has its role in electrical equipment, the exploitation of which is the hallmark of the hybrid-drive automobile. These qualities make Ford's Mercury the ideal marque to take the lead in the use of hybrid power. It's done so in considerable style in the hybrid version of its Mercury Mariner sport-utility.
This gasoline-electric Mariner and its Ford Escape sister are the first of what Britain's Autocar calls the "guilt-free SUVs". In fact the Mariner Hybrid was the first winner of the Green Car of the Year Award given by Green Car Journal, anointed by a panel including such luminaries as Carroll Shelby, Mario Andretti, Jean-Michel Cousteau and the executive director of the Sierra Club. With these credentials Mercury's is a sport-utility you can drive anywhere with confidence that you're not despoiling the environment.
What's more, it's a fascinating drive. You don't have to switch on the panel that shows the fluctuating current flows to appreciate the way in which its clever controller adjusts both electric-motor and gasoline-engine power to suit your driving circumstances. It can run at a steady speed of up to 25 mph on electricity alone. At idle the engine drops out, picking up again seamlessly when you demand more acceleration with the electric motor still helping. And one of the nicest features is that there's no ear-jarring Bendix-drive clatter when you start the Mariner. It just whirs into action.
Its four-cylinder engine, basically a 2.3-liter Zetec, is converted to run on the Atkinson cycle by fitting a new inlet camshaft with much later valve closing. On the first part of the compression stroke this reduces pumping losses by allowing momentary backflow into the inlet manifold, a strategy that also reduces heat loss down the exhaust pipe. Performance is restored by fitting higher-crowned pistons that increase compression ratio to a race-car-like 12.3:1.
Teamed with the engine's 133 bhp is an AC electric motor that brings the Mariner's total power to the equivalent of 155 bhp, giving it performance akin to that of the normal version powered by a 3.0-liter V6. Driving through a continuously variable transmission or CVT, the engine sometimes peaks in peculiar ways but this just adds to the Hybrid's intrigue. Restoring energy to its pack of nickel-metal hydride batteries when braking, the Mercury's payoff is - uniquely - fuel economy that's better in the city than in the country! In urban driving it uses about half the fuel of its V6 counterpart.
Best of all, Ford's SUV hybrid system is the product of good old Yankee ingenuity. It's a great credit to the Dearborn engineers that they've worked out such a complex system so successfully. It emits the occasional drone and sigh, but these are just symptoms of battery and electrical cooling. Ford has already received more than 40 patents on its system and has 70 more pending. Ultimately it expects 150 hybrid patents globally. Finding out during development that some of its solutions were the same as Toyota's, Ford's lawyers advised paying license fees to the Japanese company on 20 of its patents to ward off controversy.
To its credit, Ford's Lincoln-Mercury Division is using novel marketing methods for its Mariner Hybrid. Its launch pulled forward a full year to exploit the interest in hybrids, the Mariner version made its bow a year ago in California at the annual jamboree of the Sierra Club, whose members were among the first of the public to drive the innovative SUV. Mercury has briefed personal sales consultants to liaise between dealerships and potential Hybrid buyers to be sure that the latter fully appreciate the merits of the proposition.
The Mariner Hybrid disproves the contention that the extra cost of a hybrid is uneconomic for the owner. Of course its cost/benefit ratio gets a boost from the rising price of gasoline, but that just makes it the right solution for our times. Edmunds.com calculates that the Hybrid's price premium of $1,218 is recouped after 2.9 years at 15,000 miles per year. If your yearly mileage is 25,000 the break-even is after only 1.7 years. That's almost as good as Toyota's Prius and far better than the Honda Accord Hybrid.
Ford's use of the Atkinson cycle shows that it has the smarts to implement hybrid technology appropriately. In 1975 a University of Wisconsin study reached these conclusions:
The hybrid vehicle is complex, expensive, difficult to maintain, heavy and ill-suited to highway driving. A hybrid vehicle with an internal-combustion (IC) engine small enough to obtain significantly higher mileage than present-day cars will be unable, because of that small engine, to cruise for long periods of time at highway driving speeds; and a hybrid vehicle with an IC engine large enough for continuous highway driving will not be able to achieve significant improvements in mileage. A worthwhile hybrid vehicle may be possible but only with a heat engine different from those now commonly employed.
Since that was written the small-engined hybrid has been helped significantly by vastly improved car aerodynamics and higher-performance engine design. But the fundamental point remains valid: no hybrid can be better than its base IC engine. This point was made forcefully by a senior BMW engineer at a recent technical exposition in Munich. He was frankly dismissive of the engines in Toyota's hybrids. "As a basis," he said, "you need a good engine and a gearbox with mechanical gears. They you can use electricity for the recovery of energy and the accessories. With that, in a hybrid you can get a 10 percent economy improvement if you use small higher-revving electric motors that are less heavy."
So in specially adapting its IC engine to hybrid use Ford is on the right track. Its scientists and engineers have the answers. But what about its policymakers? Early in 2006 Ford said that it aimed to be making a quarter of a million hybrids globally by 2010. But at mid-year it wavered, saying that it was going to take "a more flexible approach to meet our goals for customers needs, environmental impact and shareholder interests" in the words scripted for company chief Bill Ford. This means a bigger push for vehicles able to burn E85, ethanol with 15 percent gasoline.
Switching strategies in mid-stream isn't the way to win favor among customers. Its innovators have given Ford a brilliant start in the race to offer hybrids, an initiative the company should exploit, not neglect. Bill Ford may well say, "The goal all along is a sustainability goal. It is not a hybrid goal." But Bill, the folks out there understand what "hybrid" means, while "sustainability" only means something to those Sierra Club members we met earlier. While their custom is important, it won't save your Ford Motor Company.
Sidebar: Pioneering Hybrids
Based on tramcar designs, Chicago's W. H. Patton built vehicles in 1898-99 that drove their wheels by an electric motor powered by batteries that were charged by an on-board gasoline engine and generator. In 1896 both L. Epstein and H. J. Dowsing patented various combinations of these elements, while in America gasoline-electric vehicles were made by Indiana's Munson and Illinois's Fisher at the turn of the century. A sophisticated mixed-system vehicle was exhibited in Paris in 1899 by LiŤge, Belgium's Pieper.
Similar ideas were in the minds of 25-year-old Ferdinand Porsche and his employer Ludwig Lohner, a celebrated carriage builder. Readers of Vienna's AAZ learned in their issue of February 25, 1900 that inventor and entrepreneur, dissatisfied with the range of their first electric car, "want to supply the vehicle with a portable charging station, which would enable it to generate so much fresh current during the journey that it could cover 95 miles." Porsche used the chassis of his 1900 electric hillclimber as the basis of its design.
Behind its front seats Porsche installed two 3Ĺ-horsepower single-cylinder de Dion engines. Each drove a generator and a pump that delivered its cooling water to a gilled-tube radiator alongside its frontal prow. To compensate for the added 595-pound weight of this charging station, plus its 220 pounds of full fuel and water tanks, Porsche cut the battery-cell count back by 30 to 44. Thus at 2,650 pounds his self-charging vehicle weighed little more than the same machine in all-electric racing form.
Each gasoline engine operated completely independently in all its equipment and interconnections to the batteries and motors, delivering a current of 20 amperes at 90 volts. Under way, the generators' output was fed directly to Porsche's patented front-wheel motors unless it wasn't required, in which case it was diverted to the batteries. The latter then were switched into the circuit to augment the output of the generators when required, for example on upgrades. An appealing feature of the layout was that the generators were operated in reverse as motors to start the de Dion engines.
Named Semper Vivus, to reflect its "always alive" capability, with its lack of rear suspension and its exposed booster engines this was only a breadboard layout of the kind of vehicle Porsche had in mind. His mind was already racing ahead to new families of motor-wheels and new ways of powering them. By the time Semper Vivus was displayed at the 1901 Paris Salon, together with a Lohner-Porsche electric car and fire truck, it was all but forgotten by its creator. The test car's success in providing a link between a gasoline engine and electric road wheels opened new horizons for both Porsche and Lohner.
- Karl Ludvigsen
---
Three-Dimensional Chess (September 2006)
We're half-way through a period of evaluation of possible business synergies between General Motors and the Renault-Nissan combination. This is potentially a Very Big Deal. If these companies combined their activities they'd be selling more than 14 million vehicles a year. They'd dominate the vehicle markets in the US, Europe and China and enjoy global revenue of a third of a trillion dollars, matching the gross domestic product of Sweden or Saudi Arabia.
The man at the core of this initiative, Renault-Nissan chief Carlos Ghosn, is thinking as big as the assets that could be deployed by the three companies. He's not interested in opportunistic ventures like the odd shared platform or joint marketing deal. Instead Ghosn said before the talks began that he's aiming for long-term ties that would leverage the strengths of all three companies. "I wouldn't be here today," he said, "if I didn't think it was big. Big! Everything is on the table. There's no taboo." That the talks are still ongoing is a sign that major opportunities are being discussed, for Ghosn said he'd walk out if they weren't.
Who's the man at the heart of this initiative? Born in Brazil in 1954 to Lebanese parents, Carlos Ghosn studied engineering in France. After a successful US career with Michelin in 1996 he joined Renault, where he attracted the nickname of "Le Cost-Killer" with his overhead-slashing campaigns. Assigned the seemingly impossible task of turning Nissan around after Renault formed an alliance with the debt-burdened Japanese company, Ghosn managed it with time to spare. He became a hero in Japan, achieving the ultimate kudos of being starred in comic books. You don't get higher recognition than that.
To be sure, Carlos Ghosn found plenty of low-hanging fruit at Nissan. One was its traditional ring of tied suppliers, which enjoyed price cushions of up to 40 percent. It took the arrival of a foreigner, a gaijin, to take the unprecedented step of shattering that ring to allow access to lower-cost suppliers. The alliance with Renault gave Nissan's people new insights into the prices being paid for purchased parts; in Europe they were surprised to discover that Renault's buyers were striking significantly better deals than Nissan's.
The seeds of the current talks were planted in early June when Ghosn sat down to dinner in London with Jerry York, the former Chrysler executive who since January has been the spokesman on GM's board of directors for corporate plunger Kirk Kerkorian, whose Tracinda Corporation picked up a 9.9 percent shareholding in GM cheaply. That led to a dinner meeting on June 15 at Nashville, Tennessee between Ghosn and 89-year-old Kerkorian, who took a rare flight from his Beverly Hills base.
At the beginning of July, Kerkorian made public a letter to GM chief Rick Wagoner proposing an exploration of "a possible opportunity to join the partnership alliance between Renault and Nissan." With the value of his 56 million GM shares languishing, Kerkorian had every reason to stir up press and public interest in a possible deal involving Ghosn, the industry's highest-flying executive. The markets obliged with a Pavlovian response.
What, then, is the nature of the Renault-Nissan alliance that GM might join? It's not the corporate monolith that many suppose. Renault owns 44 percent of Nissan while the latter has a reciprocal 15 percent of Renault. In other words, if improvements have been achieved through their alliance - and they have - it's not the consequence of a merger, DaimlerChrysler-style. Rather it's the result of a willingness to work together constructively to share components and platforms while maintaining strong brand competition in the heart of the auto market.
While much of the publicity about a possible deal has centered on the idea that Renault and Nissan would each acquire 10 percent of GM, producing a powerful 30-percent block in concern with Kerkorian, Carlos Ghosn stresses that what matters are the synergistic opportunities. Only after they're identified might some cross-shareholdings be implemented.
A Japanese newspaper has said that the GM capabilities of greatest interest to Ghosn and company are environmental technology, safety technology and parts procurement. It would be appealing to Renault and Nissan to have access to GM's global buying power, biggest in the industry with annual purchases of $85 billion, but the reverse is decidedly not the case. I can imagine the reaction of GM's straight-taking purchasing czar Bo Andersson if he were asked to open his books to a bunch of French and Japanese. For better or worse, thanks to the legacy of a certain Mr. Lopez, GM is as savvy a purchaser as any auto company in the world.
Speaking of purchasing, General Motors doesn't need to be bigger than it is to gain additional economies of scale. A company making more than 7 million vehicles a year has access to all the cost-reduction tools that the industry has to offer. It doesn't need to be part of a group making more than 14 million vehicles annually in order to obtain scale economies. Of course, managing that 7-million-plus production is another matter. GM has struggled with this in the most public way possible, casting aside one plan after another in its effort to coordinate its global activities.
At last, however, GM seems to be getting a grip. The General has finally bitten the bullet by downsizing its North American production and workforce, struggling to get capacity in line with sales. Then when sales improve their manufacturing efficiency - and profits - will skyrocket. That's the unique leverage of the car industry, the leverage that Ghosn exploited to put Nissan back in profit.
Needless to say, not everyone is dead keen on the idea of this triple play. French industry minister FranÁois Loos gave the impression that he was the last to be informed about the idea when he counseled "enormous caution" in dealing with "the United States, an immense market, a complicated market". With his government the holder of 15.3 percent of Renault and 18.8 percent of its voting rights he has a need to know. Memories in France are still vivid of Renault's costly adventure with American Motors.
In Michigan the turmoil over DaimlerChrysler has awakened concerns over the impact on the auto business of those "durned furriners". "The Chrysler thing has left everyone here with a very bad taste in their mouth," said Michigan congressman John Dingell. "My daddy used to say, if it sounds too good to be true it probably is. I'm applying this useful lesson of caution." "Show me this won't send jobs to France of Japan," said Michigan governor Jennifer Granholm. "Show me how this helps us and I'll be on board."
A Renault-Nissan-Kerkorian initiative and the menace of "Le Cost-Killer" arriving at the Renaissance Center may be all that's needed to encourage GM's many stakeholders, in business and government, to get firmly behind the General's plans and actions for recovery. Britain's indigenous carmakers enjoyed no such support and either collapsed or were gobbled up. It's time for Americans to show they're made of sterner stuff. And that goes for you too, Rick Wagoner!
- Karl Ludvigsen
---
Smart ó or Not? (July 2006)
I wasn't too surprised by a recent news item about the breakdown statistics compiled by one of Germany's big auto clubs, the ADAC. Based on the almost two million cars it rescued and repaired during 2005, the club published its failure rates per 1,000 cars in service.
"First Place!" said a headline next to a picture of the Smart ForTwo. I immediately jumped to the conclusion that the Smart ranked first in the number of failed cars per 1,000. How could it be otherwise? Its 2000 and 2001 models were among the worst cars on the German market with 30 ADAC failures per 1,000. A few cars were as much as twice as bad but the little ForTwo Smart was right in among them.
Curious, I downloaded the ADAC data. To my stupefaction the Smart was in fact the best among all the cars surveyed in 2005 with only 1.1 failed per 1,000 cars. Next best was the Volkswagen T4/T5 with 1.4 followed by the 1.5 of the Audi A2. Ranked best among mainstream models was the Mercedes SLK with 1.9 and the 3-Series BMW with 2.0. But the audacious Smart beat them all.
This is an astonishing achievement by the production team at Sarreguemines-Hambach in France's Moselle-Lorraine, just over the border from Germany's Saar district. There an X-shaped factory assembles Smarts from subassemblies prepared by suppliers on the same site. (Google Earth has a superb view of the plant at "Hambach".) Such production partners as Bosch, Magna, Krupp-Hoesch, VDO and Dynamit Nobel deserve great credit for building big quality into these little cars.
Though laid out for an annual capacity of 200,000, Hambach has hovered around half that level. As a result MCC, as the Smart-making unit is known, has made an estimated $4.5 billion in losses since its launch in 1998. DaimlerChrysler is under heavy pressure from some of its biggest shareholders to sell or shut MCC, but under new chief Dieter Zetsche the German-American outfit has set aside some $1.5 billion to sort out MCC and its funky product line.
The first steps taken by Ulrich Walker, MCC boss since 2004, have been to cut both men and models. He pruned top-heavy headquarters staff and dropped a sports-car version, the Smart Roadster in open and coupe form. This unbelievably ugly auto was manifestly what MCC could do rather than what anyone actually wanted. Also dropped is the ForFour, a sedan based on a Mitsubishi platform that was made at the Japanese company's NedCar plant in Holland. For aborting its contract with NedCar, DaimlerChrysler will pay Mitsubishi around $300 million that will be used to slash a third of the Dutch workforce.
Remaining as mainstay of the MCC range is the original two-seater Smart, the ForTwo. On a wheelbase of six feet and overall length a smidgen more than eight feet it's the smallest car in volume production. It's the brainchild of Nicholas Hayek, creator of Swatch, who saw his idea of a tiny city car adopted by Volkswagen and then thrown out by VW chief Ferdinand PiŽch. It was rescued by Mercedes-Benz, who kept its rear-engined layout and upgraded its underpinnings in the wake of the A-Class's infamous encounter with the so-called Elk Test in Sweden.
Last year's production of ForTwos was 73,618, down a bit from 2004's 80,171 but not bad for an impractical dwarf vehicle with an 85 mph maximum speed. In fact the ForTwo has become a must-have fashion accessory in many European capitals. Park-it-anywhere Romans in particular love it. Inspiring comments such as "What did you do with the other half or the car?" the ForTwo does give a reasonable city-center drive in spite of its peculiar herky-jerky quasi-automatic transmission.
One market where MMC's products aren't officially sold is America. Entrepreneurs have sniffed around it since 2004, when NHTSA said it would allow ForTwos to be converted for US sale. As a pre-emptive measure Daimler-Chrysler set up its own Smart USA and began signing dealers, saying that it hoped to sell the now-defunct ForFour in 2005. Though this plan was soon shelved, it served its purpose in discouraging private importers.
Meanwhile the original two-seater Smart went on sale in Canada. It was launched in October 2004 with the modest aim of 1,200 or so yearly. Instead 4,080 ForTwos found Canadian owners in 2005. Through May of 2006 Smart sales were 1,524. Though this is an annual rate of 3,658, sales in May of 456 ForTwos were up 24 percent from the same month in 2005 and hint at an annual rate nearer 5,000. "The Smart ForTwo is cool," said Marcus Breitschwerdt, boss of Mercedes-Benz Canada, "and Canadians really like it."
Would Americans think it cool? Many who've seen them in the 30 countries where they're sold have taken a fancy to the tiny two-seaters. If we apply the time-tested axiom that Canada does one-tenth of America's business, we could see US demand of more than 40,000 Smarts yearly. That would be much the same as BMW's Mini, which found 40,820 American owners last year. And you can bet that the top men at DaimlerChrysler are green with jealousy at the success arch-rival BMW has had with its Mini, not only in the US but also around the world.
In 2007 Americans will be able to buy ForTwos - not the present model but a new version. Instead of the former Smart-dedicated power train it will have a Mitsubishi turbocharged triple under its rear parcel shelf, the same one used in the just-launched four-door Mitsubishi i. It brings the benefit of a much better four-speed automatic box. Most importantly, the ADAC findings suggest that MCC can meet the rigorous quality levels that the American market demands.
Admirers of the tidy ForTwo will be disappointed by the 2007 version. Inevitably, it's bigger. The main difference is in front and rear overhangs; interior space is little changed. Carrying capacity is much as it was first intended: enough for two crates of beer. Charisma-free as compared to the spunky Mini, the future Smart will be DaimlerChrysler's poster boy for alternative drive systems like electric cars and hybrids. Will that be enough to appeal to America's multi-car families? Ulrich Walker sure hopes so!
- Karl Ludvigsen
---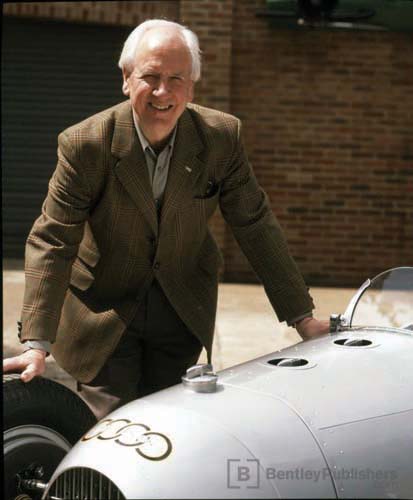 Karl Ludvigsen with a replica of a 1934 A-Type Auto Union
---
Return to Karl Ludvigsen main page