Return to Karl Ludvigsen main page
---
Seasonal Goodbyes (October 2005)
If some of the Formula One teams are riled about the FIA's frequent rules changes, I can't blame them. Rules juggling had a lot to do with the way this season panned out. It certainly caught BAR on the hop. The team that was on a dramatic rise in 2004 tumbled into the also-rans with revised aerodynamics that weren't up to the best of the rest. My colleagues at Autosport tipped Jenson Button as the driver who'd be the spoiler at the end of 2005, whose successes would decide the race between McLaren and Renault - one of the season's major miscalculations.
Now of course the British press is all steamed up about the potential of Jenson in 2006 with the Honda-owned BAR operation. He went straight to Japan, they said, after the race in China, to huddle with the Honda engineers. They thought this was pretty impressive. Seems to me they're overlooking the arrival at BAR of a pretty handy Brazilian race driver. The Rubens versus Jenson show will be one of the most interesting of 2006. I must be one of the few who doesn't think it'll go all the Englishman's way.
Toyota has the potential to be a power in the land of 2006. This year they showed great qualifying form - sometimes with help from a light fuel load - and by the end of the season they were getting their race pace up to speed. I agree with Mike Gascoyne: Toyota needs to start winning next year. But I have my doubts. I don't know if Toyota is hungry enough. I don't see a Briatore, Dennis or Todt at the top of the Toyota operation, a man for whom winning is everything. Toyota is just too darn corporate. Corporations don't win races and championships, people do.
Speaking of men and teams for whom winning is everything, the Williams-Cosworth combo may just surprise a lot of people. Certainly the Cosworth V10 hasn't been disgracing Red Bull Racing, and the V8 is 80 percent of that. By the way, isn't it amazing how the press is now calling the older V8s "Cosworths" when in fact they've always been "Fords"? Talk about fickle! Keith Duckworth always tried hard to make sure that the press called his engines by their rightful names. "I won't be able to get sponsorship for my engines," he said, "if the press don't use the right names."
As for Red Bull, do they have someone at the top who really wants to win? Or is the whole operation no more than a mid-field billboard for Dieter's energy drink? I think the latter. And there'll be two more billboards in 2006 with the junior team, formerly Minardi. That's all they'll be. Even Ferrari-powered, Red Bull will have no podium aspirations. We can discount them as a factor in future seasons.
The other Ferrari-powered team has every chance to regain its momentum in 2006. If the Maranello crew can maintain their testing advantage, and with Bridgestone getting added input from Toyota, they'll be back on the pace. New rules that allowed tire changes would work in their favour, of course, and they may just be on the agenda. Ferrari fans will have plenty more to shout about next season.
As for BMW fans, the jury is out. Will they have lots to cheer or will the takeover of Sauber prove to be one of the worst decisions since Porsche's alliance with Footwork Arrows in 1991? The answer hinges on one of the great unknowns of the Formula One world: just what is Dr. Mario Theissen made of?
We know Theissen is a heck of a salesman, because it can't have been easy to get BMW to shell out to buy Sauber. We're not sure how good he is as an engineer, because somebody in the back room has always been designing the V10s. Is Theissen a racer? We know he has an ego, but is it one that won't be satisfied until BMW is a championship winner? We and the BMW board will give him 2006 to settle in, but by 2007 he'd better be producing.
It's been a frustrating year for one of the proven winners, Ron Dennis, with alarming echoes of 2003 - so near and yet so far. The Woking campaign was grievously undermined by poor reliability, especially in the engines supplied by part-owner Mercedes-Benz. We await with interest and curiosity the shape of the 2006 McLaren campaign, with a new sponsor and renewed motivation. Much will depend on the intensity of commitment to the new car and program by Adrian Newey. Based on past performance, that commitment is by no means to be taken for granted.
I have to smile at Flavio Briatore's comment that he really took an interest in the manufacturers' championship after Ron Dennis said how important it was! Certainly he and his Renault team ended the season with phenomenal flair, splattering egg on the faces of the many who said that Renault had lucked into its titles with a car inferior to the McLaren. It didn't look inferior in China!
What Renault had was a beautifully balanced car and engine, managed by an experienced and resourceful team and piloted by two of the best drivers. Theirs was a phenomenal achievement by the least "corporate" of the corporate teams, a squad run with great verve and vigour and eyes on the main chance. It's a welcome reminder that Grand Prix success doesn't always go to the biggest battalions.
I couldn't be more pleased with the quirk of history that finds Renault holding both championships in 2006, the year in which we'll celebrate 100 years of Grand Prix racing. And who won that first Grand Prix in 1906? Held over the two days of 26-27 June on a 64-mile triangular road course east of Le Mans, six laps each day, its total distance amounting to 770 miles - akin to the distance from Berlin to Paris? None other than Renault. They were the first Grand Prix winner and, as of the end of 2005, the last.
I'll be watching the new season unfold along with the rest of you, with close attention to Autosport-Atlas, but I won't be commenting on it. To my amazement I've been writing my column for six years now. I've enjoyed it a lot and especially appreciated the reactions I've had from my readers. But lately I've been getting more and more into writing books and developing my journalism, so I just can't give the same time and attention to the races and their significance.
So I'm saying my goodbyes to active internet involvement with the sport. I'll still be writing about Formula One; I'm too much of a fan to give up a lifelong interest in the top level of motor racing. Let's hope that it stays that way!
- Karl Ludvigsen
---
Bye Bye Dubayy (September 2005)
Only a dozen miles west of where I live the royal family of the Kingdom of Dubayy - better known as Dubai - bases its European race-horse stud in historic premises at Newmarket, Britain's premier racing center. They call it the Godolphin Stables in homage to Francis Godolphin, the Second Earl of Godolphin, who resided at nearby Cambridge. Shrewdly, the Earl became the owner of a stallion sired in Yemen that had been a gift to Louis XV of France. Known as "Godolphin Arabian", in the mid-18th Century the horse was one of three that sired the modern long-distance racing breed. He was interred in style near the Earl's Cambridge digs.
Architect of Dubai's role in the Sport of Kings is the Gulf state's crown prince, General Sheikh Mohammed bin Rashid Al Maktoum. He's also Dubai's deputy ruler, under his father Sheikh Maktoum bin Rashid Al Maktoum, and defense minister of the United Arab Emirates, of which Dubai is a member. In the 1980s Sheikh Mohammed, also known as "Sheikh Mo", committed his nation's considerable oil resources to his personal passion, horse racing. Wintering his horses in Dubai and bringing them to Europe for the racing season, Sheikh Mo started to make an impact in the 1990s.
In 1992 the Godolphin Stud scored its first major race win. Last year, with a stable some 400 strong, it amassed 128 victories. It's now one of the two largest racing operations in the world, rivaled only by Ireland's Coolmore. It employs Frankie Dettori, the Italian considered the world's best jockey and shows Emirates Airlines as its sponsor. If money can get the job done in horse racing - and it doesn't hurt - with rising oil prices Sheikh Mo will have plenty to splash around. With "The Middle East and the Gulf awash in cash," according to Business Week, Sheikh Mohammed is even setting up his country's own stock exchange. It opened for business on Monday.
Sheikh Mo has two brothers, Sheikh Hamdan bin Rashid Al Maktoum and Major General Sheikh Ahmed bin Rashid Al Maktoum. One of them is the father of a man who cut a major swathe in motor racing last weekend, Sheikh Maktoum Hasher Maktoum Al Maktoum. A genial business-suited man in his late twenties, this triple-Maktoum has burned his brand on a different kind of horseflesh than his uncle. He's the driving force behind the A1 Grand Prix operation that made its bow at Brands Hatch. You've heard the basics: identical Zytek-powered Lolas entered by teams representing nations and piloted by drivers from those nations.
A1 Grand Prix came to Brands with bells on. If as suggested the project has cost the Maktoums £250 million, say almost half a billion dollars, it showed. Its multicolored graphics were omnipresent. Special dressings for the pit garages and a row of offices for the teams in the paddock made the most of the shabby Brands facilities. Unsurprisingly Emirates was one of the on-track advertisers, as was - more surprisingly - RAB Capital, a relatively small London financial-management firm specializing in hedge funds. Otherwise serious sponsorship was conspicuous by its absence, especially on the racing cars. Italy's entry carried large - and significant - question marks on its airbox.
I don't know what the young Maktoum and his aides said to the drivers before the racing, but the result was that one of the most heterogeneous fields of racers in living memory performed with impressive cool. They managed better starts than their Formula 1 colleagues in Brazil and showed exemplary manners on the track. Some of them weren't very good, with teams from Russia, Lebanon and China, but the young Piquet and New Zealand's Matt Halliday were impressive.
That said, A1 Grand Prix doesn't deliver on its premise. If the point of having identical cars is to show differences in drivers, why then are drivers considered interchangeable parts? They can be chopped and changed between qualifying and the two races, leaving the onlooker wondering who's in which cockpit much of the time. People are interested in people; A1 Grand Prix goes out of its way to obscure the role of the driver.
If what we need is a top-level formula that helps display the skills of drivers, we already have it in GP2. It's a far better proposition for this purpose than A1 will ever be, with the added advantage that it gives drivers valuable experience of the tracks used in Formula 1. We've also seen some terrific racing in GP2, something that - in spite of the Monday-morning hype - wasn't all that evident at Brands Hatch. Moreover, I have to agree with BusinessF1 that GP2 is let down by amateurish TV commentary. The magazine suggested that the producers get the proven team of John Watson and Ben Edwards. Guess who has them instead: Sky Sports for its A1 Grand Prix broadcasts.
Of course A1 isn't a real contest among host-country teams. While drivers must be nationals, the personnel of the teams running the car's don't have to be. If Sheikh Mo's stables have been a boon to horse-racing employment, and they have, the same must be true of A1, which relies on experienced teams to operate its cars. They must be counting their blessings that this Dubai-backed project has come along to keep them in gainful employment.
The teams may also be wondering how long and how far this gravy trail will roll. It has some reprehensible attributes. We have, for example, more than enough nationalism to go around already. The last thing we need is another sport designed to set nation against nation. This isn't the first such in the world of cars, of course. A century ago the Gordon Bennett Cup races required every part of the car to be made in the country that it represented. And what was the result of that kind of thinking? Two World Wars in succession, that's what.
Closer to the heart of the sport, however, what I dislike most is that A1 Grand Prix is devaluing the concept of Grand Prix racing. Of course we have "Grands Prix" in other sports, usually to mark contests or series at the highest level. And auto races can and do carry the "Grand Prix" designation even though they're not part of the Formula 1 world championship. Nevertheless, "Grand Prix" has always been associated with the highest form of auto racing, Formula 1, and I resent the way it's been ripped off to serve the commercial goals of this series.
If you think I'm playing Chicken Little, consider this. Radio broadcasts in London were talking about "the British Grand Prix" being raced at Brands. And the track's own billboards proudly proclaimed, "Grand Prix racing returns to Brands Hatch". Such references sharply depreciate the value of "Grand Prix" as an accepted and understood alternative appellation for the pinnacle of automotive sport.
And if that's not bad enough, on the podium the three top drivers were handed huge cardboard checks proudly flaunting their teams' winnings. More than anything else, this crude and inappropriate display emphasized what this new series is all about, what is much more important to it than any sporting aspect: money. Personally, I hope A1 Grand Prix runs through as much of it as the Maktoums and their backers are prepared to spend and then quietly disappears.
- Karl Ludvigsen
---
Measuring My Mojo (August 2005)
I didn't have anything to do with Kimi's stalling at the start of the first race of the year at Melbourne, finishing eighth as a result. I take no credit for that at all. Only after that did I write my Atlas-Autosport column on the subject of world-champion drivers, pointing out the many who have served their sport extremely well and the others - blessedly few - who haven't. It was then that I said that I feared Kimi Raikkonen would fall into the latter camp. For the 2005 season I was willing to back lots of other drivers for the top spot. Indeed, Anyone But Kimi.
So, how have I been doing? Frankly, pretty darn well, considering that I have to fight the considerable might of the combined McLaren and Mercedes-Benz organisations. My campaign started well at the next race, with a failed tire valve at Malaysia that dropped Kimi from fourth to ninth at the finish. I couldn't keep the Finn off the podium in Bahrain, where he was third, but I did arrange for him to take it easy on his engine there. This meant that it had plenty of torque left for Imola, where his Mercedes V10 was stout enough to fracture a CV joint on the eighth lap while he was in the lead.
Looking back, I'm not so sure it was a good idea to put the hex on Juan Pablo Montoya, provoking his "tennis injury". The idea was to destabilise the monolithic McLaren organisation, but fortunately Kimi wasn't able to take advantage of his rival's absence for two races. Instead both Pedro de la Rosa and Alex Wurz had their chances to show that Woking has some pretty handy drivers under contract.
There was naught to be done about Kimi's race from pole to win at Barcelona. In Spain the 8th of May is a powerful date. It was the 1895 birth date of José Gómez Ortega, better known as Joselito, and the 1988 death date of Domingo López Ortega. Both Ortegas were among Spain's finest bullfighters of all time. If Fernando Alonso couldn't turn that to his advantage, what hope did I have? But Alonso did at least succeed in snagging second to keep his lead in the championship.
Then at Monaco Kimi won again, adding to his tally the Grand Prix that many consider the most prestigious of all. I well remember the excitement in the Mercedes camp in 1998 when Mika Häkkinen led the Monte Carlo merry-go-round from start to finish. He joined the pantheon of other Mercedes-Benz drivers who had won on this historic track: Fagioli (1935), Caracciola (1936) and von Brauchitsch (1937). "Monaco for me was the best," he said, "really good fun. The perfect race." Seven years later all Kimi could muster was "To win is always fantastic, but Monaco is a special challenge." Not a lot of emotion from the Iceman.
I hope that somewhere in the extensive McLaren collection the engine that won at Monaco will be preserved on a special plinth. It is, after all, the same engine that won at Barcelona. Two victories in a row from the same identical engine - we haven't seen the likes of that for a long time. This is an aspect of the new season that most of the teams and their engine builders have mastered with some considerable style.
It would have been hard to top the fate I then engineered for Kimi at the Nürburgring. Getting his suspension to collapse while he was in the lead on the very last lap wasn't easy. It's little consolation to him that the FIA has since clarified the rule on what constitutes a "dangerous" tire condition in a way that would have allowed him to make a quick stop to change his flat-spotted right front tire - as long as he didn't refuel at the same time. Had that understanding been clear at the time, Kimi would have collected some valuable points in the European G.P.
In Canada I tried tugging on Kimi's steering wheel to discombobulate his drive, but to his credit he shrugged off my efforts and won. Of course, I had the race on the bag for Renault until Fisichella's car failed and Alonso slid into the barriers. I even had Montoya positioned to take the win until McLaren muffed the pit stops and Juan Pablo forgot he wasn't back in Colombia where red lights have only an advisory function.
Although Kimi's next Mercedes engine didn't get much of a workout at Indianapolis, it cried "Enough!" at the start of the Friday's second practice for the French Grand Prix. I thought this was a pretty subtle way of putting a spanner in his works and I vowed to remember this for the future. The cheeky Finn confounded my scheme, however, by finishing second at Magny Cours and setting the fastest lap. Luckily they no longer award a point for that. With Mister Alonso winning, things were looking good.
The engine-breaking-during-practice idea worked well at the British G.P., this time writing off a fresh engine on the Saturday. The dreaded Kimi set fastest lap again, on his final tour, and placed third behind Alonso. He took his race engine to Hockenheim, which in its new format no longer metes out the power-train punishment it used to. But a hydraulic-system failure marked a nice change of pace in my efforts to hex the Finn's season. Afterward he said, "It seems like I have had my fair share of bad luck this season." Darn right!
With a factory-fresh Mercedes V10 plugged into the back of his McLaren, there wasn't a lot I could do to queer the Iceman's pitch in Hungary, where he lived up to his name in a hot race to take the victory. My efforts erred in taking out Montoya instead with another drive-shaft failure. Sorry 'bout that, Juan Pablo! Now during the three-week break until Turkey I'll have to be thinking about ways to put the kibosh on his engine, which will be idle while awaiting its second outing. At the Nürburgring BAR showed that a five-week layoff doesn't necessarily harm an engine's reliability, but then I wasn't targeting them!
"We will not sacrifice pace for reliability," was Ron Dennis's take on his team's embarrassing failure rate during the season. That's reassuring, for a team that balances pace and reliability, like Renault, looks most likely to take the driver's crown this year. Another team that has the same reputation, Ferrari, seems to have found its feet - or its tires - at last. And BAR-Honda are generating some momentum after the appalling start to their season. For the rest of the year my anti-Kimi campaign won't need much attention. The other guys will be taking care of it for me.
- Karl Ludvigsen
---
The Real Culprit for the US Grand Prix Fiasco (July 2005)
Everybody's been blamed for the problems that produced such a sham of a United States Grand Prix. Michelin took a big hit, as did the Michelin-shod racing teams. The FIA has been blamed for not bending its rules to allow a chicane to be built. Bernie's been in the firing line for not engineering some kind of compromise that would permit a real race to be run. Even the drivers have been blamed in some quarters for not being more helpful in the crisis that was Indy.
But the real culprit hasn't been named. The party most to blame hasn't even been mentioned. Most responsible of all for the charade that was the US Grand Prix was the track itself. The Indianapolis track is a dangerous joke.
Grand Prix cars don't like fast bankings. That the decision was made to create the track we're using in Indiana is the heart of the problems that made the weekend such a disaster. Evidence for my assertion is in ample supply. To be sure, most of it comes from Monza. In 1955 the track in the park north of Milan completed a high oval banked track that could be used on its own or in connection with the road circuit. The first time it was used in the latter manner was for the Italian Grand Prix in 1955.
To accustom the GP cars to the new banking they drove on this alone during the Thursday practice. The Lancia D50s, which had just been handed over to Ferrari to race, were immediately in trouble with their Englebert tires. Nino Farina had two tires fail on the bankings, one at 170 mph that produced a horrendous spin that clouted the Armco and shook up the usually imperturbable Farina. Englebert finally said it was unable to supply tires that would meet the challenge of the bankings.
An initial proposal was that all the teams be made to stop at half-distance for fresh tires, but this wasn't implemented on the day for the 312-mile race. Nor could the Lancias be run on other tires, according to their contract with Englebert. Dunlop offered to help, but this was refused. Thus all three Lancias had to be withdrawn, knocking out the cars that could best have carried the fight to the all-conquering Mercedes-Benz.
In the two races that were run on the banking alone, 500-mile events run in three heats in 1957 and '58, the GP cars were far outpaced by the imported Indy cars, purpose-built for speedway use. In 1960 the Monza organizers again ran their Grand Prix over the full circuit. The British teams took umbrage, saying that tire changes would be needed and they'd long ago given up their knock-off hubs. As well, they considered the bumpy banked track to be dangerous. It was their decision alone, but the Italian papers blamed Britain's sporting representative, the RAC, for their absence. It's nothing new to have the sporting authorities blamed!
As a result, the 1960 Italian Grand Prix was raced by only nine pukka Formula One cars, of which the three works Ferraris were by far the class of the event. Filling out the field were seven Formula Two cars, roped in to make up the numbers. The Dino 246 Ferraris finished one-two-three, led by Phil Hill in his first Grand Prix victory and marking the last time a front-engined car won a Championship Grand Prix. Not surprisingly, the crowds were muted during and at the end of this success for their home team. The usual mobbing of the cars and drivers at the finish was conspicuously absent.
The 1960 race at Monza is all too reminiscent of what happened at Indy. The difference, of course, is that the concerns of the British teams were known before the Italian race, giving the organizers a chance either to give in, and run the race on the road circuit alone, or - as they did - to fill out the field with cars from a lesser Formula. Nevertheless the two Monza races uncannily foreshadow what happened at Indy. There's just a profound antipathy between Grand Prix cars and banked tracks.
The Indy experiment has failed, and for good reason. The track itself is at fault. I include the road portion, which is a cruel joke. After they first ran the race there, I thought that surely they'd change the infield track's design, perhaps extending the first part and doing away with the stupid go-kart section that precedes the banking. But no, we've had to struggle on with a terrible track that's heartily disliked by both drivers and engineers. As for its vaunted safety, you can ask Rubens Barrichello and Ralf Schumacher about that.
Grand Prix racing only deserves to survive in America if the Americans can come up with a decent road circuit in an area of high population and press interest. I don't exclude the possibility of a real-road circuit, though it will be difficult to meet the safety standards required by racing in the 21st Century. Recent single-seater visitors to Watkins Glen found that even after extensive improvements the historic track offered some daunting safety challenges.
I don't pretend to have the answer. But I do know the question, and that is: How soon can we escape from this awful Indianapolis?
- Karl Ludvigsen
---
Expectation Fulfilled (June 2005)
As self-appointed chairman of the Stop Kimi Club I took a lot of satisfaction from the last lap of the last Grand Prix. Again we had three authentic Nice Guys on the podium. This was the first real race of all the contestants this season, with Montoya back in the saddle, Ferrari with its latest equipment and BAR back in the fight on a track that didn't greatly favor one team over another. It was a result that said that - Monaco excepted - Renault has the hang of the new tire rules, BMW Williams is getting its act together and Ferrari will still be a force with which to reckon.
Speaking of Monaco, what a relief it was to get away from the Principality with all its hype and posing to the uplands of Germany's Eifel region with its cows, campers and caravans. I mean, diamonds on helmets and Star Wars characters in the paddock - give me a break! As well, the change from Monaco to Germany showed what a difference a TV director can make. At the 'Ring we had tremendous coverage of an action-packed race, not least with multi-angle replays. As Monaco proved, it's no use having all these battles up and down the field if the director doesn't want to show them to us.
One expectation for the new season has been fulfilled in generous measure in the latest races. I refer to the forecast, back in February, that drivers and teams may tend to blame their tire providers for any drop-off in car performance. Making this prophecy, Michelin's Pierre Dupasquier said that the responsibility for maintaining rubber in good shape throughout a race wouldn't be the sole responsibility of the tire markers.
"For tire suppliers," said the Michelin front man, "there is a risk that drivers and engineers will have an inclination to blame their tires for any performance drop-off as a race nears its conclusion. But the key thing is to devise a set-up that allows a set of tires to last a full race distance. Clearly, some teams and drivers will manage this better than others - even if they are running identical compounds. Traction control will be critical, too. If a system generates too much wheelspin through being incorrectly programmed, it could ruin a set of tires by mid-race.
"We don't yet know how temperature fluctuations and different track layouts might affect the latest compounds," Dupasquier added back in February. "People talk blithely about the new-generation tires being 'hard', because they equate that with durability, but reality is not that simple. By nature, harder tires last longer but they don't generate a high level of grip. That causes a car to slide around, which accelerates tire wear. It's a vicious circle."
What predictions these were! Three months later they look perceptive indeed. True to Dupasquier's expectations, teams have indeed been blaming their tires for many of their problems of pace and reliability. The Frenchman's warning was, obviously, in the context of his company's participation in racing. Back in Clermont-Ferrand his executives from Edouard Michelin on down won't be thrilled if in race after race the problems of teams with poor setups and strategies are attributed to their tires, as if they and they alone were to blame for poor results. This could place in jeopardy the continued support of Formula One racing, not only by Michelin but also by any other tire producer.
To be sure Bridgestone, after the problems experienced by Ferrari in Malaysia, fell on its corporate sword and accepted responsibility for poor performance. Famous as it is for its close relationship with the Italian team, Bridgestone won't be wanting to accept the blame for its mid-field running much longer. After its latest tests of new compounds it should have found the right formula in time for the North American races. It had better, for the new qualifying format has placed a fresh premium on both one-lap prowess and a good finishing position in the previous race.
Speaking of Japanese companies, isn't it impressive how well the Europeans have counterpunched? Thanks in no small measure to Honda's past achievements, there's a perception around that when the Japanese come into Formula One they're very hard to beat. It's only a matter of time, some say, until Toyota tops the heap.
You wouldn't guess it from the results at the 'Ring. In the European Grand Prix's points-scoring positions the only Japanese achievements were third for Bridgestone and a lowly eighth for Trulli's Toyota. The Europeans hogging the limelight included Michelin, Renault, Williams, BMW, McLaren, Mercedes-Benz, Ferrari, Red Bull and, remarkably, Cosworth. This is a pretty impressive performance for the Old Guard of Formula One. Renault, after all, won the first-ever Grand Prix race 99 years ago! Louis Renault, a great racing enthusiast in his youth, would be proud of what his company is achieving 61 years after his death.
- Karl Ludvigsen
---
Test Tracks: No Longer The Answer (May 2005)
I recently had a tour of the McLaren Technology Centre at Woking, south-west of London, after a photo shoot of the 200-hp "Blitzen" Benz that's been restored for Mercedes-Benz. This was my first visit to Ron Dennis's new complex, which is certainly impressive. Its interiors have the sleek elegance of the space-ship interiors in "2001", although they've been cluttered up with a lot of second-rate sculpture in an apparent effort to add warmth to its self-consciously austere architecture.
I found it less ginormous than I expected. The kidney-shaped building is divided into four main sections. The first two, taken up by McLaren Racing, include the wind tunnel and are rather larger than the others. Adjoining them is the next section in which McLaren makes road cars - at present the Mercedes McLaren SLR. We saw car numbers 509 through 518 being assembled, but actual production for sale is just over 400 cars so far. The first 100 were used for testing, crashing and the like. The SLR's reinforced-plastic parts are made in Portsmouth by McLaren Composites and complex parts with high labor content are fabricated in South Africa. The cycle plan is for 3,500 SLRs to be made over a six-year period.
In the last and smallest section are the McLaren Group offices and those for Electronics and Marketing. Concourses with viewing onto the lake give access to the various sections with - needless to say - ultra-modern security everywhere. One visitor who'd been there for a few days found the omnipresent cameras oppressive, bordering on paranoia. You'll be astonished to know that we couldn't run the Benz very much because they were worried about the noise from its exhaust! It's noisy, all right, but not that noisy.
What's this got to do with the price of fish in Barcelona? Only that McLaren's spending on this elaborate building attracted some criticism there from FIA president Max Mosley. Without naming names, Max said, "I wouldn't have spent the money on an HQ, I'd have spent it on a test track." Out of the hundreds of millions that he thought the building cost, said Mosley, "they could have said, we'll spend $30 million on a simple test track with no pits or anything like that, and had a slightly smaller headquarters." This was against the background of Ferrari's test tracks at Fiorano and Mugello and the current controversy over testing mileage.
This got me wondering about the value of factory test tracks in the context of Formula One racing in 2005. In the past, they've been useful. One of the pioneers was Chaparral Cars, for which Jim Hall and Hap Sharp built a 2-mile track in Texas that they dubbed "Rattlesnake Raceway", not without good reason. A huge advantage was secrecy for the development and testing of the radical Chaparrals, which came exploding out of Midland to startle the world. A disadvantage, however, was lack of representativeness. John Surtees noted this when he spoke about a new Chaparral model which, he said, "is extremely quick around certain kinds of corners but unfortunately we don't seem to find those corners on the tracks where we race."
Another racing team with a track in its front yard was Lotus, which at the end of 1966 moved to Hethel in Norfolk. Its new headquarters was next to the runways of a former US 8th Air Force base whose perimeter roads provided 1.5 miles of test track. This was adequate for testing road cars and for shaking down racing cars but I don't believe it was ever taken seriously for Formula One testing and development. Lotus still went down the road to nearby Snetterton, at least, for that sort of thing.
Then there are the racing teams that base themselves at circuits where, barring their use for meetings, they have quick access for testing. Silverstone finds Jordan just across the road, for example. In its most expansionist mood Ford's Jaguar was planning to move all its operations to Silverstone, but that didn't come off. Ligier moved its base to Magny-Cours, to be next to the track, and Larrousse did the same at Paul Ricard. I hardly need to point out that having tracks on their doorsteps didn't prove to be the magic bullet for sustained success for any of these teams.
The need for a captive track for testing is probably less now than it's been for a long time. Every engine builder has dynamometers capable of durability testing under any required combinations of speed, load and even lateral g forces. Hydraulic shake rigs put the chassis to the test. Brake dynos dish out severe punishment. Simulation techniques - one of the biggest areas for investment in today's teams - can forecast the behavior of most components of the vehicle on the circuits that are now in use. The corners and surfaces on one particular test track won't give adequate comparability with Tilke's bizarre combinations of curves.
To Barcelona a number of teams brought new aerodynamic components that were still warm from their molds as a result of their wind-tunnel tests. They hadn't been track-tested because they didn't need to be. Improved tunnel calibration by such teams as Toyota and Sauber-Petronas has rendered testing less necessary. One of the teams that brought out a suite of new body bits was McLaren-Mercedes, fresh from the tunnel and composite shop. They seemed to have worked pretty well. Maybe that expensive new headquarters in Woking is starting to pay off.
- Karl Ludvigsen
---
Mosley: Problem or Solution? (April 2005)
We had a humdinger of a race on Sunday. It was just great to come back to Imola, where the demons of 1994 have at least been exorcised. Although an artificial track, it's one of the closest we have to a real road circuit, with plenty of grades, hazards and curbs. There aren't any artificial passing zones, so the action we saw on the track was all the more impressive. It showed off the skills of today's racers in a most attractive way.
And the racing! Unusually these days, a Grand Prix made the front pages of the sports sections. It deserved to, because we had close and exciting competition up and down the field. The results and points had something for everybody - everybody, that is, except Williams-BMW fans. What on earth is ailing the team from Grove? And it was good to see Jacques Villeneuve enjoying his racing for a change. If he sticks around - as I hope he will - it looks like he'll have BMW power next year.
So whom do we have to thank for this exciting start to the 2005 season? Who's responsible for having shaken up the starters to give Formula One a fresh new face that hugely enhances its attractiveness? Why, none other than Max Mosley and his FIA. Max and his technical team came up with the swathe of changes to aerodynamics, tire regulations and engine-use requirements that forced all the teams to return to their drawing boards - if they still have any - to re-scheme their cars and strategies for the new season.
The non-red teams admitted that only the rules shakeup allowed them to get to grips with Ferrari. Renault has roared right out in front, and Toyota is very much in the running. BAR is recovering from its early-race disasters to resume its place at the front of the field, while McLaren-Mercedes look like getting back its sparkling form of a few years ago. Ferrari and Bridgestone are fighting back, thanks to their in-house tracks and drivers, much to the irritation of teams that have agreed testing restraints. Nevertheless the other guys have more steps coming, as the new rules are better understood and exploited. This could shape up as one of the most competitive seasons ever.
And yet, as Autosport-Atlas readers know, the man who engineered this scintillating season is the bogeyman of Formula One, at least according to self-styled team spokesman Paul Stoddart. "The teams and manufacturers don't have a problem with the FIA," Stoddart told Jonathan Noble at Imola. "All they have wanted is independent governance, a referee. We want stable technical regulations but we are not getting them, so we think the FIA should administer the regulations but not make them. It is very simple."
It may be simple to Paul, but it's not so simple in the real world of Formula One. If the teams are going to make the rules they have to agree unanimously, and that's almost impossible to achieve. In one memorable meeting they couldn't even agree on what kind of sandwiches to have for lunch. Besides, the regulations shouldn't be up to the existing teams alone. On April 15th the FIA said that it would be soliciting views on new rules from "stakeholders - which include Formula One Management, race organizers, race promoters, current drivers, potentially competing teams and potential engine and tire suppliers." Rightly, the FIA - read Mosley - feels that people who might wish to join the Grand Prix circus should have an input to the rules. Of course this isn't at all attractive to those who are already in the club.
Mind you, the key stakeholders, says the FIA, will be those "who confirm their commitment to the 2008 FIA Formula One World Championship." At the moment that's one team, Ferrari, with Red Bull and Jordan keeping their options open. Those were the three teams that are understood to have attended a meeting of the FIA earlier this month to discuss future rules. This was ridiculed by Paul Stoddart, who said that "The line has really been drawn in the sand now. When you have five manufacturers and the two oldest established independent teams not going, that sends out a clear enough message." To me it sends the message that those teams are behaving childishly. Their absence from the talks simply means that they'll have less of a chance to contribute to new rules.
The Stoddart brigade seems to be relying much too much on the declared intention of some of the car makers to set up a so-called "breakaway series" from 2008. Let's set aside the issue of whether the Grand Prix world has anything to learn from the gruesome consequences of the CART-Indycars split. Like Max Mosley, I have little faith in the long-term commitment of the car makers to Formula One racing. When they started their project, both Fiat and Ford were major members of the group. Ford's Richard Parry-Jones was a key negotiator on their behalf. Now they're gone, as is Jürgen Hubbert, who on the Mercedes side was an important personality. The official group is down to Renault, BMW and Mercedes with Honda and Toyota lending unofficial support. I don't find that terribly convincing. The Germans in particular could pull out of the sport at any time.
Speaking on behalf of the teams, Paul Stoddart is keen to blame all the sport's political problems on one man. "If Max resigned tomorrow you would have harmony in Formula One instantly, amongst everyone, and we all know that," he said at Imola. "The problem is not the FIA, it is not Bernie, the problem is Max." He and the rest should realize that Max is not the problem, he's the solution. The sooner they wake up to that the better for the sport.
- Karl Ludvigsen
---
One for the Good Guys (March 2005)
How was that for a podium? For a post-race press conference? I couldn't have been happier seeing those faces and those suits. This was a race result - and points standings so far - for the good guys.
Renault has established a pleasing persona for its Formula One effort. It helps to have Flavio Briatore fronting it, of course; he brings a lot of style and enthusiasm to whatever he undertakes. Also, of course, as the results show he's a no-nonsense manager who concentrates on the essentials. But there's a likeability about the Renault campaign that's extremely appealing. Seeing their Tonka-toy-colored racers topping the constructors' championship is immensely agreeable.
Then to have Fernando Alonso winning at Sepang after Giancarlo Fisichella's victory in Melbourne means success for one good guy after another. The saucer-eyed Spaniard is deservedly one of the paddock's favorites. Rarely moody, always engaging and with a good word for everybody, he's a breath of fresh air at the top of the drivers' points. And to boot he's electrified an emotional nation that has a lot to bring to the world of Formula One.
Nor would anyone begrudge Toyota its first-ever podium. Big budget or no, the Toyota team has never tried to do a Jaguar, never put flash before substance. Its persona is still that of Gunnar Andersson, the quiet Swede who set it up in the first place, believing in the Scandinavian style that actions speak louder than words. This heads-down demeanor has earned Toyota the respect, if not the affection, of the Grand Prix world. Only the self-styled Grandee teams will resent this intrusion into their domain by upstart Toyota, which for the first time looks capable of a season-long assault on podiums.
And in the seat of that Toyota, another authentic good guy, Jarno Trulli. Toyota has stepped up to the challenge of providing a car that suits this fast driver and likeable personality. There was no lack of sympathy for Trulli when he was shown the door at Renault, and it's great to see him bouncing back with a good car under him. This was a highly motivating performance for Jarno and his team, with Ralf in fifth place.
And then Nick Heidfeld in third! We just knew that a racer who did so well against Raikkonen when they were both at Sauber had a lot to contribute, and at Sepang he proved it with a racy drive that saw him - unlike his BMW-Williams teammate - engaging in close-quarters passing and repassing without sacrificing his car or his track position. A McLaren-Mercedes reject, Heidfeld is an authentic good guy. It was great to see him on the podium.
Also qualifying as good guys are Red Bull. Lying an astonishing third in points, one point ahead of Ferrari, the Austrian-backed outfit brings a fresh approach to the game that has revitalized David Coulthard and allowed Christian Klien to show to best advantage. Their clean one-sponsor livery is the freshest and handsomest in the game. I don't expect Red Bull to stay up in third place, but I do expect them to carry on confounding some of the biggest names in the sport.
Some of the former good guys are wearing black hats. Jenson Button's tantrums after Sepang show us that he's not the staunch contributor to the BAR-Honda effort that we though he might be. Can you imagine Michael Schumacher moaning in public about his team's performance the way Jenson did? The whole point of Michael is that he's calm and positive with the press and critical and constructive with the team. Button has a heck of a lot to learn about being a team leader.
As for the yellow cars, I hardly know what to say. Though freshly Toyota-powered, they're just going through the motions. Because of - and often in spite of - Eddie's antics the Jordan team was one of the paddock's good guys. The new outfit has totally blown that good will. And I'm not optimistic about their future. Successful though Gian Paolo Dallara has been in other formulae, I doubt that he'll be up to Formula One speed in 2006. The sport is being dumbed down by its new rules, but not that much. I hope he proves me wrong!
Finally, I wonder if the Formula One world really appreciates what Honda and Bridgestone did after Sepang. In this sport we're used to every kind of buck-passing and obfuscation. In public, no one wants to admit responsibility for anything. Even behind the scenes coverups and blame-culturing are the order of the day. Against this background the forthright apologies rendered by both Honda and Bridgestone are astonishing. Both bowed deeply from the waist to admit that they got it wrong big time in Malaysia.
This is not an action taken lightly in Japan. Corporate chiefs who've had to apologize for poor performance have committed hara-kiri. When such an apology is made it is sincere and founded on a deep sense of responsibility to a customer or a task. Even Jenson Button should understand that.
- Karl Ludvigsen
---
Anyone But Kimi (February 2005)
We've been pretty darn lucky in our world champion drivers so far. There've been 27 so far, and scarcely a dud among them. This has been a boon and a blessing for Formula One racing and its world-wide reputation.
Among our champions are some of the greatest men in the modern history of motor racing. The multiple champions in particular stand out as great sportsmen as well as racing drivers. Nothing I could say would add lustre to the stellar reputation of Juan Manuel Fangio as both man and racer. Throughout his lifetime he was rightly respected as the doyen of the sport for his honesty and rectitude as well as his unmatched achievements on the track.
Other multiple champs who've left their mark on the sport include Jackie Stewart, who raised the drivers' game in terms of both professionalism and safety. Four-time champion Alain Prost wasn't nicknamed 'The Professor' for no reason. He was as savvy a driver as has ever taken the wheel. Prost doesn't deserve to be remembered as a failed team chief. Triple champ Jack Brabham introduced a shrewd new appreciation of chassis tuning to the sport as well as a new legend of success in a driver's own automobile. 'Black Jack' was and is a man of tremendous stature.
Jim Clark? What can be said - the very picture of the modest champion and promise unfulfilled. The same could, I think, be said for different reasons of Mika Häkkinen. Epitome of the hard trier who made it look easy, Graham Hill spoke for the sport both on and off the track. Two who were known as much for forceful determination as well as sheer speed were Niki Lauda and Ayrton Senna. Neither was lacking in ego but both gave a great deal back to the sport that had enriched them.
The first double champion, Alberto Ascari, was a demon on the track and a 'bourgeois Milanese' at home. As such he had a lot in common with another double champion, Emerson Fittipaldi, who remains an exemplar of sheer enthusiasm for motor racing as does his countryman Nelson Piquet. We now know what dedication Piquet brought to his teams during the heyday of his triple-crowned career.
Among our singleton world champions are some of the sport's greatest ambassadors. John Surtees, Phil Hill, Jody Scheckter and Damon Hill are men who stand for excellence in everything they undertake. And as for Mario Andretti, Formula One is lucky to have him listed among its champions. Mario alone lifts the other 26.
Love him or loathe him, Michael Schumacher has burnished the champion's crown. He's had his errant moments - for which he's been punished - but over more than two decades of racing, who hasn't? As a family man he's matured to a more relaxed and even amusing demeanour that does motor racing proud, without losing that special edge and concentration that has brought him seven world titles.
And then there are the one-offs, the men whose presence on the list of 27 is a bit of a surprise, in some cases even an aberration. Mike Hawthorn is the first of these, along with Jochen Rindt unable to tell us what he'd be like as a reigning world champion. Denny Hulme and Alan Jones are others, forceful Antipodeans who were in the right place at the right time. At the raffish end of the scale are James Hunt, Keke Rosberg and Jacques Villeneuve. I see them as takers rather than givers where the world championship is concerned. That doesn't make them less interesting as people but none would be ranked as a great representative of the sport.
Which brings me to our current contenders. Among those jostling for title success around and after Michael, and who have the machinery to make their mark, are Rubens Barrichello, Juan Montoya, Kimi Raikkonen, Giancarlo Fisichella and Fernando Alonso. How would we rate these as racers and men? Who would make fine world champions? All of them would, save one.
I've gone right off Kimi. After Brazil in 2001 I hailed his arrival on the scene, calling him 'The Real Deal'. I thought then that he had what it took to get to the top. He proved it in the 2003 season. But Raikkonen hasn't worn well. What looked like calm forbearance now smacks of selfish petulance. His monosyllabic grunting is a bore. And his off-track behaviour isn't promising. I realise that on the club scene the New Big Thing is whipping it out, and I suppose if you're making $19 million a year you'd be tempted to flaunt that 'Mine's bigger than yours'. But it's unprecedentedly sleazy for a world championship contender.
So in this and future seasons I'll be urging on the other contenders. I'll be putting the hex on one particular McLaren-Mercedes. I'll be cheering on the next world champion. As long as it's Anyone But Kimi.
- Karl Ludvigsen
---
When the Flag Drops… (January 2005)
I've just had a note through the post from BMW Williams F1 with their last press-kit materials for 2005. They sign off very nicely: "We're looking forward to an exciting season!"
So am I!
I've spent the winter doing my best to ignore the political hassles that are bedeviling Formula 1. Fortunately we have great writers who are keeping track of all the maneuverings among Bernie, the banks, the teams and the car makers. I can't say I'm not interested, but for me it's what happens on the track that counts. So I couldn't be more relieved that at last we're ready for action. The off-season blathering will come to a temporary halt.
Wasn't it Jack Brabham who said, "When the flag drops, the bullshit stops"? We don't drop the flag any more, but when those lights go out, the truth turns on.
What makes this season so interesting is that we have so many changes. The cars, for one thing. Teams have been working hard to recoup downforce lost after changes to wing heights and aero rules at the rear, but few will have made up the shortfall by the beginning of the season. Here's one area where we'll see a lot of changes during the year as wind tunnels keep grinding out new solutions (Williams and Sauber hope so) and as designers get a look at what their rivals have done. Not until San Marino at the end of April will we have a good feeling for the way the year will shape in this department.
Then there are engines. The ins and outs of the two-weekend durability rule are exercising the best minds in the business. There's a temptation to try a banzai approach, but in the first races everyone is well aware of the importance of points-gathering through reliability, so I doubt that we'll see much of that. Sepang will be the moment of truth. "I don't think anybody's on top of the two-race engine yet," said Ferrari's Ross Brawn a couple of weeks ago. "Certainly we're not." So the engine men have their work cut out.
So, obviously, do the tire makers, with one set having to last through qualifying and the race. "I think that's going to be a really interesting element," said Brawn. "The end of the race is going to be really exciting" as we find out who has preserved tire performance and who hasn't. I see that Pierre Dupasquier of Michelin is begging us not to blame the tire makers if their users perform poorly. He has a point; race commentators will be all too prone to speak of the "tires going off" as if it were the fault of the rubber producer. Across the spectrum of a given tire maker the difference will indeed have more to do with car setup and driver skill.
One reason the end of a race could be more exciting is that speed differentials could be big enough to permit passing. Last year Ferrari took part in tests to find out how much of an advantage one car had to have over another with today's aerodynamics in order to complete a pass. The tests concluded that the difference in lap times of the two cars had to be at least two to three seconds. With less, there was no chance of passing. Differential tire deterioration could create just such margins near the end of the race, giving more overtaking opportunities to shrewd drivers.
I'm prepared to give the new qualifying procedure a chance. My main hope is that the Saturday low-fuel qualifying is exciting enough to ensure that there's TV coverage, because we need that as a preliminary to the race proper. The new setup will be an intriguing blend of the previous qualifying methods, keeping the teams plenty busy on Sunday and giving us bench racers a lot to mull over. I'm looking forward to seeing how it works.
As far as the teams go, there's definitely a sense that some are closing the gap with Ferrari. "McLaren and Renault are looking the closest on their race simulations," said Ross Brawn as the testing weeks drew to a close - "about the same as us." That could promise some close racing. And if a troubled winter promises a good season, as has often been the case, we can expect better efforts from BAR Honda and BMW Williams. And I'm looking for some serious surprises from Toyota.
Speaking of Toyota, we couldn't have more interesting driver matchups than we do for 2005. Barrichello will be pushing Michael hard in the red cars. "Rubens keeps Michael sharp," said Ross Brawn. "He's looking at Rubens's data." Over at McLaren-Mercedes we have the most-hyped pairing in Grand Prix racing since Senna and Prost at the same stable. Interest couldn't possibly be higher in the way that combination will work. It's the same at Renault, where Alonso and Fisichella are tremendous talents. Overall, of course, the problem is that these pairings will take points off each other while Michael will harvest more than his fair share. That's why it's so hard to bet against his winning yet another world championship.
And then there's considerable interest in the outlook for veterans Coulthard and Villeneuve in their respective teams, which we have to rate as mid-field contenders. Can either of them have a few starring moments with Red Bull-Cosworth and Sauber-Petronas respectively? Finally we have a handful of rank newcomers to Formula 1 driving Jordan-Toyotas and Minardi-Cosworths, now that a last-minute deal has secured their Superlicences. We hope that some have the power to impress.
"I have the feeling that it's going to be a tough year for us," summed up Ross Brawn. While wishing Ross well, his closest rivals will be hoping he's right. We'll get our first hint of whether that's true in Melbourne, when the metaphorical flag drops…on the longest season in Grand Prix history.
- Karl Ludvigsen
---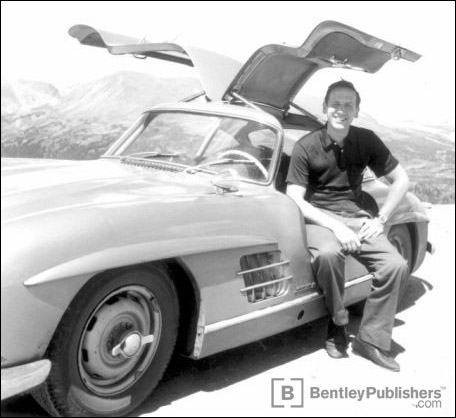 Karl Ludvigsen with his 1955 Mercedes-Benz 300SL,
Rocky Mountains, 1959
Return to Karl Ludvigsen main page