The Jungle

Hardcover, 8 1/2 in. x 5 3/4 in.
343 pages
ISBN-13: 978-0-8376-0400-8
Price: $20.00

Upton Sinclair made his reputation with The Jungle, the most powerful muckraking novel in American literature. His shocking revelations about the meat packing business triggered the investigation of the industry by the Roosevelt administration in 1906, and led to the passage of the Pure Food and Drug Act the next year.
"In this book the author has vividly portrayed life in the Chicago stockyards and his revelations are so shocking and revolting that one cannot read them without being filled with horror...The central figure in the story is Jurgis Rudkus, a poor Slav immigrant, who comes to the new world to make his fortune. He is accompanied on his venture by his father, Ona Lukoszaite, the girl to whom he is engaged, and her family... Their experiences are harrowing in the extreme; they are cheated, abused, and oppressed on every hand, suffer privations of every kind and find death a blessed release when it finally ends their sufferings... Throughout the story the dominating influence of the trades' unions is strikingly illustrated and futility of a working-man's struggle against them." -Reader's Digest of Books
"The Jungle was designed as a weapon. The author hoped it would serve The Revolution - which seemed to him in 1906 to be marching just around the corner. He did not intend it to be a work of art, and any attempt to consider it as a specimen of belles lettres would be preposterous. As things turned out, his novel became a useful tool in a moderate but long-sustained drive for reform.
"Sinclair's stomach-turning account of the way meat was handled in the Chicago slaughterhouses churned up one of those rare surges of public indignation which no politician can ignore. Long before his book appeared a good many voters had suspected something was wrong in the packing industry, because hundreds of American soldiers had sickened on embalmed beef during the Spanish-American War. Now The Jungle confirmed their suspicions and worse. They looked with horror at the corned beef on their dinner tables and promptly wrote to their Congressmen. Before the year was out Congress passed its first law to regulate the meat, food and drug industries. No other American novel, before or since, has ever produced such fast action." -John Fischer
from Dissertations by Mr. Dooley (1906) -
"'Dear, oh dear,' said Mr. Dooley, 'I haven't been able to ate annything more nourishin thin a cucumber in a week. I'm grajally fadin' fr'm life. A little while ago no wan cud square away at a beefsteak with betther grace thin mesilf. To-day th' wurrud resthrant makes me green in th' face. How did it all come about? A young fellow wrote a book. Th' divvle take him f'r writin' it...
"'Tis a sweetly sintimintal little volume to be r-read durin' Lent. It's had a grand success, an' I'm glad iv it. I see be th' publishers' announcemints that 'tis th' greatest lithry hog-killin' in a peryod iv gin'ral lithry culture. If ye want to rayjooce ye'er butcher's bills buy Th' Jungle. It shud be taken between meals, an' is especially recomminded to maiden ladies contimplatin' their first ocean voyage." -Finley Peter Dunne
"Here it is at last! The book we have been waiting for these many years! The Uncle Tom's Cabin of wage slavery! Comrade Sinclair's book, The Jungle! And what Uncle Tom's Cabin did for black slaves, The Jungle has a large chance to do for the white slaves of today...
"It is alive and warm. It is brutal with life. It is written of sweat and blood, and groans and tears. It depicts, not what man ought to be, but what man is compelled to be in this, our world, in the Twentieth Century..." - Jack London
"I aimed at the public's heart and by accident I hit it in the stomach." -Upton Sinclair
Bentley Library-Bound Standard Fiction Reprints are printed on high-quality 55-lb. book paper. The bindings are sewn, not glued, and each book is covered with a sturdy water-resistant Pyroxylin library binding. This high-quality construction ensures that these books will last for many years.
Return to Linnaean Press home page.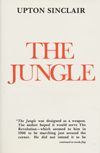 Sinclair/Jungle
Wholesale Case Quantity: 1
BSIN
: 3SIJ
ISBN: 0-8376-0400-1 (ISBN-10)
ISBN: 978-0-8376-0400-8 (ISBN-13)
Permalink
: http://www.bentleypublishers.com/c/3SIJ