Oblomov

Hardcover, 8 1/2 in. x 5 3/4 in.
317 pages
ISBN-13: 978-0-8376-0451-0
Price: $22.00

Any list of great Russian novels of the nineteenth century must include Ivan Goncharov's Oblomov, whose protagonist Oblomov became a famous literary character in Russia. The indolent Oblomov, whose servants steal his money and whose friend steals his fiancée, was perceived as the archetype of the lazy, ineffectual civil servant and the embodiment of the slothful landowner. "Oblomovism," a term invented by Oblomov himself, became a byword in the Russia of the 1860s.
Now, for the first time in many years, this classic of Russian literature and masterpiece of satire by the famous contemporary of Turgenev and Dostoyevsky is available in a hardcover edition.
"Oblomov is a nineteenth century Russian landowner brought up to do nothing for himself. He, like his parents, only eats and sleeps. He barely graduates from college and cannot force himself to do any kind of work, feeling that work is too much trouble for a gentleman. His indolence results finally in his living in filth and being cheated consistently. Even love cannot stir him. Though he realizes his trouble and dubs it 'Oblomovism,' he can do nothing about it. Eventually his indolence kills him, as his doctors tell him it will." -Frank Magill, Cyclopedia of Literary Characters
"The art of the writer is shown by his skll in keeping our interest and respect for a man of fine and noble instincts destroyed by an apathy which has dissovled the very substance of his will." -Outlook
"Oblomov, according to so excellent an author as Maurice Baring, connotes quite as much to the Russian mind as does Pecksniff to the English or Tartuffe to the French, and he is oftener on their lips - perhaps because he is so universal among them. Oblomov is the personification of inertia. Goncharov tells his story with a degree of interest which he owes in part to his patterning after French models." -Springfield Republican
Bentley Library-Bound Standard Fiction Reprints are printed on high-quality 55-lb. book paper. The bindings are sewn, not glued, and each book is covered with a sturdy water-resistant Pyroxylin library binding. This high-quality construction ensures that these books will last for many years.
Return to Linnaean Press home page.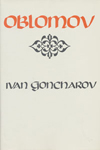 Goncharov/Oblomov
Wholesale Case Quantity: 1
BSIN
: 3GNO
ISBN: 0-8376-0451-6 (ISBN-10)
ISBN: 978-0-8376-0451-0 (ISBN-13)
Permalink
: http://www.bentleypublishers.com/c/3GNO