Sister Carrie

Hardcover, 8 1/2 in. x 5 3/4 in.
465 pages
ISBN-13: 978-0-8376-0401-5
Price: $20.00

When Sister Carrie was written in 1900, it was considered "immoral."
Carrie Meeber, a poor girl from the country, came to Chicago and found some degree of happiness as the mistress of a middle-aged man. Through her talent and ambition she became a star of musical comedies, while her lover went from prosperity to poverty and degradation.
Dreiser's realistic portrayal of a woman who is unashamed of her life as a mistress,and the absence of moral hand-wringing in the story was shocking to readers who expected fiction that rewarded virtue and punished vice.
"Plain, unaffected, and unconventional story of the actual life of the lower middle-classes of New York and Chicago. Its chief interest is its exhaustive record of the career of a young woman led into vice by her love of pleasure, and the careful study of a man's moral deterioration." -Baker's Best
Dreiser was born in Indiana. He was on the staff of the Delineator from 1906 to 1910 and was then made editor-in-chief of the Butterick publications. The various litigations occasioned by Dreiser's novels brought him a reputation as "the most suppressed and insuppressible writer in America"...With [H. L.] Mencken he waged a long fight against censorship that changed the public attitude toward the novelist who pictures life as he sees it. "Sister Carrie," which was in print in England during the time that is was suppressed here, was considered abroad to be "the best story, on the whole, that has come out of America," and such prominent authors as Bennett, Wells, and Hugo Walpole joined in a written protest against the treatment accorded Dreiser's works in this country..." -The Reader's Adviser, 11th edition, R. R. Bowker Company
Bentley Library-Bound Standard Fiction Reprints are printed on high-quality 55-lb. book paper. The bindings are sewn, not glued, and each book is covered with a sturdy water-resistant Pyroxylin library binding. This high-quality construction ensures that these books will last for many years.
Return to Linnaean Press home page.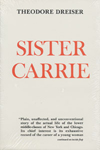 Dreiser/Sister Carrie
Wholesale Case Quantity: 1
BSIN
: 3DRS
ISBN: 0-8376-0401-X (ISBN-10)
ISBN: 978-0-8376-0401-5 (ISBN-13)
Permalink
: http://www.bentleypublishers.com/c/3DRS