The Martian Way

& Other Stories

by Isaac Asimov


Hardcover, 8 1/2 in. x 5 3/4 in.
222 pages
ISBN-13: 978-0-8376-0463-3
Price: $16.00

This collection of four famous science fiction tales masterfully exemplifies author Isaac Asimov's ability to create quickly a believable human milieu in the midst of alien circumstances. Each of the long stores also shows his considerable skill in fully fleshing out a speculative scientific or social possibility.
The Deep, as Asimov describes in his autobiography, was his attempt in 1952 to explore the far edge of science fiction, to see how iconoclastic he could be and still sell his story. He envisions a world in which mother love is considered obscene.
Sucker Bait originated as a project (initially undertaken with two other authors) to present alternative stories predicated upon a common situation, in this instance, a planet with two suns.
The Martian Way, a classic of the genre, is a prime example of science fiction's ability to deal with far frontiers on one level while remaining quite relevant to the here-and-now on another. This is a story of Martian colonists hindered in solving their problems by the intervention of a politician reminiscent of Senator Joseph McCarthy.
These three plus the story Youth form a quartet that ably represents science fiction at its best.
Bentley Library-Bound Standard Fiction Reprints are printed on high-quality 55-lb. book paper. The bindings are sewn, not glued, and each book is covered with a sturdy water-resistant Pyroxylin library binding. This high-quality construction ensures that these books will last for many years.
Return to Linnaean Press home page.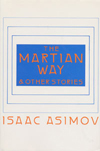 Asimov/The Martian Way
Wholesale Case Quantity: 1
BSIN
: 3ASM
ISBN: 0-8376-0463-X (ISBN-10)
ISBN: 978-0-8376-0463-3 (ISBN-13)
Permalink
: http://www.bentleypublishers.com/c/3ASM