Montessori for Parents

Hardcover, 5 1/2 in. x 8 1/2 in.
266 pages
ISBN-13: 978-0-8376-0170-0
Price: $44.95


Note: Rush shipping not available on this title
Hardcover edition of Dorothy Canfield Fisher's The Montessori Manual for Teachers and Parents. A less philosophical and more concrete and definite approach to Montessori's teachings, this volume includes chapters on methods in Montessori Discipline and Obedience. Educators will appreciate having this classic hardcover in their collection.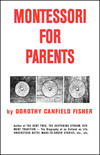 Montessori for Parents
Wholesale Case Quantity: 1
BSIN
: 4MFE
ISBN: 978-0-8376-0170-0 (ISBN-10)
ISBN: 978-0-8376-0170-0 (ISBN-13)
Permalink
: http://www.bentleypublishers.com/c/4MFE