The Montessori Elementary Material

Volume 2 - The Advanced Montessori Method

Hardcover, 5 1/2 in. x 8 1/2 in.
518 pages
44 B/W photos
ISBN-13: 978-0-8376-0174-8
Price: $44.95


Note: Rush shipping not available on this title
Hardcover edition of Dr. Montessori's The Montessori Elementary Materials. Scientific pedagogy as applied to child education in "the Children's Houses" included chapters on Grammar, Arithmetic, Music and Drawing. Educators will appreciate having this classic hardcover in their collection.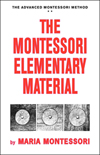 Montessori/Elementary Materials
Wholesale Case Quantity: 1
BSIN
: 4MNC
ISBN: 978-0-8376-0174-8 (ISBN-10)
ISBN: 978-0-8376-0174-8 (ISBN-13)
Permalink
: http://www.bentleypublishers.com/c/4MNC