Printed in the
United States of America

Corvette -
America's Star-Spangled
Sports Car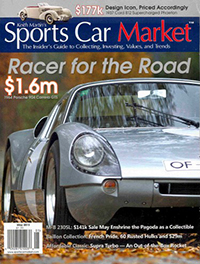 Sports Car Market - May 2015
Speaking Volumes
by Mark Wigginton
Corvette books account for more words spilled, more ink abused and more coffee tables bowed than is strictly necessary.
Fanboy authors abound, large-format 'Vette photo porn clutters the shelves, and the past, present and future of the marque is sliced and diced into ever-smaller bits, book by book.
You might blame Karl Ludvigsen. He was early to the party with the first version of this book, way back in 1973. At the time, Ludvigsen was building his freelance career - briefly absent from the corridors of Detroit. The first version was a breakthrough - for its single-model focus and its impact.
Now, 42 years later, Ludvigsen has updated his original, but not in the way your college professor did every year, adding a few new charts, rearranging the study questions and demanding you buy the revision.
Ludvigsen, a noted automotive historian, is your typical overachiever, so this edition is strikingly new. lt has grown from 320 pages to 784 pages, from 19 chapters to 52 - you get the picture (actually 989 of them). Stats can be boring.
Decidedly not boring are all the new product details and photos, all the wonderful stories and all the insider tales from the people who were there. Ludvigsen takes you behind the scenes, which is all so much fun to watch.
Now, Corvette isn't complete. It ends with the C3 and 1982. That's right, at least one human generation's output of Corvettes is unseen and unexplored. Actually, this makes sense, as you need some distance to get a full view of the history of a thing. We can only hope Ludvigsen will be around to take on the next generation.
Provenance: ★ ★ ★ ★
Karl Ludvigsen is one of those automotive writers who sets the bar, with meticulous research, access to all the records and so many insider contacts his phone is actually heavy.
Fit and finish: ★ ★ ★
Bentley Publishers has done a nice job of adding to the original, and the new book, despite being the size of a thick shop manual, is well-printed and -designed.
Drivabillty: ★ ★ ★ ★ ★
Karl Ludvigsen has the rare skill combo (at least in the automotive book world) of being a dogged fact chaser and a wordsmith. So many Corvette books become collections of statistics, powertrains and final-drive lists, but Ludvigsen fills every page with history - from the way things got to be the way they are, to all the blind alleys and missed opportunities, from the personalities to the business decisions.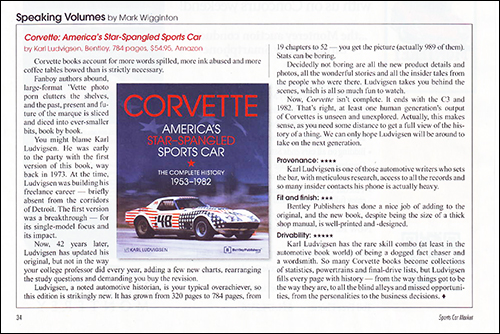 Review from and courtesy of Sports Car Market - May 2015
http://www.sportscarmarket.com/issues-and-guides/digital-issues-online/sports-car-market-may-2015