Printed in the
United States of America

Corvette -
America's Star-Spangled
Sports Car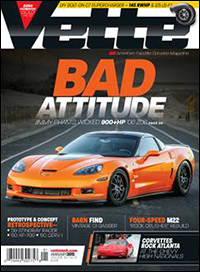 Vette - January 2015
Corvette books are plentiful these days, but that wasn't always the case. Back in 1973 the Corvette community was treated to what is arguably the first major hardback published on the Corvette's history: Corvette - America's Star-Spangled Sports Car by Karl Ludvigsen.
The book was like a day pass into the inner sanctum of Corvette R&D. Weighing in at 288 pages, 19 chapters, a 36-page color plate section, plus a genealogy chart and three pages of 1953 to 1973 statistics, Ludvigsen's book was a delicious meal for Corvette lovers.
Could it be better? Yes! Bentley Publishers has updated this classic. The 2014 version has been greatly expanded and covers the history of the Corvette from its inception in 1951 to the end of the C3, 1982 Corvette. And we mean EXPANDED! The revised and updated book now has 784 pages, 52 chapters, and 989 photos and illustrations.
Ludvigsen walks you through 30 model years with a technical review of each year, R&D backstories, plus stories of the legendary Corvette men that shaped what is arguably the most unlikely of all cars ever built by a major Detroit car manufacturer. And unlike the original that had a color plate section at the back of the book, the updated book is color throughout. Jam-packed with archival photos of prototypes, concept art, clay models, work-in-progress cars, experimentals, show cars, race cars, engines, production Corvettes, technical illustrations, statistics boxes, and more.
The first 30 years of Corvettes laid down the foundation to what is now General Motors' flagship automobile that is truly "world-class." To understand why the Corvette is the car it is today, you must understand its past. And it doesn't get any better than Karl Ludvigsen's expanded and updated, Corvette - America's Star-Spangled Sports Car: The Complete History, 1953-1982.

Review from and courtesy of Vette - January 2015
http://www.superchevy.com/how-to/parts/1501-corvette-product-preview-january-2015/