Printed in the
United States of America

Corvette -
America's Star-Spangled
Sports Car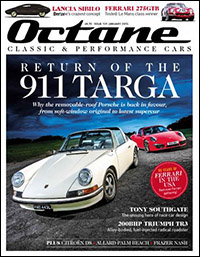 Octane Magazine - January 2015
Book Of The Month
First things first, £90 might seem rather steep given the number of cheaper Corvette histories out there, but you certainly get your money's worth. First published by Automobile Quarterly some 41 years ago, Ludvigsen's highly regarded history of Chevrolet's Tupperware sports car has been updated a few times since then but this latest 770-page version is something else entirely. There is an abundance of new info here, along with a significant redesign and a change of format. It isn't merely an old book with a few extra photos included. Nothing of the sort.
The author is a silverback of the motor industry and knew many of GM's key players personally, including design chief Bill Mitchell, racer Jom Fitch and driver / engineer Zora Arkus-Duntov, all of whom did so much to transform the Vette into a serious performance car. You feel as though you're peeking behind the curtain; that you're being given an insider's view on how the model evolved from a slow-selling, straight-six powered boulevardier that was almost axed into a global sports icon.
The truly fascinating stuff centres on the development of the glassfibre bodywork (well done for name-checking Bill Tritt, whose Glasspar kits foretold the 'Vette), the fuel-injection system, the many - many - stillborn prototypes, and the making of the glorious SS sports-racer. Then there is text given over to the coachbuilt variants such as the well-known Scaglietti - and Vignale - bodied offerings, in addition to homespun variations on the theme, such as George Barris's ghastly C1-based 'The Shark'. There is also welcome info on Bill Thomas's fabulous if flawed Chevy-powered Cheetah sports car, which promised much but fell short of toppling those pesky Ford-powered Cobras trackside due in part to homologation issues (a lach thereof...)
Given the gossip currently circulating about a new mid-engined Corvette, it was interesting to read about the CERV I and II concept cars plus the one-off XP-882, which proves that such rumours have been swirling around for decades. It was also a pleasure to read about the Corvette's competition exploits, and not just on the circuits. The various record-breaking bids, not least those that took place on Daytona Beach back in the 1950s, make for intriguing reading.
Any book that promises to be definitive is setting itself up for a fail, but here you really feel that it is exhaustive. A month rarely goes by without us being tasked with reviewing yet another Corvette history, most of which are potboilers, but we have no reservations about recommending this one. None whatsoever. A superb effort.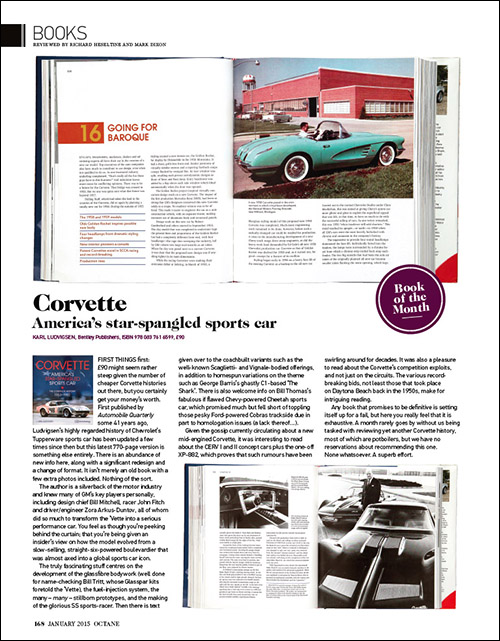 Review from and courtesy of Octane Magazine - January 2015