Printed in the
United States of America

Corvette -
America's Star-Spangled
Sports Car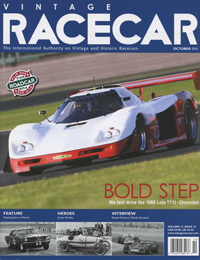 Vintage Racecar - November 2014
Product Review
by John Zimmerman
This is an updated, expanded reprint of a book originally published in 1973 that more than doubles the previous page count and adds full-color capability throughout. The original edition, which was the first book to be devoted to a single car model, has been revised and reorganized in addition to growing larger, but remains a definitive source for anything related to the C1, C2 and C3 model Corvettes.
As such it presents the reader with a complete chronicle of all things Corvette, beginning with a bit of prehistory as American tastes turned toward sporting vehicles with only two seats in the aftermath of World War II. It then looks at the development of fiberglass, the construction material that helped make the Corvette unique among mass-produced cars, before telling how GM styling chief Harley Earl put his design stamp on the car.
From there Ludvigsen goes on to provide just about every detail a Corvette lover could want as he traces the history of the car through the first 30 years of its life on both street and racetrack. Consequently, anyone with any interest at all in Corvettes should consider adding this book to their library.


Review from and courtesy of Vintage Racecar - November 2014