Printed in the
United States of America

Corvette -
America's Star-Spangled
Sports Car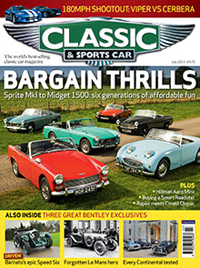 Classic & Sports Car - July 2014
BOOK OF THE MONTH
First published by Automobile Quarterly in 1973, Karl Ludvigsen's seminal history of the Corvette has been regularly updated over the years, but this thumping 750-page redesigned edition is packed with fresh research and new photographs. Ludvigsen was closely involved with Chevrolet during the Corvette's evolution, and knew many of the key players including Bill Mitchell, John Fitch and Zora Arkus-Duntov. No one was better placed to write the full story.
As well as the evolution of the production design, Ludvigsen covers prototypes and motor sport, as well as putting the iconic American sports car into context. Fascinating chapters explore the development of the glassfibre bodywork, the fuel-injection system, the SS racer and the stillborn Q vehicles. Among the many new sections are spotlights on coach built Corvettes, Bill Thomas' wild Cheetah and famous customs.
The wealth of illustrations in this full-colour title include many styling projects, such as Larry Shinoda's XP-817 coupe and Hank Haga's dramatic Studio 1 design, which was turned down by Mitchell.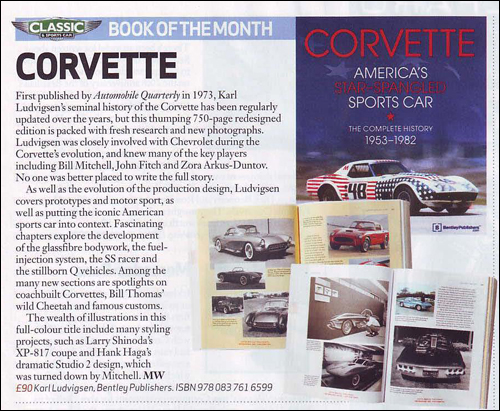 Review from and courtesy of Classic & Sports Car Magazine - July 2014