Don't miss this rare opportunity!
Only 250 of these signed Boxed Sets will be sold.

Corvette Engineering Limited Edition Boxed Set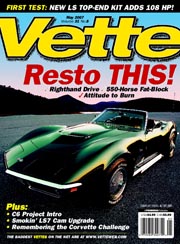 Vette Magazine - May 2007
Corvette Engineering Limited Edition Box Set review from Vette Magazine, May 2007
Vette Tu, Brute?
Who needs Shakespeare when Corvette Engineering Limited Edition Box Set is ready for the official VETTE review?
Here at VETTE, we are accustomed to peeking under Corvette hoods, admiring high-horsepower road rockets, asking technical questions, and even checking tire sizes. Just like our readers, we revel in getting our hands dirty while enjoying the fine hardware Chevrolet has produced over the last 54 years.
Less frequently, an item comes our way that allows us to scrub out the grime from under our nails, sit down at a desk, and enjoy the stories behind the cars we see and write about every day. Recently, Bentley Publishers sent us such an item, The Corvette Engineering Limited Edition Box Set, and asked if we had any feedback. Well, we sure do.
This two-volume, leather- clad, limited-edition set includes Zora Arkus - Duntov: The Legend Behind Corvette, by Jerry Burton, and Corvette from the Inside, by Dave McLellan. The former received the Society of Automotive Historians' Award of Distinction, as well as two honors-Best of Books and Gold Medal for Best Biography-in the International Automotive Media Awards (IAMA). It gives a detailed look at the life of Duntov, starting before his GM career, covering his engineering accomplishments with Chevrolet and the Corvette, and continuing into his retirement.
Corvette from the Inside is a Corvette insider's view of history and engineering, penned by the man who succeeded Duntov as the car's chief engineer in 1975 and served in that capacity through 1992. It also includes McLellan's take on the development of the Corvette platform from conception through the car's 50th anniversary.
Author Jerry Burton is well equipped to cover the life of Zora Arkus- Duntov factually and in-depth. Burton is the founding editor and current editorial director of GM's Corvette house organ, Corvette Quarterly. He has written many advertisements for the car as senior copy editor of the Campbell-Ewald advertising agency and was on the board of directors of the National Corvette Museum. Burton's passionate involvement with the Corvette allowed him to develop an admiration-based friendship with Duntov in Duntov's later years. Perhaps it's not surprising, then, that Burton was personally chosen by Duntov to write the engineer's life story.
The author covers Duntov's life from his birth in Brussels to his youth in St. Petersburg, Russia; from his young adulthood in Berlin to his emigration to France; from his escape from the encroaching chaos of World War II to his fated permanency in a second homeland, the United States.
Most of our readers will be interested in Duntov's story from start to finish; others will want to jump directly to Chapter Eight, when Zora begins his quest for employment with one of America's Big Three automakers. It is during this turning point in his career that he attended the 1953 GM Autorama, held at the Waldorf- Astoria in New York City. Here, like thousands of other Americans, he saw the Corvette for the first time.
On January 28, 1953, Duntov sent a letter to Maurice Olley in Chevrolet's Research and Development section. Olley had expressed interest in reading an article on vehicle performance Duntov had published in The Automobile Engineer. Burton found the original letter in Duntov's archives and reproduces it for readers to enjoy. It reads, in part, " Mr. Olly [sic]: . . . I went to Motorama and found the Chevrolet[ Corvette] sports car breathtacking [sic]. I think this is the turning point from which european [sic] body designer [sic] can look for inspiration to Detroit . . ."
Burton shares how this letter to Olley kickstarted Duntov's career with GM. Within three months, Duntov was offered an assistant staff engineer position at Chevrolet. He would earn a salary of $14,000 a year, with a company bonus plan allowing him to double his pay through incentives.
The story then moves quickly from May 1, 1953- Duntov's first day of employment with Chevrolet-through December 15, 1953. In another defining moment in Duntov's career, the young engineer submits an internal memo titled "Thoughts Pertaining to Youth, Hot- Rodders and Chevrolet." In this memo, Duntov recommends that Chevrolet create and produce "high-performance parts not only for the engine-camshafts, valves, springs, manifolds, pistons and such-but for the chassis components as well . . ."
Burton then leads readers through the early years of Duntov's career and the evolution of the C1 Corvette: Duntov's recommendation to drop a V-8 into the car for the '55 model year; his well publicized, record-breaking 1955 speed climb of Pike's Peak, Colorado (amazingly performed not in a Corvette but in two specially prepared Chevy 210s); the first publicized 150-mph Corvette, which Duntov test-drove at the GM Proving Grounds in December 1955 (and rocketed down the beach at Daytona at 150.583 mph in January 1956); and the creation of the indisputably famous "Duntov" cam, which helped make these high speeds possible.
Burton then delivers an excellent chapter on the Corvette SS, "Zora's first purpose-built race car at General Motors." This SS, Burton tells us, was most notable for the way it inspired Chevrolet's design, engineering, and development teams to challenge prevailing notions of what was possible in the domestic sports-car world. Burton claims America never saw the car's potential because Chevrolet, adhering to an Automobile Manufacturers Association (AMA) ban on "racing agreements and activities," prematurely killed the SS program.
Readers are further graced with the stories behind the classic Chevrolet 327ci engine, the 409ci big-block "mystery engine" (and its subsequent development into the Mark IV 427), the Indy-style CERV I (the first Chevrolet with independent rear suspension), the '59 Bill Mitchell-produced Sting Ray racer, the struggle between Duntov and Mitchell over the design of the subsequent split-window Corvette Sting Ray, and Duntov 's frustrations over the Corvette's midyear and C3 platforms. Duntov never fully embraced these two designs, for he always felt the Corvette was destined to be, as he saw it, a mid-engine racer.
This book also gives qualitative insight into Zora's development of the "Light Corvette"- which later became known as the Grand Sport-and the trials and consequences of the AMA's renewed ban on manufacturer sponsorship and involvement in motorsports, which quashed the Grand Sport's chances at becoming a production vehicle. Included are striking details of Corvette concept, racer, and prototype vehicles, including the Grand Sport II, the CERV II, the Mako Shark and Mako Shark II, the XP-822 mid-engine Corvette prototype, the XP-895 all-aluminum mid-engine Corvette, and the rotary-engine AeroVette.
Along the way, we learn of Duntov's clashes with Chevrolet management as he pursued his goal of making the Corvette the best sports car possible. Burton was able to find many of Duntov's original memoranda to the Chevy brass, including a note to Chevy chief engineer Harry Barr in April 1962. We quote Duntov here to share with VETTE readers one of the many examples of Duntov's strong feelings against the Corvette's front-engine design:
"I feel that a vast section of the population, interested in sports car racing or not, is aware that there is sports car racing, that there is the only American sports car, the Corvette, and that this American car always gets beaten by foreign products . . . If [John] Glenn's orbit make [sic] all of us `grow an inch taller,' Corvette defeats in sports car racing make loads of people feel a quarter of an inch smaller . . . I feel that a winning car would enable this vast group to grow [a] quarter- inch taller and Chevrolet will have a new mass of grateful customers . . ."
With access to the Duntov family's entire collection of letters, artifacts, and photos, Jerry Burton brings together this Corvette legend's full story with 24 in-depth chapters, 419 pages, over 200 vintage photographs, and an extensive, well-cited bibliography.
The last chapters of the book, covering the years 1968-1996, include the introduction of the C3 Corvette, Duntov's association with John Delorean, the backdoor race parts program of the '70s, and Duntov's mandatory retirement and send-off party with full accolades in 1975. The book also describes the projects and personal life of Duntov after his retirement, through the '80s, and up until his death in 1996.
We heartily recommend Zora Arkus - Duntov: The Legend Behind Corvette to our readers. Written with a passion for the Corvette carefully sown throughout its pages, the book provides Corvette owners, aspirants, and other fans with an invaluable education on the marque's most influential champion and architect.
This quote from the book's epilogue best characterizes Duntov's enduring importance to the brand: "Zora Arkus-Duntov stands as one of the most famous men in the history of the American automobile industry. Perhaps his best monuments are the Corvettes-over 1.2 million of them-that roam the highways of America. All of their drivers-whether they know it or not- can thank Zora Arkus-Duntov for the performance pedigree they carry with them."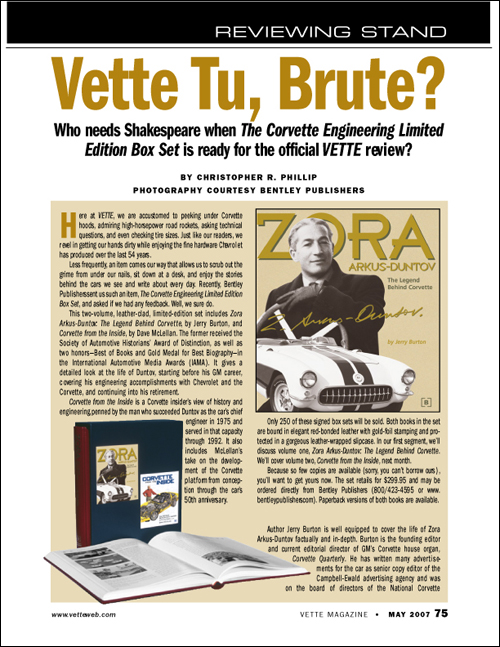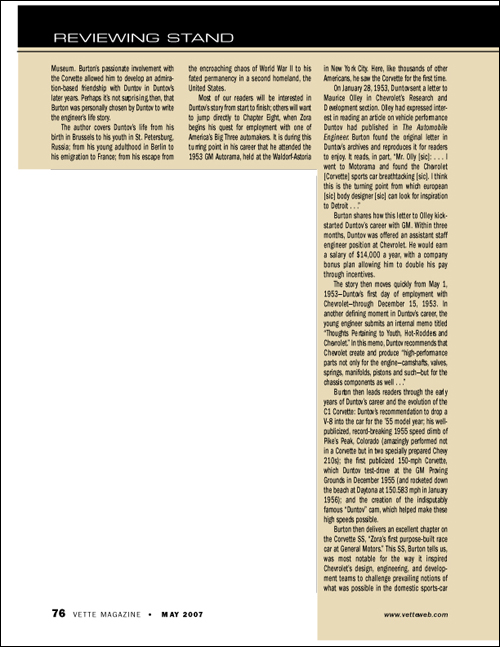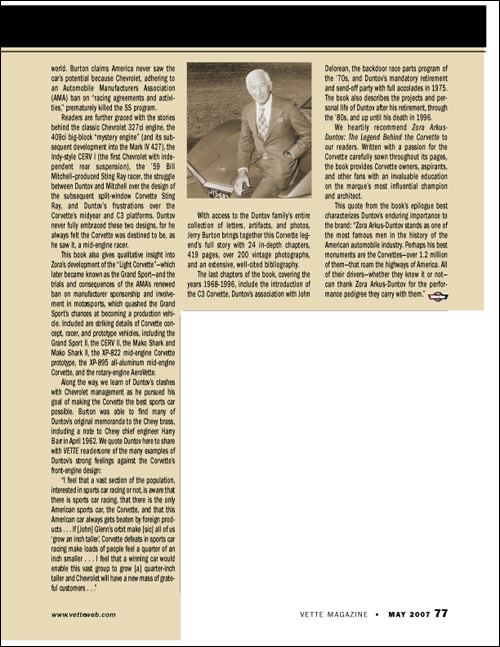 Review of Corvette Engineering Limited Edition Box Set from Vette Magazine - May 2007