BMW 5 Series (E34)
Service Manual:
1989, 1990, 1991, 1992,
1993, 1994, 1995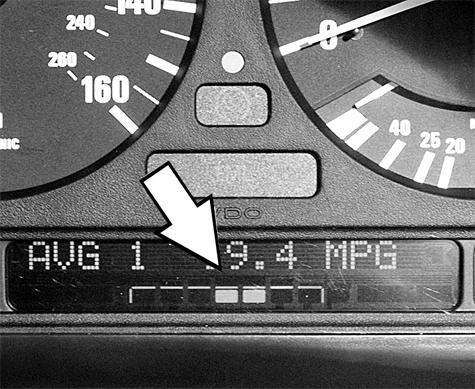 Fig. 1.
Service indicator display in instrument panel.
020 Maintenance Program
page 020-2
The BMW Service Indicator notifies the driver when maintenance is required. The service indicator consists of multiple light emitting diodes (LEDs)-typically five green, one yellow, and one red-as well as OIL SERVICE and INSPECTION indicators.
When the ignition is turned on, the green LEDs come on. They go out when the engine is started. After the Service Indicator is reset, all green LEDs will be illuminated with the key on. As the car is driven in normal use, fewer and fewer green LEDs will be illuminated before start-up, indicating that the next maintenance interval is approaching.
When the car has accumulated sufficient use to require the next maintenance interval, the yellow LED will come on along with either the OIL SERVICE indicator or the INSPECTION indicator. These LEDs will stay on after the engine is started. If maintenance service is delayed, the red LED will also illuminate as a reminder that maintenance service is overdue.
An OIL SERVICE interval will always be followed by an INSPECTION interval, which will then be followed by an OIL SERVICE interval, and so on