New Softcover Format

Porsche 911 Carrera (Type 964):
1989, 1990, 1991, 1992, 1993, 1994
Technical Data-Without Guesswork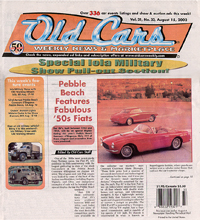 Old Cars Weekly News and Marketplace – August 15, 2002.
The Porsche Carrera 964: 1989-1994 Technical Data – Without Guesswork –
This book is an invaluable technical reference source for the Carrera 964. Fluid capacities, tightening torques, nominal values, wear limits, system illustrations, and electrical component locations are a few I the technical highlights you'll find in this handy-sizes format loaded with 275 illustrations.
This sturdy wire-bound handbook is optimized for the toolbox, the workbench, and the shop environment. Quick access and easy navigation to hundreds of illustrations, tables, and photographs make this a must-have for service professionals and Porsche 964 owners alike.
Thoroughly detailed technical topics include general vehicle data and application tables, engine and trasmission numbers, and manufacturer's maintenance schedules.
The book also indulges in internal engine component wear limits, torque values, and assembly views of crankcase, crankshaft, cylinder heads, timing chain, and lubrication system, among many other topics too innumerable to mention here…
- Old Cars Weekly Staff