Porsche 911 Carrera
(Type 993) Service Manual:
1995, 1996, 1997, 1998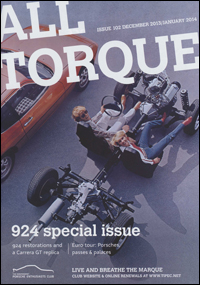 All Torque - December 2013/January 2014
Book Review
Bentley Publishers are well respected for their historical Porsche books, being equally authoritative and beautiful. This is the first time I have seen one of their service manuals, and it's clear from even a cursory glance that they are not messing about. This is no coffee-table research book, it is a workshop essential. A functional tool, every bit as vital to a 993 mechanic as good quality screwdrivers and a torque wrench. Background to the 993 models and familiarisation with the range is dispensed with in the opening 30 pages, leaving over 900 pages of detailed instruction on every aspect of the cars.
Clear, easy to interpret colour photographs accompany straightforward and easy to follow instructions. Everything is task-based. Unlike a typical Haynes manual, which may explain how to dismantle and reassemble different parts of a car, this Service Manual leads you through useful tasks, from start to finish. From replacing the valve stem seals, or replacing the top drive cable on a convertible, to removing and installing interior trim pieces and changing the fluid in a Tiptronic gearbox. An entire third of the book is given over to troubleshooting electrical issues and page after page of wiring diagrams.
To call this Service Manual thorough is a massive understatement. It may well be overkill for the average 993 owner. For an enthusiastic DIY mechanic though, it will be a godsend - arming you with all the knowledge a Porsche training course could give you (and more). For a professional mechanic who works on 993s, this is a vital resource. It is exceptionally well thought-out, with logically organised sections, the index repeated on the inside endpapers and sections clearly marked for thumbing through. You need this book in your workshop.


Review from and courtesy of All Torque - December 2013/January 2014